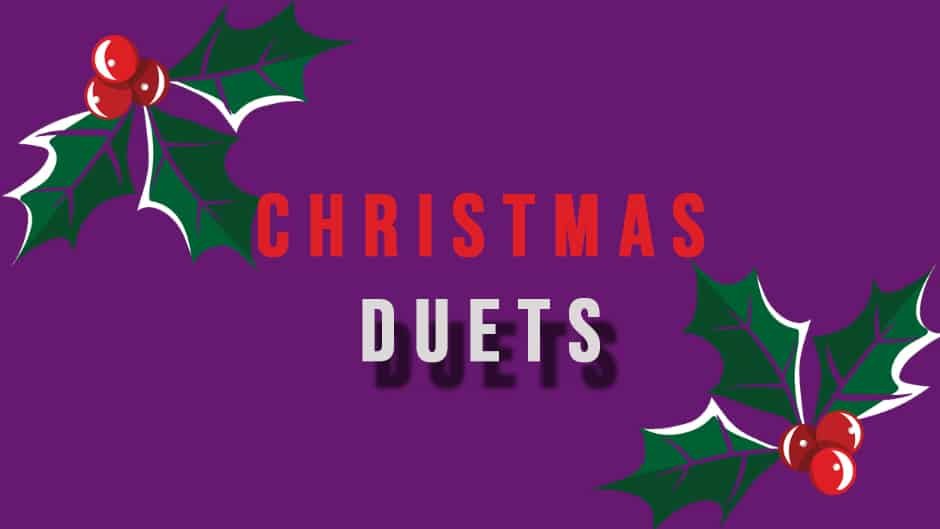 November is far away from Christmas for everyone except musicians. This is the time they pull out their classical guitars and begin to practice songs and carols for the coming season. While the festive (and secular) songs are always fun to play and guaranteed a favourable reaction, there is something special and satisfying about performing classical guitar duets of Christmas songs.
With guitar duets in mind, their full and rich sound reaching out to dear friends and relatives, I searched the internet to find easy guitar duets for beginners and some guitar duets for intermediate. Not too challenging with just about a month to go!
Besides, everyone knows these tunes already and you want them to be simple and not too complicated. (I have made an exception, however, for the more advanced player and we'll see that one shortly.) So grab hold of your duet partner and check out the sheet music on offer.
Christmas Favorites for Easy Classical Guitar Duet
Christmas Carols for Easy Classical Guitar Duet
Christmas with Classical Guitar Solos & Duets
Favorite Hymns for Easy Classical Guitar Duet
8 Easy Christmas Duets for Guitar
Tom Poore's Carol Arrangements
Christmas Favorites for Easy Classical Guitar Duet
Player and guitar teacher Mark Phillips has quite a few books of interesting arrangements for the classical guitar which are put together quite well. This Christmas Favourites book is among them. There is always a problem with dubbing any arrangement easy because one person's 'easy' is another's 'advanced' and yet another's 'too simple'.
It's a good thing that many publications on Amazon these days have the Look Inside feature. (Personally, I wish this was mandatory, especially for music books.) This book has that feature and you should make use of it. Take a peek at the sample pages and use them as a guide to evaluate the difficulty level for yourself and your duet partner.
There are 16 Christmas carols presented as easy classical guitar duets. They are in standard notation and tablature. The TABs will make these familiar standards easy for non-conventional players of the classical guitar to follow, of course.
List of duets
Bring a Torch, Jeanette, Isabella
Carol of the Bells
Coventry Carol
Go, Tell It on the Mountain
Good King Wenceslas
Here We Come A-Caroling
I Saw Three Ships
In the Bleak Midwinter
Jingle Bells
Jolly Old Saint Nicholas
Lo, How a Rose E're Blooming
O Come, O Come, Emmanuel
O Holy Night
Once in Royal David's City
Still, Still, Still
Sussex Carol
Christmas Carols for Easy Classical Guitar Duet
This is yet another publication from Mark Phillips focusing on Christmas carols in the form of classical guitar duets. Again, there is the Look Inside feature on Amazon for this book which you should make use of. Check if the difficulty level matches your skill level and your expectations (and those of your partner's) by peeking at the sample pages of music.
There are 15 favorite Christmas carols arranged for classical guitar duets. Both in standard notation and tablature (TAB). The arrangements are rewarding to play for the duet partners and reasonably easy to play for beginning students with some practice. There are no high fret positions to master.
Angels We Have Heard on High
Away in a Manger
Deck the Halls
The First Noel
God Rest Ye Merry Gentlemen
Hark the Herald Angels Sing
It Came Upon the Midnight Clear
Joy to the World
O Christmas Tree
O Come All Ye Faithful
O Little Town of Bethlehem
Silent Night
We Three Kings of Orient Are
We Wish You a Merry Christmas
What Child Is This?
Christmas with Classical Guitar Solos & Duets
Charles Duncan is the author of one of the famous classical guitar methods ever. Here he presents a selection of favorite Christmas tunes for classical guitar. They are arranged in two forms—solos and duets. The general level throughout is not too difficult but can be thought of as early intermediate. The author suggests that anyone who can play the "lower-numbered Sor Studies" should find these arrangements quite playable.
Now Sor isn't the easiest composer to play for early beginners, in relation to other classical masters like Carulli and Carcassi. So, for a realistic gauging of the difficulty level, make use of the Look Inside feature at Amazon. At the first try, I could see only a sampling of the solos but I did find a link that read Surprise Me and clicked on it. That brought up some samples of a duet or two as well. Hopefully, the same thing should work for you too.
The book is in standard notation only. There are no TABs. Also, the duets may seem simplistic to intermediate players. The melody part in these pieces is played by Guitar 1 and a simple chordal accompaniment is given to Guitar 2. It's not really the two-part harmony that guitar duets usually are. This sort of melody-accompaniment simplicity may be just the thing you are looking for.
But if you were hoping to get a nice duet book with both parts interesting to play this won't be that book. The solos are beautifully arranged, though. The Kindle edition has too small a print according to some users.
Here's the listing of the pieces.
Listing of Solos
The First Noel
Deck the Hall with Boughs of Holly
Silent Night
Hark! The Herald Angels Sing
O Come, All Ye Faithful
What Child is this?
O Little Town of Bethlehem
We Wish You a Merry Christmas
Good King Wenceslas
It Came Upon the Midnight Clear
God Rest Ye Merry, Gentlemen
O Come, O Come Emmanuel
Joy to the World
Jesu, Joy of Man's Desiring
Listing of Duets
Hark! The Herald Angels Sing
God Rest Ye Merry, Gentlemen
O Little Town of Bethlehem
Away in a Manger
Angels, From the Realms of Glory
The First Noel
We Three Kings
Joy to the World
Silent Night
It Came Upon the Midnight Clear
O Come, All Ye Faithful
Bring a Torch, Jeannette, Isabella
Angels We have Heard on High
The Coventry Carol
O Christmas Tree
Jingle Bells
Favorite Hymns for Easy Classical Guitar Duet
If you're interested in hymns, this is a fine collection to keep in mind: 16 hymns arranged as classical guitar duets. Again these are marked as 'easy duets' by the author Mark Phillips. Check the Look Inside feature at Amazon and verify for yourself. These should be rewarding to play and perform if your skill level is up for it.
The music is in standard notation plus TAB.
Listing of hymns
Abide with Me
All Creatures of Our God and King
All Glory Laud and Honor
All Things Bright and Beautiful
At the Cross (Alas, and Did My Savior Bleed)
Beautiful Savior
Christ the Lord Is Risen Today
Crown Him with Many Crowns
God of Grace and God of Glory
Holy Holy Holy Lord God Almighty
A Mighty Fortress Is Our God
Nearer My God to Thee
Now Thank We All Our God
The Old Rugged Cross
Rock of Ages
Softly and Tenderly
8 Easy Christmas Duets for Guitar
When I was searching for some downloadable sheet music of Christmas song duets, I came across this short collection at scoreexchange.com. It's a fairly easy collection of 8 Christmas duets for classical guitar put together by David Burndrett.
Check 8 Christmas Duets on scoreexchange.com
The collection is downloadable instantly and even though the pages are watermarked, you can see enough beforehand to gauge the difficulty level prior to making the purchase. The price is nothing much really at about $5 for the collection. The notation is standard, no TABs.
Listing of duets
Good King Wenceslas
The First Noel
Jingle Bells
Silent Night
While Shepherds Watched
Away In A Manger
O Come All Ye Faithful
Ding Dong Merrily On High
Tom Poore's Christmas carols
Saving the best for last, all ye intermediate guitarists.
If you are a member of the popular classical guitar forum at Delcamp, chances are you would recognize the name, Tom Poore. He is a musician, player and teacher of the classical guitar who edited Aaron Shearer's "Learning the Classic Guitar" series, published by Mel Bay. He has a great collection of Christmas carol arrangements that you can download for free from his website.
32 Christmas carol duet arrangements of Tom Poore (free downloads)
These are not 'easy', be warned. In fact, Tom wrote these duets with the idea of creating challenging arrangements for intermediate guitarists. It was a reaction to most Christmas songs being too geared towards "players of modest skill." All 32 duets are free to download and if you do play them, remember to send him a thank-you note. It's very gracious of him to share such skillful arrangements for free.
Among all the other staples, there is the Chinese hymn "Christmas Thanksgiving" you may not have heard. Also, watch Tom's YouTube playlist of all the 32 songs to understand what the arrangements ought to sound like.
List of duets
Away in a manger
Carol of the Bells
Coventry Carol
Deck the Halls
French Carol Medley
Frosty the Snowman
Good King Wenceslas
Go Tell it to the Mountain
God Rest Ye Merry Gentlemen
Have Yourself a Merry Little Xmas
Here We Come a-Wassailing
Holly and the Ivy
I Saw Three Ships Come Sailing In
It Came Upon the Midnight Clear
Jingle Bells
Joy to the World
Little Drummer Boy
Mary's Boy Child
Noel Nouvelet
O Come, All Ye Faithful
O Holy Night
O Little Town of Bethlehem
O Tannenbaum
Rudolph the Red-nosed Reindeer
Silent Night
The Christmas Song
Three Christmas Eves
We Three Kings
Wexford Carol
What Child is This?
Winter Wonderland
_____________
I do have suggestions on Christmas song books in general, not just duets, for the classical guitar. Read my Listing of Favourite Christmas Song Books in time for the festive season.
Looking to gift someone during the festive season? What to Give Classical Guitarists for Christmas is an article where I offer some suggestions you may find helpful.
For beginners wishing to teach themselves the classical guitar in a 'proper' fashion, ready my piece 6 Method Books to Teach Yourself Classical Guitar.
If improving your sight reading is your main issue, I have you covered with 6 Top Sight Reading Books for the classical guitar.
Happy plucking!