Eleven owners of luthier-made guitars provide audio samples of their instruments and discuss their views on the subject. What made them buy the one they did? Are they happy with it? Here's what they had to say.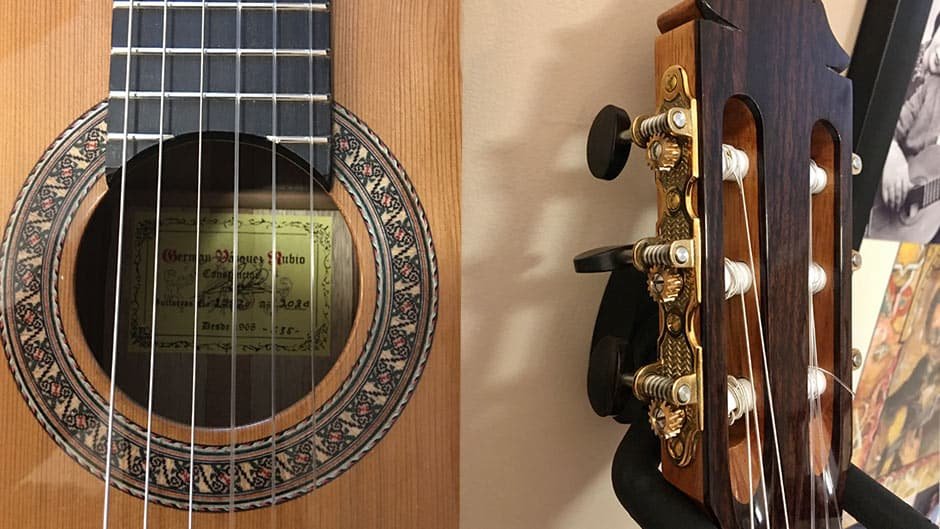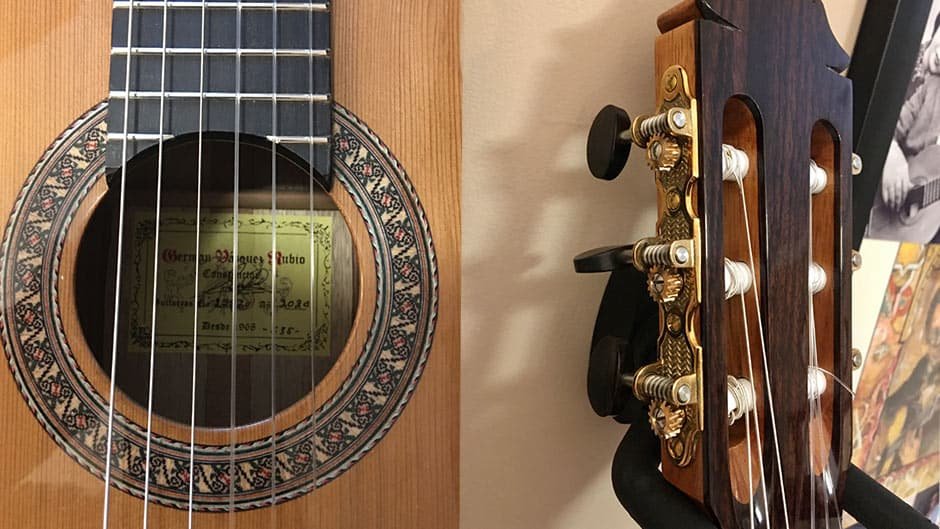 A luthier guitar is one that is made by hand, often by a single craftsman, although in practice there are apprentices who help out. In contrast to guitars that are mass produced in factories by the thousands, a particular luthier may turn out just a dozen or so pieces every year.
For the time and effort and skill involved, as also the cost of carefully chosen and primed materials, a luthier guitar is much more expensive than a factory made guitar – easily running into a few thousand dollars.
For many intermediate and concert-level players, the quality they get and the pleasure they derive from such a guitar is well worth the cost.
Guitars by Luis Fernández de Córdoba
Luis Fernández de Córdoba is among the relatively younger set of luthiers (not be confused with the other Cordoba, the giant manufacturer of factory-made classical guitars). Luis is known for his lightly built instruments with a balanced tone over the entire range.
His guitars are built on traditional lines mostly, although he has modern options as well. He is based in Alexandria, Virginia.
Luis Fernandez de Cordoba guitars website
Owner Scott Brandenberg came upon the luthier's guitars at Guitar Salon International in Santa Monica. "GSI is only about 7 blocks from where I live. Dangerous to have that store so close to me," said Scott.
The sales reps at GSI informed Scott that Luis was an up and coming luthier. His guitars sold very quickly and he made only about 6 to 10 per year.
Scott spoke to us of the special feature on his guitar that he loved: "I always thought cedar would have a warmer, rounder sound, but I found that I really liked the spruce better. My guitar also has a partial tornavoz, which is a cylinder of wood that extends the sound hole about an inch into the guitar body. It really boosts the bass response of the guitar. My guitar has a pretty shallow body but has way more bass than my previous guitar that had a much deeper body. I think it's because of the tornavoz. The shallower body is much better for ergonomics and my right arm is much freer."
How was the experience of dealing with the luthier himself? Scott said, "I did reach out to Luis after purchasing the guitar and he responded right away. He even sent me a diagram showing me how he ties the strings, and I've done it that way ever since with no slips."
Take a minute off to watch owner Scott Brandenberg perform Andrew York's Home for us on his Luis Fernández de Córdoba guitar.
Home by Andrew York | Performed by Scott Brandenberg | Guitar by Luis Fernández de Córdoba
Scott's guitar by Luis Fernández de Córdoba cost him $6000. As you can tell from his comments, he is one happy camper.
If you want to look at Scott's particular model (No. 40) here is the link.
Guitars by Kenny Hill
Kenny Hill is an American pioneer of luthier-made guitars with decades of experience behind him. He spawned a whole next generation of lutherie in the Bay Area. His own emphasis within the technical aspects of construction falls on playability, a term that has come to mean how easy it is to simply play the instrument.
Jeffrey Chan used to live in the vicinity and he was of course familiar with the local lore of the most famous luthier there.
Said Jeffrey: "Kenny was one of the pioneers, a legend in the Bay Area then. I bought myself a 2006 Kenny Hill Standup model."
"In a standup model, the lower bout is angled," explained Jeffrey. "So where your elbow touches the body is slightly shorter. I love the double top feature and the Gilbert tuners. I get good volume. It's a fabulous guitar."
Since Jeffrey acquired his guitar in trade, he has not communicated with Kenny Hill.
Owner Jeffrey Chan plays Pasaje Abierto – Preludio and Danza – by Edin Solis on his Kenny Hill Standup model for us.
Pasaje Abierto by Edin Solis | Performed by Jeffrey Chan | Guitar by Kenny Hill
The price of a current standup model from Kenny Hill is around $7,000. Jeffrey said he'd seen a used one for sale online for $6,000.
If you want to look at Jeffrey's particular model here is the link.
Guitars by Jose Ramirez
Jose Ramirez is an established classical guitar organization going back to the late 1800s in Spain. He himself was an innovator and his workshop became the celebrated cornerstone of the Madrid School of Guitar makers. Run by the fifth generation, Jose Ramirez guitars have a long line of classical guitars including top-end, hand-made guitars.
Owner Thomas Beck gives us his impressions of the early Ramirez 1E model, no longer made, although it can be found on the second hand market for a good price.
"My Jose Ramirez 1E is a treasured heirloom guitar," said Thomas. "I purchased it in 1989 in my twenties. Sonny's Guitar shop carried the entire line of Ramirez models from master luthier crafted instruments to student models that bore the Jose Ramirez brand, but were made by luthiers in the area and then finished and checked by Ramirez luthiers before shipping. My instrument was a Model 1E, a student guitar."
On his reasons for choosing the 1E, Thomas remembered well. "I played Yamaha's and other major guitar brands. All were just fine, but I kept returning to the Ramirez rack and playing the 1E, which was the one that was beyond reach but closest to my grasp."
Thomas believed the trebles contained a warmth and the guitar delivered a round sound with a richness in color and depth not found in other guitars. "I made the deal happen by trading in an electric and acoustic steel string guitar and laying a stack of cash down to complete the sale," he recalled.
What are the features he is very happy about today? "The guitar is built using old-world techniques. It doesn't have a truss rod. The action is high. The guitar projects well and plays well despite the high action which is a feature of professional level guitars built in this tradition."
Here is Thomas Beck playing Maria Luisa by Sagreras on his epic Ramirez 1E.
Maria Luisa by Sagreras | Performed by Thomas Beck | Guitar by Jose Ramirez
In today's prices, Thomas estimated his 1E must have cost him $4,200. It can still be spotted in second-hand stores online at a bargain price.
Guitars by Marcus Dominelli
Marcus Dominelli is a Canadian luthier famed for his modern innovations and design features. His guitars are known for their volume, projection and playability. And he offers a lot of custom choices for the woods, tones and add-ons.
Marcus Dominelli guitars website
A 2020 model for Mark Cohen
When owner Mark Cohen heard that a well regarded guitarist Rick Lord – also featured below – was talking up his custom-built Marcus Dominelli guitar in a classical guitar podcast, he was impressed and decided to check it out.
"I ordered a short scale version 640 mm, 51 mm at the nut," Mark recalled. "It was a spruce over cedar double-top guitar with an elevated fingerboard and walnut back and sides."
Walnut? Wasn't that an unusual choice of wood? "I really wanted to get a non-rosewood back and sides guitar," explained Mark. "I liked the balance and evenness of maple on some of the steel string guitars I've played or owned over the years. According to Marcus, walnut has the same acoustical properties with greater visual appeal, especially when paired with a spruce top."
He added with a smile, "The only snafu was that the walnut back and sides were so nicely figured that Customs thought they were some artificial substance that required some sort of declaration of non-toxicity or something like that."
How was it communicating with the luthier through the process? "Super easy and really fun."
Did he ask for any special features? "My add-ons included a sound port, an armrest and an elevated fingerboard. The sound port is useful in ensemble playing. I thought the armrest would obviate my need for wearing a tube sock over my right arm, but it doesn't. The elevated fingerboard I like a lot."
Mark Cohen plays Sor Op 6 No 8 for us on his Marcus Dominelli.
Study Op 6 No 8 by Fernando Sor | Performed by Mark Cohen | Guitar by Marcus Dominelli
Mark believed his custom-built version with the chosen options will probably be in the $6,000-$6,500 range today.
A 2017 model for Rick Lord
In the summer of 2017, Rick Lord – he has recently released his CD of classical guitar songs – commissioned a Marcus Dominelli guitar. "I saw one of his guitars in a YouTube performance by Jeffrey McFadden, Chair of Guitar Studies at Toronto University," said Rick. "I took it as a form of endorsement."
Around the same time, Rick closely observed his friend Mark Campbell (also featured here) getting his guitar commissioned from Marcus and was "impressed by the craftsmanship and the overall balance of bass and trebles for this double-top guitar. It was important for me to have a double-top guitar that could achieve such a balance."
Rick had another double-top which had very resonant deep bass tones, but milder almost muted trebles. Said Rick, "I had to work very hard at achieving the higher end frequencies on that guitar even when using carbon strings. I reached out to Marcus for a conversation about his guitars, price range, and wait time."
"Marcus had a six-month waiting list then," remembered Rick. "I put down my deposit and my specifications: a 650 mm scale double-top, Ziricote back and laminated sides, hand-carved armrest, sound port, Macassar ebony fingerboard, Sloane bronze tuner, Ebony head plate with rosette inlay and TKL double arch guitar case."
How easy did Rick find it communicating with the luthier during the process? "I thoroughly enjoyed working with Marcus Dominelli – very bright and dedicated to his craft. The guitar I received exceeded my expectations."
At his request, Rick's guitar had an internal lining added to the sides for "more forward projecting sound." Here is Rick Lord playing an exquisite version of Andrew York's Squares Suspended.
Squares Suspended by Andrew York | Performed by Rick Lord | Guitar by Marcus Dominelli
Rick paid $6,500 for his luthier guitar. Visit Rick's site to check out his recent CD release, The Ivy Recordings.
Guitars by Peter Tsiorba
Peter Tsiorba has his workshop in Portland and his guitars are known for their craftsmanship and tone. With his East European childhood and influences, Peter taught himself the art of lutherie at an early age and settled in the US in his later years.
When owner Bruce Donehower and his wife went to an instrument exhibition in Portland, they heard one of Peter Tsiorba's guitars. "I really liked it," recalled Bruce. "So I went to meet Peter the next day, and we connected. He offered to sell me the guitar I had heard, but I said I preferred to commission a new one."
Bruce's decision to commission a new custom guitar rather than take an existing model came from his affinity for special wood. "Peter had a stash of old pre-CITES rosewood that he got from another luthier who retired. We used this for the back but I also wanted a guitar that represented some of the native trees in my part of the world. We decided on redwood that was salvaged in the 1970s after a fire or flood in northwest Oregon, near the coast. The redwood became the guitar top."
"This guitar is extremely playable," said Bruce. "There's something about the neck that just feels perfect for my hand. Actually, I liked the neck so much that I had Peter reshape the neck on one of the very first guitars that I played for decades — which had a very fat neck."
Was the luthier accessible for chats and assistance? "It was super easy and fun to communicate with the luthier," said Bruce. "Peter sent me lots of gorgeous photos of the guitar under construction. We still remain in touch. I am considering commissioning another guitar from him."
Here is Bruce playing his own composition written for a performance of reading one of the German poet Rilke's poems.
Composition by Bruce Donehower | Performed by Bruce Donehower | Guitar by Peter Tsiorba
The base price at that time was $5,000, recalled Bruce. "With the woods I requested, the guitar ended up closer to $7,000." He believed the current price would be in that vicinity.
Guitars by Thomas Dauge
Thomas Dauge is a French classical guitar maker based in the Bordeaux region of France. By his own submission, he builds his creations with "modified traditional bracing patterns."
Thomas Dauge guitars Facebook page
Owner Richard Croad said, "I purchased my Thomas Dauge guitar in 2017 from a boutique musical instrument store. The guitar itself was made in 2005. It is an alpine spruce top with Madagascar rosewood for back and sides."
Richard's guitar was lightly built, with five fan braces with a diagonal or treble bar below the sound hole, like that pioneered by Jose Ramirez III. There was also a transverse or tone bar under the bridge following the tradition of the famous French luthier, Robert Bouchet. The scale length of 660 mm was longer than the standard 650 mm.
Richard was quite happy with his choice. "It has a great tone with a sweet sound, excellent sustain, and a nice vibrato. The workmanship and finish are superb.  The rosette is part of Thomas' signature, an intricate but delicate pattern of green, black, and off-white that complements the color of the woods."
Had Richard gotten in touch with the luthier at all? "I've been corresponding with Thomas over the past three years," he said. "He has been quick and responsive in answering my questions. He recommended Savarez Alliance normal tension strings for the guitar. He was interested to receive photographs of one of his early guitars from me and was amazed at how far it had traveled."
Although an amateur player himself, Richard reckoned the guitar would be worthy of any concert guitarist. Pro musician colleagues had commented favorably on it, he said.
Listen to Richard play on his Thomas Dauge guitar a favorite piece of his: Cantilena by Richard Charlton.
Cantilena by Richard Charlton | Performed by Richard Croad | Guitar by Thomas Dauge
Richard believed new Thomas Dauge guitars were probably around the $7,500 mark today, although the luthier's site didn't list any prices.
Guitars by John F Mello
John Mello is an experienced luthier of over four decades who makes his guitars in northern California. In his own words, he is happy to talk about his work "but it's most important for you to directly have a conversation with one of my guitars."
Joh F Mello guitar workshop video
As a recent owner of a John F Mello guitar, Drew Burgess remembered his first contact with the luthier years ago. "In about 2004 I visited John's shop in Kensington," said Drew. "It's a little village in the hills next to Berkeley. I loved the shop and John's ideas about music and craft. John had produced a CD of people playing his guitars. I listened to the CD for years."
So did he buy a guitar at the time? No, as it turned out. He waited for years for his guitar playing skills to gradually improve. In 2017, Drew was at home on Spring break – he is an art teacher – and on a whim took it upon himself to visit John after all those years.
"Well, there was a guitar on the wall," Drew reminisced. "It was a guitar from 2004. One of his customers had to let it go. He handed it to me to play. I loved it. I held it and looked at it all over with adoration. It was priced less than a new guitar but perfect. The tone and playability was right. I asked for a moment and went outside to call my wife. She said buy it. So, I bought John's wonderful creation that afternoon."
Drew said he is in frequent touch with the luthier. "I have become more involved with John and his shop with some events and social gatherings. I am happy to have a guitar by a dedicated craftsperson. John loves music and his life as a luthier. Sometimes I visit spontaneously to see a new project of his."
Drew's guitar had a spruce top and rosewood back and sides, with a scale length of 652mm which is slightly longer than usual.
Here is a video of Greensleeves played by Drew on his favorite John F. Mello guitar.
Greensleeves by Anonymous | Performed by Drew Burgess | Guitar by John F Mello
On the price we can expect to pay for a guitar like this, Drew said: "I do not wish to talk about his pricing as he is an artist to me—people can visit the site and find out. I am happy to have received a second-hand guitar at a price I could afford."
Guitars by Daniele Chiesa
Chiesa is an Italian luthier but lives and builds his guitars in Spain. His guitars are available at Guitars International in the U.S., Kent Guitars in the UK and Siccas Guitars in Germany. He trained under Kenny Hill in California and now operates from his workshop in Granada.
Daniele Chiesa guitars website
Owner Linda Tsardakas, an accomplished guitarist, traded a luthier-built spruce top for a Constantin Dumitriu cedar top back in 2010. "I loved the Dumitriu," she said. "It had a warm sound and cedar was definitely different from spruce. Although easy to play and sounding beautiful, I somehow missed the old sound of spruce. So my dream of having both was born."
Linda researched Chiesa online and was impressed. The actual purchase came about not directly but through a collector of luthier-made guitars in Philadelphia. She got her choice delivered for a trial in Boston where she was in a week-long workshop with her guitar fraternity. "I loved it at first sight/sound right there in my room at Endicott College. I had a good feeling and was certainly not disappointed!"
The model was Chiesa's classical spruce top concert guitar ("I love the clarity of spruce") with Madagascar rosewood for back and sides at a standard 650 mm scale length. Linda said it was easy to play because "the neck is 53 mm wide but the depth is flatter than on other guitars and that makes a difference for me."
Linda gives us a superb rendition of Leo Brouwer's Un dia de Noviembre on her Chiesa spruce top.
Un dia de Noviembre by Leo Brouwer | Performed by Linda Tsardakas | Guitar by Daniele Chiesa
Recently, Linda said, a 2020 Chiesa guitar was sold at Guitars International for $11,750. "My guitar was built in 2007 and was purchased and kept for 10 years before I bought it in 2017. Being 10 years old, it was considered 'used' and I paid $5,000 for it."
Guitars by Michael Thames
One look at Michael Thames' site and you wonder where all the words went! It's all purely visual with gorgeous instruments on display in exquisite close ups. A few guitars that happen to be currently available are listed. And the audio samples… are plentiful and gorgeous sounding, with some cool guitarists like Matt Palmer playing wonderfully recorded pieces.
Michael Thames guitars website
Owner Dave Reynolds, with six classical guitars in his collection, said the guitar he played the most was a Michael Thames.
"I first learned of Michael's guitars from guitarist Matt Palmer," said Dave. 
Matt Palmer is a world class guitarist who plays Thames guitars exclusively. (Look him up on YouTube.) In March 2017, Matt Palmer gave a concert for a guitar society in Iowa where Dave resided. Matt stayed with Dave's family for three days and during this time Dave had the opportunity to play his Thames spruce double-top guitar with Brazilian rosewood back and sides.
Said Dave of the experience: "This guitar was the best sounding guitar I had ever played. Shortly after, a friend of mine and I contacted Michael about his guitars and he said he had four currently in progress. I purchased a cedar top and my friend a spruce top. Both guitars are double tops, Indian rosewood back and sides with raised fretboards. The craftsmanship is remarkable."
Did he ask for any custom changes for this guitar? "Well, I upgraded the tuning machines with Rodgers tuners, which increased the price by about $800. I purchased the tuners separately and had them shipped to Michael's workshop."
His interactions with the luthier were frequent and easy-going. "Michael Thames is a master luthier, a nice guy, very easy to work with, and wants his customers to be satisfied."
Dave was especially happy his guitar had a very sweet sound, well balanced with great intonation. It was also very easy to play in all positions, he said.
Now watch owner Dave Reynolds playing Luigi Legnani's Caprice No. 2 on his Michael Thames guitar.
Caprice No 2 by Luigi Legnani | Performed by Dave Reynolds | Guitar by Michael Thames
He believed today's price for his model would be around $7,500.
Guitars by German Vasquez Rubio
As one of today's respected luthiers, German Vasquez Rubio is known for his signature sound. Growing up in the 'guitar city' of Paracho in Mexico, Rubio refined his skills there and has since been serving a growing clientele for decades from his workshop in LA.
German Vasquez Rubio guitars website
When Mark Campbell, an experienced guitarist with four luthier-made guitars under his belt, was recovering from a bout of tendonitis, he went online looking for a shorter scale guitar to reduce the stress on his hands. "I went to the GSI website," recalled Mark. "And discovered they sell GVR Estudio models in varying scale lengths, including a 635/51mm variant – a scale length in the range I was looking for."
He was bowled over by a GVR demo video featuring Jaxon Williams. "I called German's shop directly and they emailed me photos of sample Palo Escrito back and side sets along with sample rosette patterns. I was shocked when they told me GVR could deliver the guitar in a little over a month. I thought he must have a shop full of assistants, but he had only one apprentice.  I was assured that GVR still built the Estudios himself."
Did he make any special requests? "Yes, I asked for a 12 hole tie block (no extra charge) and an upgrade to Sloane tuners. I wanted the guitar to be set up with as low an action as possible without buzzing to accommodate my recovery from tendonitis."
"It was delivered on time," said Mark. "In a hard case. I could not be more pleased. It has the same full, balanced sound you hear in the video, plenty of volume, and it's very easy to play."
Since Mark hadn't recorded himself on his new acquisition, he gave us the next best thing: a link to the GVR demo video that made such a huge impact on him. Enjoy.
Registro by Antonio Lauro | Performed by Jaxon Williams | Guitar by German Vasquez Rubio
Mark paid $3,500 for his luthier guitar. He strongly believed that choosing to commission a guitar from an experienced luthier ("think 100 builds or more") with a good reputation ensures that you will receive a high quality instrument and that the luthier will stand behind his/her work.
—-
Even if it's written in your stars that someday you will be heading in the direction of a luthier, that time may not be now. If that's the case, here's a more accessible (non-luthier made) list of guitar options for intermediate guitarists. These are excellent choices for those who can hold out a bit longer.
Happy pursuing the dream!