Classical guitars come in a bewildering price range with the cheapest model at $50 and the most expensive well over $5,000. I have researched various models within various price bands that are excellent value for the money. Whatever your budget, you should be able to find a good guitar here.
So what exactly is the right price for a good classical guitar? The price of a guitar is related to the playing level. A beginner can expect to pay in the $150-$200 range, an advanced beginner around $500-$800 and an intermediate player in the $1,500-$2,000 range. For expert or concert players, luthier-made guitars cost more than $5,000.
A costlier guitar is not always a better guitar. A cheaper guitar is not always bad. Barring the truly (absurdly, in my opinion) cheap options, say, below the $100 mark, you can find true bargains inside every budget.
For the truly advanced and expert players, the world of custom-made, luthier guitar spreads its arms wide open to lure the unwary… which is another story altogether and we'll do it another time.
For now, the following listings feature some of the excellent value-for-money classical guitar brands/models for the absolute beginner, an advanced beginner and an early to middle intermediate player. These classifications are clumsy and inexact, I know, but you know where you're at.
We'll also cover some excellent options for young children and adults with small hands.
Right priced classical guitar for the beginner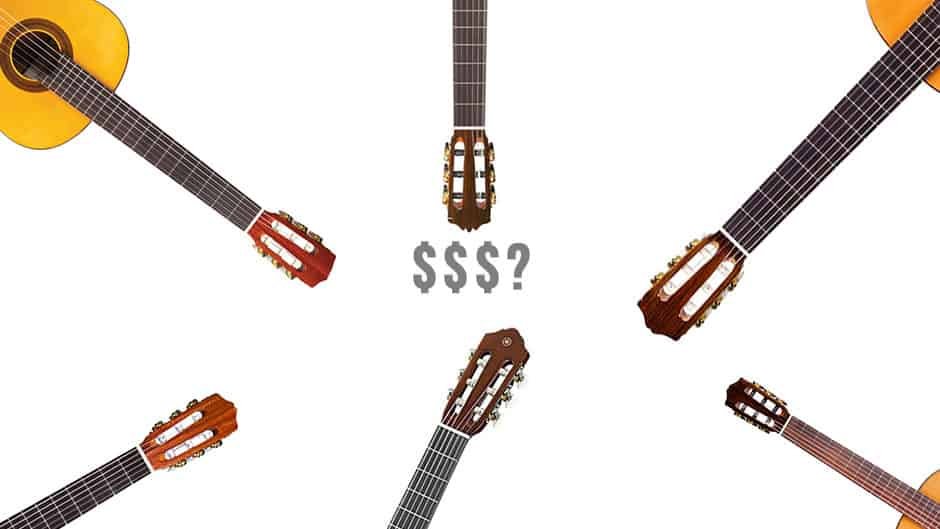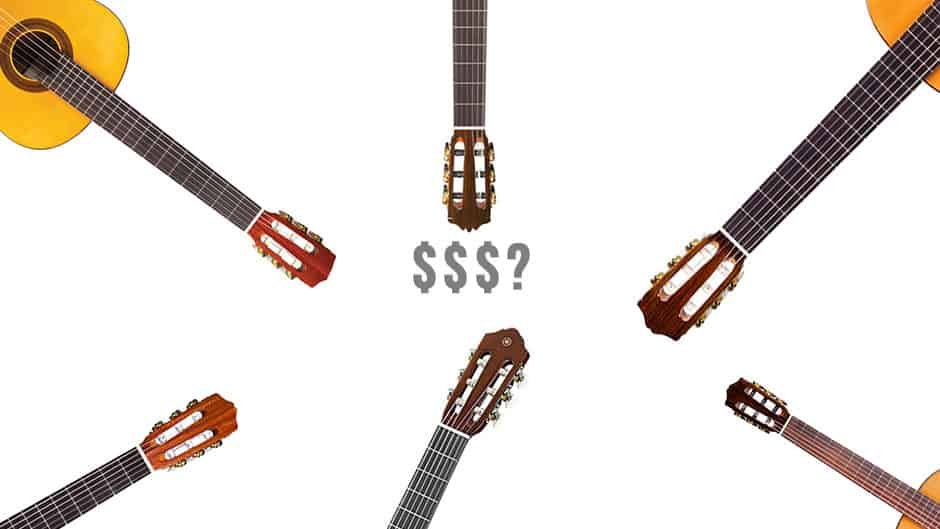 All classical guitars for beginners listed here are regular, full size (650 mm) guitars. For folks with small hands or children below 11 who typically look for smaller sized guitars, there is a separate sub-section below.
All prices in this section are in the reasonable range. I've given links to online stores where you can check the latest price.
Lucero LC100, a popular choice
Yamaha C40II, the eternal evergreen
I have written an in-depth review of the Yamaha C40. If you're interested in this model, you'll find this detailed review useful.
Cordoba C3M, a serious step up
Yamaha CGS 104A, students' favorite
Cordoba Protege C1, feature rich
Classical guitar for the very young or players with small hands
Yamaha CGS 102A 1/2 size for the little one
Yamaha CGS 103A II 3/4 size for the not so little
Cordoba C1M 3/4 -1/2 sizes, great choices
Cordoba Dolce 7/8 for adults with small hands
Classical guitar for the advanced beginner
Cordoba C7 Cedar/Spruce, a step up
Yamaha CG192S, an evergreen staple
Alhambra 4P, a great Spanish alternative
La Patrie Presentation, well made in Canada
Cordoba C9 Spruce, over budget and brilliant
For a detailed discussion of the Cordoba C9 (including Spruce and Cedar options plus the 630 mm Parlor variant), do check out my review of the C9.
And then some more options…
I should really mention a few more options. Not just because there are fabulous options out there, but also because they are not all that wildly expensive.
I'm talking about good classical guitars made in Spain, not usually found among the usual online stores. They are not normally recommended on online review sites.
Being a member of the classical guitar community worldwide and in touch with what's winning the favor of guitarists at every level, I wish to point out these models which are in turn from top class, high repute brands. Solid, quality manufacturers without the huge marketing budgets of the big guns.
I believe the following models are worthy of your consideration at the intermediate level of classical guitar playing. Yes, I know I'm pushing it… but hopefully by not too much. They are not as costly as you may think.
Prudencio Saez G11
Hermanos Camps SP6
Hernandez Professor
Esteve 7CE
Raimundo 132 Cedar
You will not find them in regular online stores but on sites like: Guitars From Spain, Guitarrras de Luthier and Casa Luthier. To be clear, any of the guitars in the main list above are great choices in quality and price. They will leave you more than satisfied.
If you wish to explore the ultimate step in a guitarist's journey, there are always luthier-made guitars! Hear what 11 owners of luthier-made classical guitars have to say about them (with audio samples).
If you're interested in the Yamaha range of classical guitars in particular, I recommend you read our review of all the Yamahas for beginner and intermediate guitarists.
Happy hunting!