There are literally hundreds of models of classical guitar out there in the market. Even with so-called beginner models, there are just too many options. How do you decide on the right classical guitar?
Which classical guitar is the best depends on two factors: the size and your budget. The size of a classical guitar can be full-sized or fractional. If you are sure about pursuing the guitar, you can afford to spend more on a quality instrument. If you're merely testing the waters, you can settle for a low-cost guitar.
To start with, let's assume we're going for a full-size guitar meant for an adult player. And we'll look at three price points: budget, regular and high end. We will look at the smaller size (fractional) guitars for young players and adults with small hands later.
Full-size classical guitars for adults
By adult, we mean anyone above 12 years of age who normally requires a full-size guitar. Some adults may need smaller guitars because they are of small stature, especially hands and arms. Teachers often recommend that such folks use a 630 mm guitar, also known as the 7/8 guitar. I have a whole article discussing my recommendations of 630mm classical guitars. Do consult that if you're an adult looking for such a solution.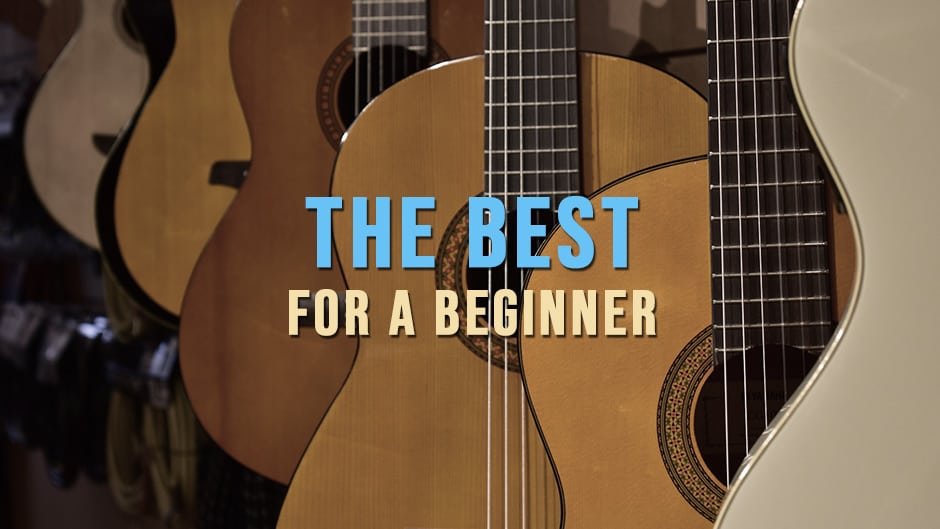 Excellent budget options
ADM Full Size Classical Nylon Strings Guitar with Gig Bag
This guitar starter kit comes with essential accessories at an affordable price. It is not a well known brand but a satisfying one for those who have purchased it.
The guitar has a fan-style bracing which is more common among expensive guitars. Another feature not found at this price point is a dual-action truss rod for adjusting the guitar's neck angle and making it easy to play. You don't have to adjust it, at least not during your beginner phase, but it's nice to know it's there.
The beginner extras comprise one waterproof guitar bag, digital tuner, footstool, stand, capo and an extra set of strings. Everything you need to start playing immediately comes in one box. Good thinking. Check out the price of the ADM Full Size Guitar at Amazon.
Hola! Music Classical Guitar (HG-39GLS)
Hola! Music Full-Size Classical Guitar is another surprising package at the affordable end. It features a spruce top guitar with Mahogany back, sides and neck. Those are standard tonewood choices for a beginner guitar. The fingerboard is made of Walnut, another popular choice among higher-priced guitars.
A truss rod, which is a steel bar that runs along a guitar's neck, completes the list of features. The adjustment screw, located inside the soundhole, can be turned with the included Hex Key to control the 'action' of the strings to suit one's playing comfort. Turning it one way brings the strings closer to the fingerboard and turning it the other way takes them further away. A truss rod is not a feature that a beginner strictly requires, but it is certainly a nice, if unexpected, extra to have.
A free padded gig bag comes with the guitar. Taken as a whole the Hola! guitar with its gig bag is a full-on value-for-money product. It has everything a beginner needs. Check the price of the Hola! Classical Guitar (HG-39LS) at Amazon.
Branded and reasonably priced
All guitars here are regular, full size (650 mm) guitars. They are not all that expensive and you can get yourself a big brand name like Yamaha known for its sound, build quality and lasting value.
Yamaha CGS 104A, students' favorite
Choosing this guitar is not about choosing 'extra' packages thrown in but about the quality of the instrument itself. Yamaha instruments have won a name for their super build and consistency in quality. 
Yamaha C40II, the eternal evergreen
High-end options
You pay a little more, about $100 roughly, to get into a higher quality level. You have a choice of the major brands Yamaha and Cordoba who are well represented in this segment.
Cordoba C3M, a serious step up
As mentioned earlier, this is a question of learning intent and commitment to serious guitar playing. A passionate beginner who wishes to take the high road to learning deserves an instrument that resonates equally well.
Yamaha CG142C Cedar Top Classical Guitar
This is a great guitar for a beginner to early intermediate player. It is known for its good tone and playability. It stays in tune solidly. Yamaha make great classical guitars and this is one of them, even though they make more expensive ones like the CG162 and CG182.
The CG142C features a solid American cedar top with nato wood back and sides. The fingerboard is rosewood and the neck nato wood.
The CG142 is aimed at the beginner, perhaps the ambitious beginner who wants a bit more. It is a full size guitar with a full nut width of 2".
A full-size affordable classical guitar that is value for money. For someone stepping up from a 3/4 model or entering the classical world for the first time from the acoustic side, this is a good quality introduction to a solid top.
I know of a guitar teacher who recommends the CG142 to his early stage students instead of going for a cheaper 'student' guitar. Obviously this is meant for those who wish to take the classical guitar seriously as a hobby or otherwise – in the belief that a guitar should provide years of service to a student.
You can check the price of a Yamaha CG142C at Amazon. Or a spruce top CG142S at Sweetwater.
Smaller size classical guitars for children
3/4 size options
There is no standard measurement that manufacturers agree on for what constitutes a 3/4 guitar. Or, for that matter, even a 1/2 size guitar.
A 3/4 size guitar, as defined by Yamaha, one of the world's biggest manufacturers, is a guitar with a scale length of 585 mm (23"). Whereas Cordoba, the other heavyweight, calls a guitar a 3/4 size if its scale length is 615 mm. Other manufacturers have other numbers.
Scale length, incidentally, is the distance between the saddle near the soundhole and the nut, the vertical white plastic thing over which the strings pass to enter the headstock area.
To make sense of these variations, check this about whichever brand you intend to buy: Either the scale length is 585 mm (Cordoba spec) or 615 mm (Yamaha spec) or something in between but nothing longer. Or look for an overall length of about 36″.
With that out of the way, let's look at some promising models of 3/4 size.
J & Z Beginner Classical Guitar
The model is well made for its price with solid basswood for the top, back and sides. Maple is used for the neck, head and fretboard. 
The distinctive feature of this classical guitar is it comes with a package of useful accessories: a waterproof guitar bag, a guitar strap, a tuner, a guitar wipe and even two picks. Check the price of the guitar + package at Amazon.
Fender FA-15N
Yes, it's that Fender of electric guitar fame. The reputed Fender has a beginner's 3/4 size classical guitar in its range. Made of laminated Agathis top with Sapele back and sides, the Fender Squier FA-15N has a fingerboard made with Rosewood and a neck made of Nato. The scale length is 592 mm (23.3") which falls comfortably within the accepted range of what we know as the 3/4 guitar.
The neck width at the nut is an unusually slim 43 mm (1.69"). This will make it easy to hold the guitar, especially for those crossing over from a regular acoustic/electric guitar.
Adding value to your purchase, the Fender Squier FA-15N comes with useful accessories including a gig bag. Everything you need to start playing immediately comes in one box. An easy-to-use Fender clip-on tuner and a Fender guitar strap are included. Picks are included if you want to add to the basic fingerstyle. An instructional DVD is also included for learning the guitar. Check the price of the Fender Squier + package at Amazon.
1/2 size options
Again, there are varying numbers thrown around to define a 1/2 size classical guitar. Yamaha has a scale length of 530 mm (about 21″) for their 1/2 size guitars. Cordoba's equivalent is longer at 580 mm (about 22.8″).
Look for either of these numbers with these brands or a number in between the two numbers with other brands. To a small child of under 8 years, every mm counts and you want to ensure that the measurement does not get, quite literally, out of hand!
That said, here are a couple of very good 1/2 size options for the little one.
Yamaha CGS 102A 1/2 size for the little one
Cordoba C1M 1/2 size, a great choice
___
If you're interested in 3/4 size guitars for your child, I have written an article dedicated to finding the right 3/4 guitar for a child with specific model recommendations.
For help on what to look for when buying a classical guitar, whether budget ones or expensive ones, whether for a beginner or a more advanced player, I have a helpful step-by-step guide on how to choose a classical guitar. You will find it useful.
One of the most useful accessories for your new classical guitar is a guitar support. If you need help in choosing one check out my 7 Popular Guitar Supports Reviewed.
If you are one of those wondering about why even a new set of strings go out of tune so frequently on your guitar, read my article on Why Strings Go out of Tune and How to Stop Them. You will breathe easy.
Happy plucking!