To regular guitarists who are used to slender necks and radiused fingerboards, a traditional classical guitar (with its wider neck, more spacing between strings and a flat fingerboard) often feels strange to play on. A hybrid design that includes a cutaway design and added electronics feels familiar and reassuring.
While purely classical players may not care much about a hybrid, electric/acoustic players love it. A hybrid cutaway model allows acoustic players free rein to experiment with new nylon sounds while not struggling with playability or volume.
There are many models of cutaway classical guitars in today's market. This very fact tells us that the crossover movement is thriving and succeeding! I'm considering six popular models at different price points for this review.
Lucero LC100CE
Ibanez GA35TCEDVS Thinline
Ibanez GA6CE
Cordoba C5-CE
Kremona Verea
Cordoba GK Pro Negra
These cutaway models, in my opinion (and based on my research), have solid features to offer for the money. Let's look at them one by one.
Lucero LC100CE Acoustic-Electric Cutaway
The Lucero LC 100CE acoustic-electric classical guitar is an affordable cutaway featuring a laminated spruce top and mahogany back and sides. Like all cutaway designs, the Lucero allows full fingerboard access and has built-in electronics.
Check the price of a Lucero LC100E at Amazon. Or here at Guitar Center.
Cutaway body style
Laminated spruce top
Passive preamp with Volume and Tone controls
Mahogany back and sides
Spruce top 
Scale Length: 25.5″
Rosewood fretboard and bridge
Number of frets: 18
Under-saddle Piezo bridge pickup
Controls: Volume, Tone
Finish: Gloss Natural
The Lucero cutaway can certainly be a satisfying beginner's guitar. It can also be a good crossover guitar for folks from the electric and acoustic worlds with some guitar-playing experience already. Especially for those wishing to add the sound of nylon sounds to their guitar palette, the reachable price makes it easy to consider and experiment with.
Even for hobbyists and casual players of the regular acoustic guitar, this is a great addition. For those who feel the classical guitar lacks volume and projection, an electrified instrument is a boon. There is attention to cosmetic detail and it is overall an attractive guitar to perform with. Many users love the pretty clean and solid sound of the Lucero LC100CE. The built-in electronics are basic and sold. It's a great guitar for live performance as well as for recordings.
It's an easy guitar to buy on a whim and be satisfied with it.
Ibanez GA35TCEDVS Thinline
Ibanez has won itself a good name even in the classical guitar world, especially their acoustic-electric models. The models tend be great-sounding classical guitars that are easy to fret and play. They are well constructed, affordable and regarded for their tone. The GA35 lives up to the general Ibanez standards very well. Check the price of the Ibanez GA35 at Amazon.
The GA35 has a spruce top. Its slimline mahogany body is only 2 3/4″ thick. Being more resistant to feedback, it's ideal for stage work. It also has a narrower neck than a standard classical guitar making it a great crossover instrument for the steel-string or electric guitar player. A cutaway and 14th-fret neck joint further enhance the playability of this affordable nylon-string instrument.
Thinline Cutaway body
Spruce top
Mahogany back & sides
Rosewood bridge and fretboard
Ibanez under saddle pickup
Ibanez AEQ210T preamp with onboard tuner
14th fret neck joint
Narrower 46mm width nut
Balanced XLR & 1/4″ outputs
Scale length: 650mm
Radius: Flat
Again, the key here is that a cutaway guitar leans more towards being a crossover guitar for electric and acoustic players rather than offering any enticements to a pure classical player. Hence the narrower neck, thinner body and the cutaway design itself are all designed toward making the classical guitar experience more enjoyable for acoustic players.
The narrow 46mm neck (as against a full size of 52 mm in a regular classical model) is a crowd-pleaser as is the 'Thinline' which makes playing very comfortable. Although the 'flat radius' feature is more a classical guitar one than an acoustic one.
On the electronics front, the Ibanez is simple and adequate. The Ibanez AEQ210T 2-band tone control preamp is optimized for use with the under-saddle pickup and comes with a Phase switch. In addition to the 1/4″ output jack, a balanced XLR jack is included for direct connection to a PA system. AA battery operation avoids the difficulty of finding replacement batteries.
Some users not used to the feel of a classical guitar may find the action high. There is an adjustable truss rod for correcting the neck angle and thereby the action. A minor complaint has been that the built-in tuner does not go off automatically. If you forget to turn it off, you could have a run on the battery.
The Ibanez GA35 is a more than worthwhile addition to the gig bag for its convenient Thinline design and affordability.
Ibanez GA6CE
This is an Ibanez model that is great value for money. Ibanez has put in a lot of value to make the GA6CE a genuine option in the regular classical guitar mould. As suggested earlier, it appears like Ibanez had in mind folks who straddle both classical and pop/rock worlds. Going by the rave reviews in online stores like Amazon, Sweetwater, etc. they sure made the right decision. Check the price of Ibanez GA6CE at Amazon.
I think three types of people should look at this guitar (for that matter, the earlier model GA35 too) seriously:
Players in the pop/rock/jazz category, including performers and composers, looking for a refreshing little 'nylon touch' to their sound. The GA6CE fulfils this role very well at a surprisingly low price
Beginner classical guitarists and advanced beginners who also dabble in folk/rock/jazz etc. This guitar once again fulfills the dual function beautifully
People looking to gift their talented child or a niece or nephew (in their teens, perhaps) who show musical promise. This makes for a great gift, substantial without being obscenely expensive
I have been impressed by its price-performance that I've written a full article devoted to the Ibanez GA6CE. Read it to get all the information if this model interests you.
Spruce top
Sapele Wood for back
Nato Wood for neck
Purpleheart wood fretboard
Hardtail Bridge
Manganese battery
Piezo pickup system
Overall Volume, Treble and Bass controls
Allen key
Number of frets: 19
From a classical guitarist's point of view, there is much to appreciate in the GA6CE. Barring the cutaway design, a lot about the model adheres to fairly conventional norms of classical guitar construction. Its top wood is spruce, the back and sides are of Sapele wood, a hardwood used as an affordable substitute for mahogany and uses the traditional fan bracing style.
From the acoustic player's point of view, this is pretty much a genuine introduction to the world of the classical guitar. With some added electronics. And as mentioned, the price is affordable.
Cordoba C5-CE Classical Cutaway
The Cordoba C5 (without the cutaway design) is a popular and best-selling choice for an early intermediate classical guitar player. It is a well known performer, highly regarded over the years and among the better known models of the Cordoba range. It is part of the company's Iberia series. The C5-CE is the cutaway variant of the C5. Check out the price of Cordoba C5-CE at Amazon. And here's the price at Sweetwater.
Single cutaway design
Solid Canadian Cedar top
Mahogany back and sides
Spanish fan bracing
High Gloss Polyurethane finish
Nut width: 1.96″ (50mm)
Rosewood fingerboard
Mahogany neck
Gold tuning machines
Indian Rosewood bridge
Saddle & nut: Bone
Scale length: 25.6″
Number of frets: 20
Fishman Pickup/preamp
Undersaddle piezo
2-band EQ
Tuner
From the choice of tonewoods to the fan bracing, the C5-CE is a well made traditional classical guitar following conventional norms but for a (slightly) thinner neck and cutaway design for more playability. With the Fishman Isys and the 2-band pickup system, the amplified sound should be good for gigging and recording. It has a built-in tuner as well.
It is a good introduction to the classical world for the acoustic/electric player for it is a 'proper' classical guitar in many respects. To the venturesome classical guitarist, it makes minor adjustments to the design but keeps a lot of familiar features in place (including a flat fingerboard.)
As with the original C5, the C5-CE has the sound Cordoba guitars are generally known for – a bright projecting sound with resonant basses and clear trebles.
Kremona Verea Performer Series
Kremona's crossover offering is the Verea, a sleek 48mm neck width cutaway guitar with Fishman Presys Blend system. With a built in mic, under saddle piezo, three bands of EQ and an onboard tuner, Verea's preserves its more traditional elements of classical guitar making as well. Check out the price of Kremona Verea at Amazon.
Kremona guitars are made in Bulgaria. The well-regarded, family-owned brand also makes regular classical guitars, violins, cellos, ukulele and the like. 
Solid red cedar top
Indian rosewood back and sides
Gloss finish
Honduras cedar neck
Indian rosewood fingerboard and bridge
Bone nut and saddle
Venetian cutaway
Gold tuning machines with authentic rosewood buttons
Fishman Presys Blend System
650 mm scale length
48 mm neck width at nut
Kremona Arete medium-high tension strings
Deluxe gig bag with neck support
This is a different class of guitar (at a different price range also, of course). It's a handmade, full-scale length with a solid top, not laminate. Features like a cedar top, Indian rosewood back and sides and a bone nut-and-saddle put this model in a classier league of classical guitars. Basically, this model is about taking a European-made, handcrafted classical guitar and adding some crossover features like a good blend system, a Venetian cutaway and a narrower nut width to suit acoustic players. It also has an adjustable truss rod. The result is a polished product that should please an intermediate guitarist – perhaps a live-playing-cum-recording-artist – immensely.
If you want to spend that little extra to get that one special classical guitar the Kremona Verea won't leave you disappointed. It is a fantastic guitar as vouched for by its numerous online fans. Its electronics are good and the workmanship is spot on.
A traditional classical guitar has a 52mm nut width (2.04″), a flat (non-radiused) fretboard. The kind of stuff a steel string player wouldn't find easily accessible. Also, the conventional action is often higher, and the string spacing is wider making the feel of the guitar different from any steel string.
The Verea does a decent job of simplifying. Its nut width is at 48mm (1 7/8"). Its 16″ radius fingerboard makes it fairly similar to a steel-string acoustic guitar. As a result, it plays in the familiar manner of a steel-string guitar. The Fishman Presys sounds good, and at its price point Kremona offers a lot for the money.
Cordoba GK Pro Negra – Spruce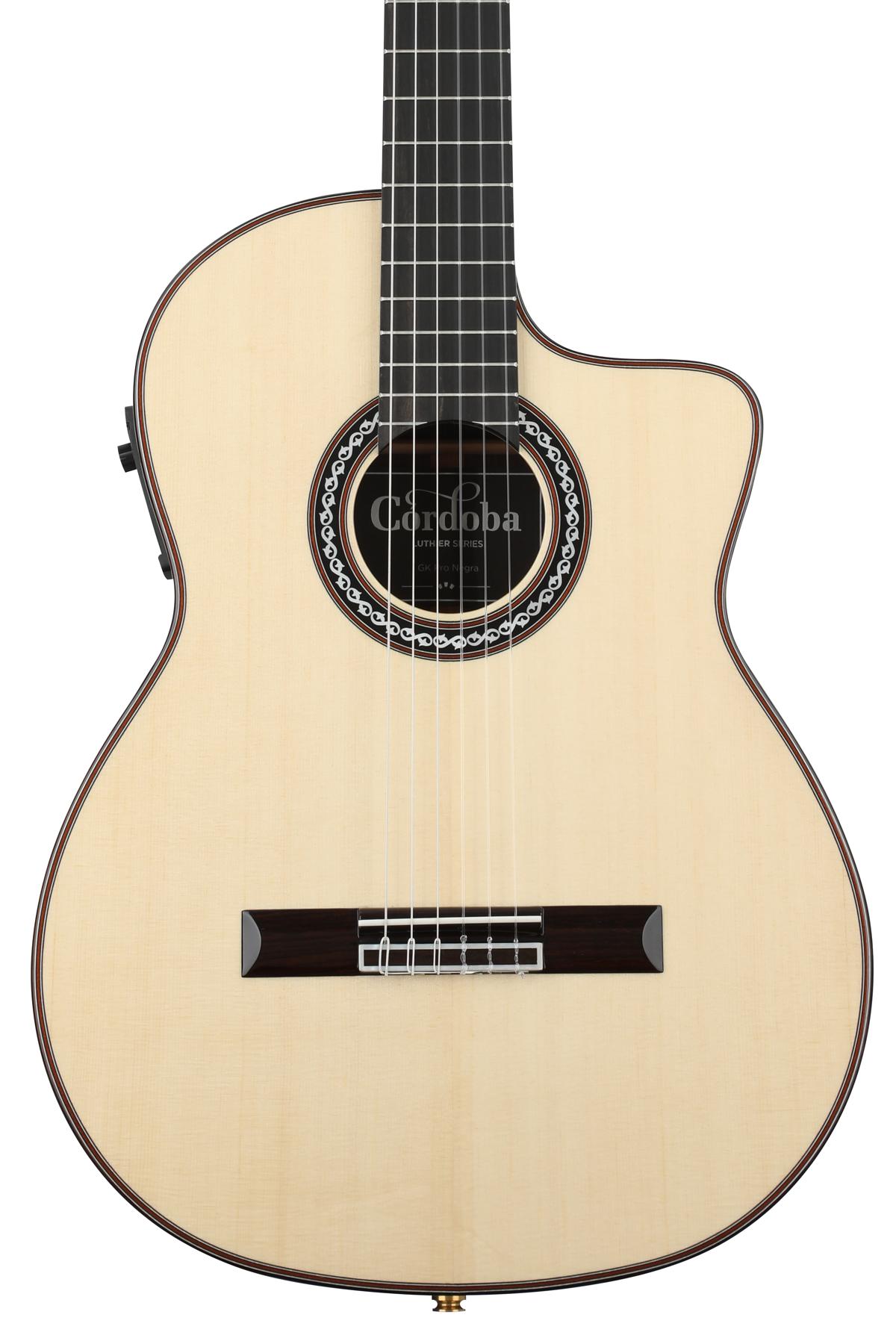 The final choice of our reviews goes to the big daddy all surveyed. The Cordoba GK Pro Negra is a full-scale, all solid woods instrument in a lighter body of traditional flamenco construction. To good guitarists coming over from the acoustic/electric side of the fence, this model promises a remarkable playing experience with a fast-playing feel. Here's the Sweetwater link to the GK Pro Negra.
Lightweight Spanish Flamenco body shape
Cutaway body style 
Finish: Gloss Polyurethane
Solid European Spruce top
Solid Indian Rosewood back and sides
Fan Bracing
Mahogany neck
Ebony fingerboard
Number of Frets: 19
Cordoba Premium Gold Tuners
Nut/Saddle Material: Bone
Nut Width: 1.96″
Electronics: Fishman Prefix ProBlend system
Savarez Cristal Corum strings in High Tension 500CJ
For a traditional classical/flamenco guitar, the specs are appetizing. The Gypsy Kings Signature model is built for tone with its all-solid tonewoods. The mahogany neck is slightly thinner and narrower than traditional classical guitars for smooth playability. And the thinner body is comfortable for players of any style.
The hand-inlaid wood rosette and premium gold tuners put your best foot forward in the cosmetic sense. You also have the Fishman Prefix ProBlend pickup system built right in.
The GK Pro Negra has a traditional classical guitar design, with its solid European spruce top and Spanish-style fan bracing. Fan bracing is preferred for flamenco guitars over lattice bracing, allowing the guitar's top to vibrate more freely.
Because of its construction, this model will perhaps feel the most comfortable to even pure classical guitar players. It has so many standard classical features that it feels less of a crossover than most cutaways. Even the thinner neck can be gotten used to quickly considering it is only 1.96" as against a normal 2". It plays and feels like a classical guitar. The extra body and volume afforded by the electronics will feel like a good addition.
On the other hand, acoustic players will get as close a taste of the real thing with the GK Negra as is practical while enjoying the cutaway design, full-bodied volume and the electronic amplification.
_____________
I also have a Review of Takamine classical guitars which include some excellent electric cutaway options. You can consider those suggestions also and weigh them against the options here to get to an informed decision.
On a related note, if you're looking for the ideal nylon strings for your new guitar, I refer you to my article on a 5-Step Guide to Choosing Strings. If you want to get deeper into learning the basics of classical guitar fingerstyle playing, look at my review of 5 Online Resources for Learning Classical Guitar. It has some free resources as well.
Happy hybrid-ing!