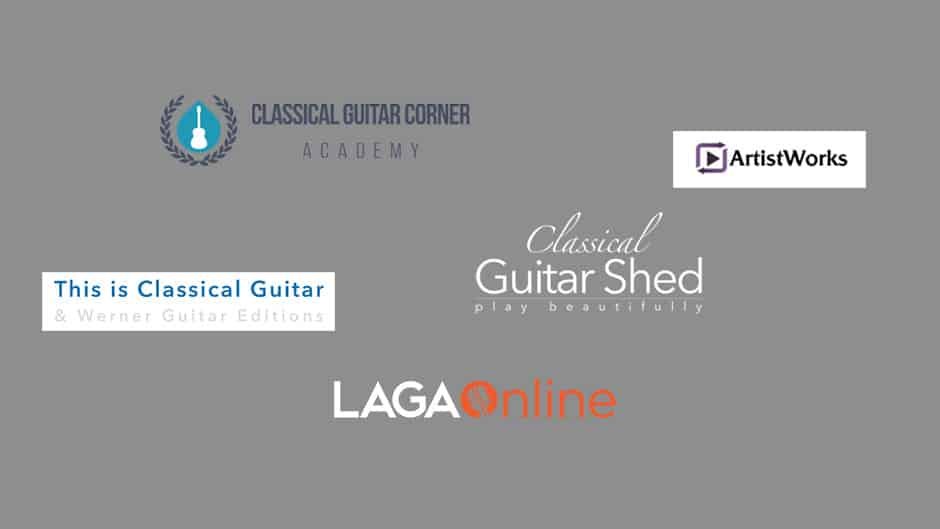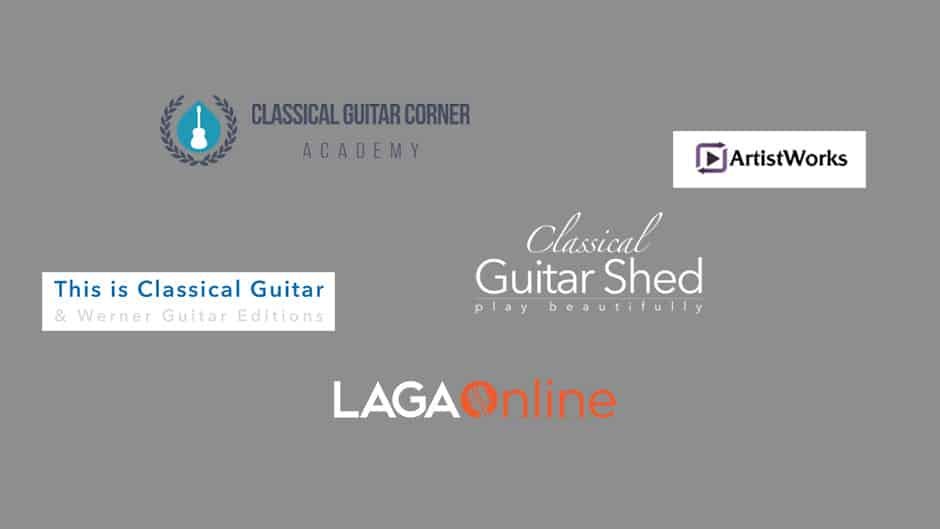 I've always been interested in online courses for the classical guitar. Learning repertoire pieces from YouTube is fun, but a solid, well laid out course is what counts for building technique and musicality. I found these 5 course offerings weighty and comprehensive and… impressive.
What do the best courses have in common? The 5 courses in this review cover technique, daily practice, sight reading, graded exercises and pieces. All courses are online, all have structured training content for beginner and intermediate students. All are specific to the classical guitar.
These courses are different approaches, sometimes varying drastically. For instance, some courses provide personal feedback. Some encourage playing to an online audience. Yet others leave you (armed a well designed curriculum) to your own devices. And a couple provide formal, objective certification.
Which one is right for you? Here is our review. Incidentally, if you need help on choosing a classical guitar I recommend my review on the various guitar options at different price ranges.
This is Classical Guitar
Website
thisisclassicalguitar.com
Author
Bradford Werner
Price
Free
Course structure
Graded content in the form of free downloadable documents:
– Free beginner course
– Classical Guitar Method Book Volume One
– Classical Guitar Method – Volume Two
– Classical Guitar Repertoire Lessons Grades 1, 2 & 3
– Technique and etudes
– Favourite exercises
– Repertoire collections
Pros
– Werner is a great teacher who puts out helpful videos on YouTube on technique, playing repertoire, choosing gadgets like guitar supports, etc. Truly knowledgeable and well informed on anything classical guitar, humble and helpful
– Very well structured curriculum especially for beginner and early intermediate levels
– If you don't want a teacher watching your every move, this is quite possibly the best, well thought material out there on every aspect of playing: repertoire, technique, practising, sight-reading, et al
– This valuable, carefully put together material is yours for free!
Cons
– At early levels, it is recommended you have a teacher to guide your hands literally, which you don't have here
– You will not receive feedback on how you're progressing or how well you are using the teaching materials
– You get pdf's to learn from, not videos (although there are many of Brad's YouTube videos you can follow up with)
Notes
Werner's is a respected, friendly voice in the classical guitar world. His curriculum is ideally suited to the beginner or an advanced beginner who has a tutor in real life.

Either that or they are the ones with an iron will to self-motivate themselves and follow the straight and narrow without external assistance.

As they learn the basics under supervision, leave it to Brad to provide a long term track to follow. He will guide you through the exercises and technique tips at every stage of the process. And, of course, how to play his well chosen repertoire pieces. At a price that's quite frankly love-worthy!
This is Classical Guitar – Bradford Werner
Jason Vieaux Artist Works
Website
artistworks.com/guitar-lessons-jason-vieaux
Author
Jason Vieaux
Price
– 3 month plan $105
– 6 month plan $179
– 12 month plan $279*
Course structure
– The curriculum makes extensive use of historical, timeless teaching materials developed by some of the master player-teachers of the instrument – from Sor to Segovia
– The beginner stage covers elements from Carcassi's famous method, Sor's progressive studies, Carulli etudes, Tarrega's exercises and the famous Segovia scales, and advice on topics like choosing a guitar, how to practice, etc
– The intermediate and advanced course content appears to be focussed on playing repertoire pieces well
Pros
– Jason is an accomplished classical guitarist of international fame and winner of many awards
– He pays attention to basics (string changing, choosing a guitar, early finger exercises) as well as to advanced techniques (vibrato, barres, trills and ornaments)
– While the early repertoire pieces are standard, his intermediate and advanced are well chosen: Bach, Dowland, Tarrega, Villa-Lobos, Barrios and Albeniz to mention a few
– Video feedback is personal and specific from Jason himself to the student who submits a piece for review. A large library of such reviews is shared with the whole student community for everyone's benefit and improvement. A killer feature!
– A guest guitarist (Colin Davis) shares his approach to Bach and Tarrega pieces (of great value to intermediates)
Cons
– A little too quick and cursory approach for the absolute beginner who needs detailed guidance in the early stages.
– Beyond the video submission and personal review (a great feature) there appears to be not much interaction with the mentor/teacher
– Community activity which permits senior students to help the junior ones appears to be absent (difficult to tell from the way the course is explained on the site, so it may be wise to write in and ask about it before joining)
– There is no formal certification of grades (if that matters to you)
Notes
Jason Vieaux, as noted, is a guitarist of stature (about a dozen albums to his credit) who has put together a personal curriculum to benefit novice and intermediate guitarists.

As mentioned, this may not be perfect for an absolute beginner. But for the budding guitarist with the basics already under the belt, Jason's methods can be very helpful.

I'm personally very skeptical of famous stars in any field who take to teaching. With noteworthy exceptions, they tend to talk at a level that is often higher than those of the students it is meant for. Jason appears to be a noteworthy exception! He has it all covered with hundreds of videos, breaking educational topics into easy chunks along with backing tracks and guitar tabs. A worldwide community of students is growing around his tutelage.
Artist Works – Jason Vieaux
Classical Guitar Shed
Website
classicalguitarshed.com
Author
Allen Mathews
Price
$49 a month or $399 per year*
Course structure
Educational content for the Woodshed Program is in the form of progressive videos mostly supplemented with downloadable content
– Guitar basics: sight reading, customised exercises and good practice suggestions with focus on solid technique
– Both repertoire pieces and technique issues are handled through isolated, individual 'courses' which are detailed videos to explain a particular piece or issue
– Unlimited personal video reviews
– Free private video calls on Skype to sort out any technical or playing issue (fantastic!)
– A private community of fellow guitarists who you can play for and listen to
Pros
– Early emphasis on playing with expression as against mechanical playing of notes ('play beautifully')
– A balanced approach developing technique as well as repertoire in parallel in a conscious, well planned way
– Access to all the individual 'course' videos which are sold separately included in membership
– Unlimited personal video feedback is a truly great feature
– Skype calls to clarify your dodgy issues in playing or following instructions – this is so welcome!
– Over 2700 videos at your disposal to learn from
Cons
– Pricey among the courses listed
– It is more a personal tutor's vision of teaching an instrument as against an academy or college laying down a standard or more formal course structure
– There are no definite grades or levels (as there are with many 'proper' musical instruments) with discrete and objective expectations of proficiency at every grade or level
– The content appears directed towards 3 loosely defined groups of beginners, easy intermediates and intermediates
Notes
Allen Mathews, a guitarist with a passion for teaching the classical guitar, is also known for his byte-sized video 'courses' on individual pieces of repertoire or technique

His methods are personal (a quirky sense of humour included), detailed and well presented.

As long as you're aware that for the money paid you are getting a personable, idiosyncratic approach to the guitar, you should find this course worthwhile. Perhaps, older acoustic guitarists returning to the instrument and wishing to explore the nylon variant this time around may find the instruction accessible and appealing. You will learn daily exercises, technique strategies and repertoire pieces after all. That there is no depth to the curriculum in terms of a formal, collegiate structure may not be an issue for you. Go for it!
Classical Guitar Shed – Allen Mathews
Los Angeles Guitar Academy (LAGA)
Website
onlineguitaracademy.net/online-classical-guitar-lessons
Author
Dr. Emre Sabuncuoglu and Rahul Puar
Price
$650 per year*
Course structure
This is a formal training course starting with beginners with no prior playing skills on the guitar or no sight reading experience
– It takes the student through various Levels of playing with video streaming lessons
– From Level 1 offering foundation skills all the way to Level 7 playing concert pieces of Barrios, Tarrega and the like with interpretive skill, speed and fluency
– A classical conservatory approach to guitar mastery
– This is world class instruction carried on the web to places that don't have world class instructors
Pros
– A systematic, comprehensive approach to guitar learning
– Focus on developing not only technique but also musicality at every level of learning
– 1,200 pre-recorded videos across all levels
– Faculty feedback on video once a month
– Takes a holistic view of guitar education instead of a short term, disjointed 'tips and tricks' approach
– Qualified faculty hold graduate degrees from reputed music schools with each instructor having over 20 years' experience in teaching and playing
Cons
– The course is certainly expensive, perhaps the biggest drawback
– The student video feedback, while valuable, is no more than once a month
Notes
The Los Angeles Guitar Academy started out in 2005 and has won for itself a name in guitar pedagogy.

As indicated, the methodology is comprehensive and systematic. It covers a lot of ground over the 7 Levels but in clear and definite steps

The Academy rightly believes that there are "no shortcuts to great technique and musicianship". The classical conservatory model will be perfect for those who want a thoroughly structured, if not formal, education over a time period rather than a get-rich-quick type course. For others, perhaps older adults who like a less formal approach, this may seem too much by way of school-style rigidity.

It is certainly a great option for the serious student of the guitar. Or one who plans to become one.
Los Angeles Guitar Academy – LAGA
Classical Guitar Corner Academy
Website
classicalguitarcorner.com
Author
Dr. Simon Powis
Price
– $150 per quarter
– $399 per year*
Course structure
The CGC Academy "serves adult amateur guitarists by providing them with the highest quality education available."
– It has a well structured curriculum spread across 8 Grades comparable to the major classical guitar Grade systems internationally (like Trinity or Royal School of Music)
– While it is not compulsory to take the Grade Exams (held twice yearly with video submissions), the curriculum is the same for everyone whether they take the Exams or not
– Every Grade level has lesson modules on that Grade's technique, repertoire, practice methods, sight reading, theory and musicianship
– An active forum for members to discuss any and every topic pertaining to learning the classical guitar
– Annual Summer School meet-up for whoever wishes to over 6 days – with open mic, ensemble practice, master classes, personal training and the like (at extra cost and optional)
– Members can and do organise meet-ups of local members in their area for exchanging notes, playing together, catching up
– Regular masterclass videos on repertoire by virtuoso guitarists in addition to the regular curriculum
– Member challenges every quarter thrown open to all members to develop one focussed, specific aspect of technique at the Grade they are at
Pros
– Dr Simon Powis holds a PhD from Yale in music and is a fine concert guitarist as well as a forerunner in modern guitar pedagogy and author of exercise books and repertoire editions
– For the serious student (with Grade certification) as also the self-trained guitarist (with no particular need for certification)
– Caters to absolute beginners (teaching them music reading skills if necessary) as well as intermediate guitarists (looking for course correction and accurate, objective assessment as well as helping them get over the 'plateau feeling') and advanced guitarists looking to hone interpretive skills and fresh approaches to concert staples
– Reasonable price for the education received, probably the cheapest in that sense
– You are encouraged to start a Progress Journal in the forum, your own diary of your efforts and results. It's open to other members to read, but its main purpose is to serve as a personal record of your progress over time in your own words. Invaluable!
Cons
– The weekly Coaching Call for personal feedback from Simon and other faculty (paid for separately) is not being offered to new members or current members temporarily owing to the increased demand for it
– Barring the forum threads which are open night and day, there is no feedback with faculty on a one-on-one basis (now that Coaching Calls are blocked and Grade Exams occur only twice a year)
– Nothing much else really
Notes
With the talented Dr Powis at the helm, the Classical Guitar Corner Academy is one of a kind – a full fledged college-style curriculum taken with an informal pinch by a large community of adult guitarists not interested in certification!

There is enough training material here to last years. And as earlier mentioned I think the current price is a steal for the all-round value it provides.

The Academy, for all its heavy-duty emphasis on proper curriculum, bears its own weight lightly and hence there is a strong vibe of informality and fun among its international members. You may be the typical introverted classical guitar who wants to be left alone and not think of 'a guitar community' as being anything necessary or useful. You'd be very wrong indeed!

For this camaraderie and easy sharing of one's guitar woes and wonders plus the structured syllabus plus the reasonable price, the CGCA is a great option in online education as it obtains today.
Classical Guitar Corner Academy – Dr Simon Powis
*Prices accurate at the time of publication. Please check latest prices at the relevant websites.
So… what's the right course for you?
So you are a beginner in need of some starting guidance and you feel you can take it from there? Or someone who's dabbled with the guitar before and wants to refresh themselves on the basics and get going?
Head over to Bernard Werner's free course at thisisclassicalguitar.com .
Do you want to learn from a current master-player of the instrument and look into his mind about the ways he goes about it? Are you intermediate and want to learn the pro tricks to get to the next level using a virtuoso's teaching?
Over here, please. You will be taken to the talented Jason Vieaux's training course.
You want to learn from a personable, detail-oriented teacher with a passion for the instrument (and a goofy humor to boot)? Are you someone who has already 'tasted' some of Allen's offerings by way of his hundreds of single-piece learning videos and looking for more broader a learning track (with these learning videos thrown in for free)?
You've come to the right place. Do join Allen Mathews' Classical Guitar Shed.
Are you a serious student looking for serious academy-style learning that is vast, thorough and well structured in Levels? 
Look no further. Here's LAGA, all yours to begin your new life.
And finally, are you an amateur guitarist looking to take your playing to the next level or two and have already tried a few online hacks? You know enough to want to take the learning process seriously but are wary of most things online?
The Classical Guitar Corner Academy is the structured, informal and totally serious way of learning the instrument in today's day and age.
If you've decided that formal instruction is not the way you roll, then you may wish to read our review on how to create your own repertoire using free online sheet music for the classical guitar. Or check out a series of light and fun (but effective) video-based courses here for a quick start: Quick Video Courses for Classical Guitar.
If, on the other hand, you want more information on formal guitar education from major boards like Trinity, ABRSM, etc. I recommend reading my article on the Classical Guitar Board Exams Review.
Happy learning!
In the interest of full disclosure, I have followed and downloaded many course materials from Bernard Werner's site; I have bought individual repertoire learning videos from Classical Guitar Shed; and I am a member of Classical Guitar Corner Academy. I am not paid by any of the 5 organizations listed above to recommend them.