Online videos for learning the classical guitar are often fun but the interest wanes fast. The videos, even if they are entertaining and educational, are mostly piecemeal and one-off. It's difficult to see the whole picture, particularly for a beginner.
The bulk of the serious work of imparting guitar education appears to be done by traditional method books like Sagreras and Carcassi, pdf downloads on specific techniques like tremolo and arpeggios and online demos of how to play this or that piece of music. 
Before we move on, if you're more interested in formal grade-based classical guitar training, see my article Your Guide to Classical Guitar Grade System and check this article for information on intensive, curriculum-based online courses: 5 Structured Online Courses For Guitar.
For an instrument as intricate as the classical guitar, a video course is so perfect (second only to a live tutor.)  A lot of guitar technique boils down to positioning the fingers of both hands in a very accurate manner. A single video angle reveals and explains much more than a printed method or a pdf can. And questions like the following are easily answered:
Can I learn classical guitar online? Of course!
Is classical guitar hard to learn? No, not if you had the right videos!
How can I learn classical guitar at home? With a video course!
As long as the videos are accurate, authoritative and fun, of course. I've singled out a handful of these quick video courses for the classical guitar that will get a beginner excited and off to a great start.
| | | | | |
| --- | --- | --- | --- | --- |
| Name | Course by | What's covered | Price | Link |
| Classical Guitar Shed | Allen Mathews | Foundational – exercises, chords and note reading | FREE | CGS Course link |
| This is Classical Guitar | Bradford Werner | PDF + Videos covering basics, repertoire, exercises | FREE | thisisclassicalguitar Course link |
| Udemy Classical Guitar Essentials | Hani Gamal | Note reading, basic techniques, posture, music pieces to play | Check on site | Udemy Course link |
| Jam Play Classical Guitar for the Modern Guitarist | Evan Taucher | Fundamentals + More – 28 videos – scales, arpeggios, slurs, string crossing, tremolo, etc. | $20 per month | Jam Play Course link |
| Tone Base -Beginning Guitar Course | Daniel de Arakal | Basics + More – structured approach 30 videos – single string exercises, key signatures, multiple rhythms, etc.  | $30 per month | Tonebase Course link |
Prices as on date of writing. Please check websites for actual prices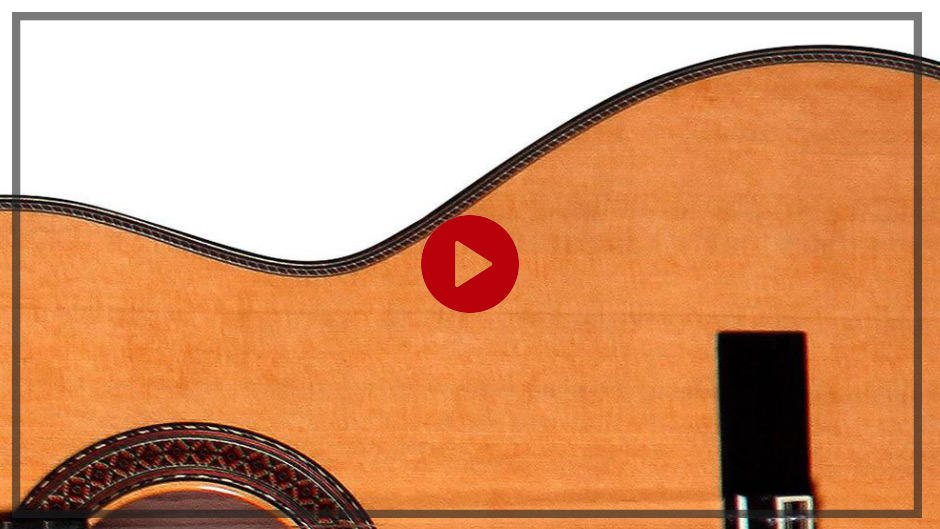 Classical Guitar Shed's Beginning Classical Guitar Course covers the basics
This popular website for learning repertoire pieces has a course called Beginning Classical Guitar offered as a series of short videos. The content-intensive website has a lot of guides and courses on the classical guitar and can sometimes be overwhelming for a student looking for basic information.
Beginning Classical Guitar is a quick, introductory course aimed at an absolute beginner or possibly someone playing some other style of guitar. The chatty and friendly Allen Mathews is a good teacher and guide. He is more known for his short training videos of repertoire pieces (like a Carcassi etude or a Bach piece) that are sold on the site as separate 'products'. For serious students, committed to the instrument for the long term, the site also offers a formal, heavyweight training program called the Woodshed.
The Beginning Classical Guitar series of videos is a free course that covers material on four foundational aspects: right-hand movements, left-hand exercises, basic chords and note reading.
The good thing about this course – besides being free, which is a great feature – is it assumes no prior knowledge. It leads the novice student from the very basics – including sitting posture, holding the guitar, tuning it and tips on warmup and practice sessions. The student is taught the basics of note reading. In the classical world, with so much formal music to explore in the later months and years, a student can't get very far with TABs alone.
You can be off and running right now once you get to this page on the classical guitar shed site. Provided, of course, you already have a nylon string guitar and a footstool (or equivalent guitar support.)
You can't beat the value you get at this price. The video format, as well as Allen's detailed teaching style, shows you clearly what you need to learn and how.
This is Classical Guitar site's Classical Guitar Method Book has supporting videos
Canada-based player and teacher of the classical guitar, Bradford Werner runs a content-packed website: thisisclassicalguitar.com – a respected, educational resource for guitarists at every level. Over time, the site has become laden with riches, so to speak, in the form of more and more lessons and reviews that it can be a little overwhelming for a newcomer to find their way.
Bradford's videos are highly rated for their playing quality, his performance insights and helpful tips at every turn. He has a free pdf download called the Classical Guitar Method Book which is a systematic guide meant for the total novice. Why are we including a pdf document in a review of educational videos? Because this pdf comes along with an ample set of lesson videos.
Taken together, the book plus the videos provide all the instruction a beginner needs – basic techniques, correct sitting posture, a good repertoire of pieces to learn as well as a must-see video that has overall advice to beginners starting out. Did I mention the whole resource costs you nothing? 
The page to go to is this one at thisisclassicalguitar.com and watch the video mentioned above. Download the free pdf and you're well on your way. What's particularly refreshing about Bradford's approach is, in addition to the usual (and necessary) basic techniques of playing, he has lessons on musicality and important issues like avoiding tension in the hands.
It is a quick and easy method to use and is also well structured. There is a hardbound version of the lessons Classical Guitar Method Volume 1: For Beginner Classical or Fingerstyle Guitar which you can check out at Amazon. It can be a nice way of saying thank you to Brad for some excellent teaching material, besides the joy of seeing a durable hardbound edition on your desk.
Udemy's Classical Guitar Essentials keeps it simple and basic
This was a surprise find. Udemy courses can be a long shot, ranging from the run of the mill to the occasional gem. Hani Gamal is a classical guitarist from Egypt and a Grade 8 certified player from the Royal Schools of Music. He is quite popular with his students on Udemy and is rated highly for his passion for the classical guitar. I went through a sampling of his lessons (the Udemy courses are so affordable at almost any time of the year) and he certainly covers a lot of beginner ground.
As long as you have a nylon string guitar and a footstool or equivalent support, you're good to go. Gamal teaches you standard music notation, how to tune your guitar, how to play the free stroke and rest stroke and puts you through the paces of left and right hand basics. You learn to play simple but satisfying tunes from Jingle Bells to Lambada! His enthusiasm for the music and for teaching is infectious.
You get to watch him break down every piece and play at slow speed for you to easily follow along. He gets you playing 2 voices on the guitar simultaneously which is the real charm of playing the classical guitar in the first place.
Since the course doesn't cost that much, this can be a good find for those students who want to start learning from the word go without much futzing with theory and lectures. If you can strum a few chords or have dabbled in finger style playing, you will like this no-nonsense, practical approach that gets you learning right away. Although, really speaking, you don't need prior guitar experience of any kind. Gamal's course is designed with complete beginners in mind.
Take a look at the intro video on the Classical Guitar Essentials course page at Udemy as also the student ratings.
Jam Play's Classical Guitar for the Modern Guitarist offers a new approach
Jam Play is a massive educational site for guitarists and it has a section for the classical guitar. The course Classical Guitar for the Modern Guitarist by Evan Taucher is a meaty, well organized set of lessons that has material to last you for months.
The approach is certainly different from the usual. As a conventional instrument steeped in its own traditions, the classical guitar can sometimes appear a little too forbidding an instrument to learn with too many do's and dont's attached. Taucher has a refreshing take by calling out a lot of "outdated instructional advice." 
So he combines modern technical ideas with the musicality of the traditional instrument and has designed a course for today's guitarists. He covers all the basics – positioning the guitar, figuring out the picking patterns, nail shaping, rest and free strokes, combining the thumb with the fingers and such. But he also goes beyond the fundamentals with lessons on string crossing, balancing the bass and treble voicings, slurs, scales, arpeggios and even an introduction to advanced techniques such as tremolo and rasgueado.
While it is for the absolute beginner of the classical guitar, the course goes further and deeper than most courses. It covers quite some ground over 30 video lessons. You pay by the month (or the year) and at the time of writing, it was $20 per month or $150 if paid up for the year. For students who like to have a clear blueprint and a definite structure beforehand, this course is quite the ideal match. And Taucher does have a 95% student approval according to the site. Check out the details here.
Tone Base – Beginning Guitar Course is quite the package
Tonebase is a relatively recent and exciting entrant to the world of classical guitar education and training. Imagine some of the world's best performers as your guitar tutors – people like Sergei Assad, Sharon Isbin and Leo Brouwer. This makes Tonebase a unique platform for learning the guitar.
By its very approach, the site has been popular with intermediate players if not performers and teachers of the guitar. The general standard is understandably quite high, like a masterclass almost. While this can be overwhelming for beginners, the good news is that Tonebase has come up with a Beginning Guitar Course that gives you "a simple, guided approach to the basic playing techniques, fundamentals of reading music, and critical listening skills" aimed at total beginners.
The tutor Daniel de Arakal has put together an interesting course that ends with the student able to play a Carcassi etude with proficiency. All basic techniques and essentials are covered as one look at the course page on the site will reveal. There is an emphasis on open and fretted string exercises on each string, key signatures, understanding rhythms and multiple note playing. It is a solid, comprehensive course over 28 video lessons.
Here again, we have the monthly subscription model and you will certainly need to take your time to do justice to this course. The price (at the time of writing) is $30 per month if paid monthly and drops to $20 per month if paid annually in advance.
_______
In addition to the website-based video courses covered in this article, YouTube in itself is full of classical guitar how-to videos. I've picked out some of the best ones in Classical Guitar Lessons on YouTube which you can check out.
If you'd like to supplement your video course(s) with a method book to keep you on track – it's a double system many self-taught players prefer – check out the article on 6 Top Method Books for Classical Guitar.
You may be wondering as a beginner about the time frame it takes to become a decent player of the classical guitar. Read my article How Long Does It Take to Reach a Decent Level? to get some realistic time estimates for your goals.
Happy learnings!