In recent years, the word "crossover" is used frequently to describe a guitarist who is basically from the acoustic/electric side of the fence and wants to "cross over" to the classical-nylon side. Crossover guitarists typically are trained in the steel-string guitar world of slim necks, comfortable guitar-body shapes, cutaway fingerboards and possibly electric amplification.
When they come a-lookin' for a nylon string guitar to expand their soundscape, they are looking for familiarity more than newness. They want the same slimmer neck, a radiused fretboard, cutaway design and amplification – but with some nylon strings attached! To meet such specific demands, there are a host of world class manufacturers who roll out the red carpet for the crossover artists. Here's some of the best options you should consider:
Takamine TC132SC
Takamine TH5C Hirade
Cordoba GK Studio
Cordoba GK Pro Negra
Yamaha NTX1
Yamaha NTX3
Kremona Fiesta F65CW-SB
Taylor 12e-N Grand Concert
Takamine TC132SC
Takamine guitars are well known in the acoustic world for their legendary guitars. Founded in central Japan and taking its name from Mount Takamine in the vicinity, its high-end Hirade Series named after its master luthier Mass Hirade is acclaimed for overall quality and performance.
The TC132SC is the electric cutaway cousin of the 'pure' classical model TC132S. This is the very guitar that the Eagles used in their acoustic version of Hotel California. Check out the TC132SC at Sweetwater.
It includes Takamine's proprietary CTP-3 Cool Tube preamp system. The CTP-3 provides low-voltage tube tone, from brilliant to warm. It has a 3-band EQ and an onboard chromatic tuner.
This model is perfect for classical guitarists who play in wedding, party and restaurant venues. You are likely to meet jazz guitarists looking for a pure nylon string tone with the TC132SC in hand.
As a traditional classical instrument, the TC132SC follows closely to the original drawings of Antonio Torres, the inventor of the modern classical guitar. The solid cedar top produces a warm full tone with plenty of dynamic range. The solid rosewood back aids in the projection and enhances the sonic brilliance of the instruments. The mahogany neck features a dual-action truss rod. And the finish is gloss.
The 132 Series guitars from Takamine have a lot of nostalgia attached to them. They are classics.
| | |
| --- | --- |
| Takamine TC132SC | |
| Body Style: | Single Cutaway |
| Finish: | Gloss Natural |
| Top Wood: | Solid Cedar |
| Back & Sides Wood: | Solid Rosewood (back), Laminate Rosewood (sides) |
| Body Bracing: | Traditional Fan |
| Neck Wood: | Mahogany |
| Fingerboard Material: | Rosewood |
| Number of Frets: | 18 |
| Scale Length: | 25.59″ |
| Tuning Machines: | Gold Classical |
| Bridge Material: | Rosewood |
| Nut/Saddle Material: | Bone |
| Nut Width: | 2.008″ |
| Electronics: | CTP-3 Cool Tube 12AU7 preamp system with 3-band EQ |
| Strings: | D'Addario EXP45 Normal Tension |
| Price link: | Check the price of Takamine TC132S at Sweetwater |
Positive voices from the web for the Takamine TC132S (paraphrased):
Very versatile – use it for pop, jazz, classical, country, church… The sound of nylon strings is a great stress reliever.
It's a fingerpicking dream!
Killer tone. Great playability. Impeccable craftsmanship.
I'm a full-time professional musician and a classically trained guitarist although I play many different styles. The TC132SC is amazing.
Takamine TH5C Hirade
Yet another performer from Takamine. Hirade is Takamine's premium line of classical guitars, originally designed by master luthier Mass Hirade. These guitars are constructed of fine tonewoods and handmade in Sakashita, Japan. Check the price of Takamine TH5C at Amazon.
The TH5C Hirade concert classic is a handcrafted model in Takamine's pro series. It is "designed and built to stand beside the finest classical guitars made today."
The TH5C is an acoustic-electric cutaway version of the original acoustic, high-end H5. The H5 sound is amped with the Cool Tubes II preamp (CTP-2). It includes a chromatic tuner, 3-band EQ and is fed by the Palathetic under-saddle pickup. This guitar goes from teaching aid to gig monster pretty much on demand.
It is a full-size classical guitar (with electronics) with a standard 51 mm nut width and 650 mm scale length.
Many users (including Joshua Rogers in the video below) are surprised at how heavy the TH5C is compared to a regular classical guitar. The Cool Tubes pickup hardware probably has a lot to do with the weight gain. But the pickup sounds great. Sustain increases when compared to acoustic playing so you need to be careful about stopping bass notes from ringing.
Most classical guitarists buy this guitar for amping up on gigs with the great pickup. However, the straight acoustic tone is warm and sweet, responding well to vibrato. It is a good guitar to make recordings. Notes are consistent in tone and volume as you move between positions and registers. Watch guitarist and teacher from New Zealand Joshua Rogers have his say on the TH5C. And you'll understand why this is a popular choice among those who perform.
Joshua Rogers' review of Takamine TH5C
Here are the key facts in a nutshell:
Solid Cedar Top
Solid Rosewood Back and Sides
Mahogany Neck
Ebony Fingerboard
Gloss Natural Finish
CoolTube (CTP-3) Electronics
Guitar Pickup Configuration Piezoelectric
String Material Nylon
Voices from the web (paraphrased):
Transducers have improved in the past 20 years, so I finally decided to take the plunge and purchase an acoustic/electric classical guitar. After reading numerous reviews, I settled on the Takamine TH5C.
The neck is as straight as an arrow and the workmanship is excellent. The grain of the spruce top is straight, tightly and evenly spaced. The back, sides and top are all made of solid woods.
Surprised how heavy the TH5C is compared to my Spanish guitar. The Cool Tubes pickup hardware probably has something to do with the weight gain. 
Responds well to vibrato, excellent balance between bass and treble.
Cordoba GK Studio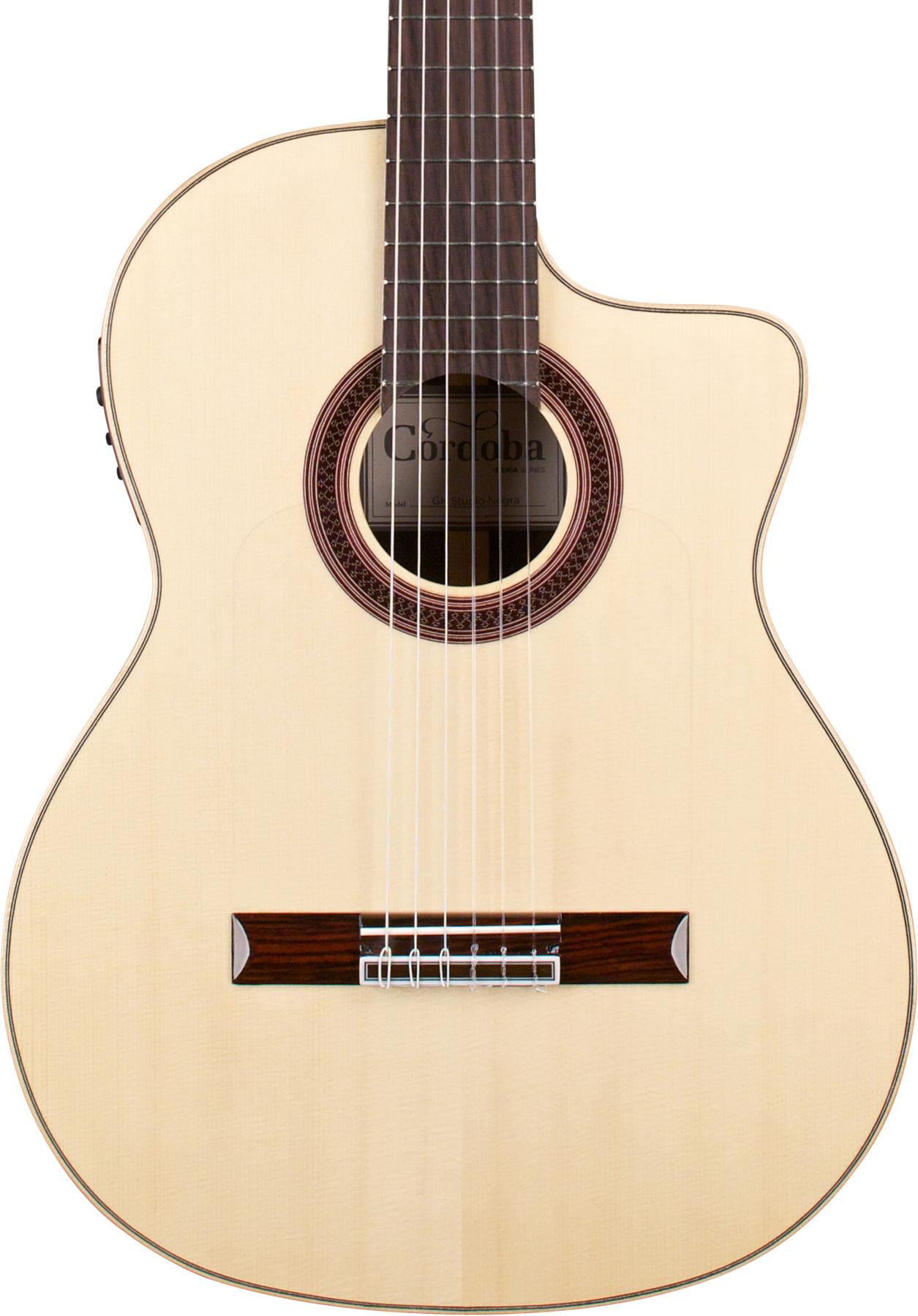 The GK Studio Negra – not to be confused with the more expensive GK Pro Negra, coming up next –  is a surprisingly powerful instrument at an affordable price. It features an Indian rosewood back and sides, a spruce top, mahogany neck, and a rosewood fingerboard. Check out the GK Studio Negra at Sweetwater.
The Cordoba GK Studio Negra has a fast-playing feel with traditional flamenco construction techniques including the solid European spruce top with Spanish-style fan bracing. Fan bracing is preferred for flamenco guitars over lattice bracing, allowing the guitar's top to vibrate more freely while still providing an evenly balanced tone.
"Based on its sister model, the GK Studio, the GK Studio Negra features the same European spruce top but with Indian rosewood back and sides for an even bassier and more robust sound." 
Aimed at crossover players more familiar with acoustic/electric style of guitars, the GK Studio features a slender mahogany neck narrower than traditional classical guitars for easy playability. The cosmetics are pretty: a hand-inlaid wood rosette and gold/black tuners with ebony buttons. GK, incidentally, stands for the Gypsy Kings after whom this signature model is named.
It comes with the Fishman Presys Blend pickup system.
| | |
| --- | --- |
| Cordoba GK Studio | |
| Color | Natural |
| Finish | Gloss Polyurethane |
| Top Wood | Solid European Spruce |
| Back & Sides | Indian Rosewood |
| Body Bracing | Fan |
| Binding | Maple |
| Neck | Mahogany |
| Fingerboard and bridge | Rosewood |
| Tuning Machines | Cordoba Gold |
| Nut and saddle | Bone |
| Electronics | Fishman Presys Blend |
| Strings | Savarez Cristal Corum High Tension 500CJ |
| Nut width | 2″ |
Satisfied voices from the web (paraphrased) for the GK Studio from Cordoba:
It's nice and loud, perfect for my style of playing.
The neck shape is comfortable, which is very important to me.
I don't intend to get into flamenco, but this is still a joy to fingerpick.
Wonderful bright, snappy sound with a warm, balanced low end.
Cordoba GK Pro Negra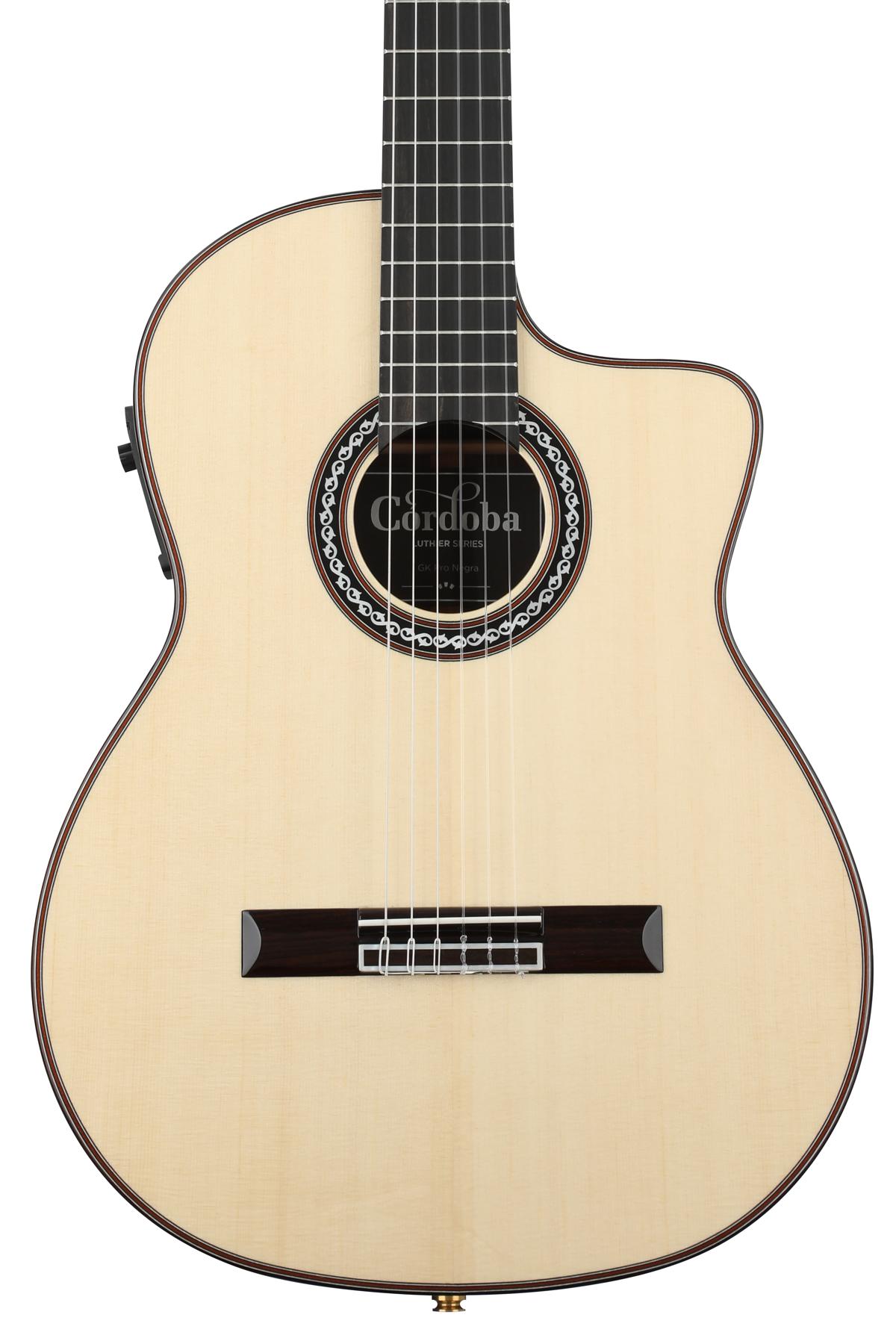 The final choice of our reviews goes to the big daddy all surveyed. The Cordoba GK Pro Negra is full-scale, all solid woods construction in a lighter body of traditional flamenco construction. To good guitarists coming over from the acoustic/electric side of the fence, this model promises a remarkable playing experience with a fast-playing feel. Here's the Sweetwater link to the Cordoba GK Pro Negra.
Here's the lowdown on the GK Pro Negra.
Lightweight Spanish Flamenco body shape
Cutaway body style 
Finish: Gloss Polyurethane
Solid European Spruce top
Solid Indian Rosewood back and sides
Fan Bracing
Mahogany neck
Ebony fingerboard
Number of Frets: 19
Cordoba Premium Gold Tuners
Nut/Saddle Material: Bone
Nut Width: 1.96″
Electronics: Fishman Prefix ProBlend system
Savarez Cristal Corum strings in High Tension 500CJ
For a traditional classical/flamenco guitar, the specs are appetizing. The Gypsy Kings Signature model is built for tone with its all-solid tonewoods. The mahogany neck is slightly thinner and narrower than traditional classical guitars for smooth playability. And the thinner body is comfortable for players of any style.
The hand-inlaid wood rosette and premium gold tuners put your best foot forward in the cosmetic sense. You also have the Fishman Prefix ProBlend pickup system built right in.
The GK Pro Negra has a traditional classical guitar design, with its solid European spruce top and Spanish-style fan bracing. Fan bracing is preferred for flamenco guitars over lattice bracing, allowing the guitar's top to vibrate more freely.
Because of its construction, this model will perhaps feel the most comfortable to even pure classical guitar players. It has so many standard classical features that it feels less of a crossover than most cutaways. Even the thinner neck can be gotten used to quickly considering it is only 1.96" as against a normal 2". It plays and feels like a classical guitar. The extra body and volume afforded by the electronics will feel like a good addition.
On the other hand, acoustic players will get as close a taste of the real thing with the GK Negra as is practical while enjoying the cutaway design, full-bodied volume and electronic amplification.
Happy voices from the web (paraphrased) for the GK Pro Negra from Cordoba:
I am a classical player who dabbles in a bit of finger-picking pop. This is a great guitar.
In comparison to my Takemine C132S, which has a louder bass response, this GK Pro is good in the treble range. The electronics are exceptional. You get an onboard pickup and a  microphone and you can blend the two to get the sound you want.
I use it for outdoor gigs, wedding ceremonies, online teaching and gigs in noisy spaces that require amplification.
The slightly narrower than classical nut width suits me, I am a primarily acoustic and electric player.
Yamaha NTX1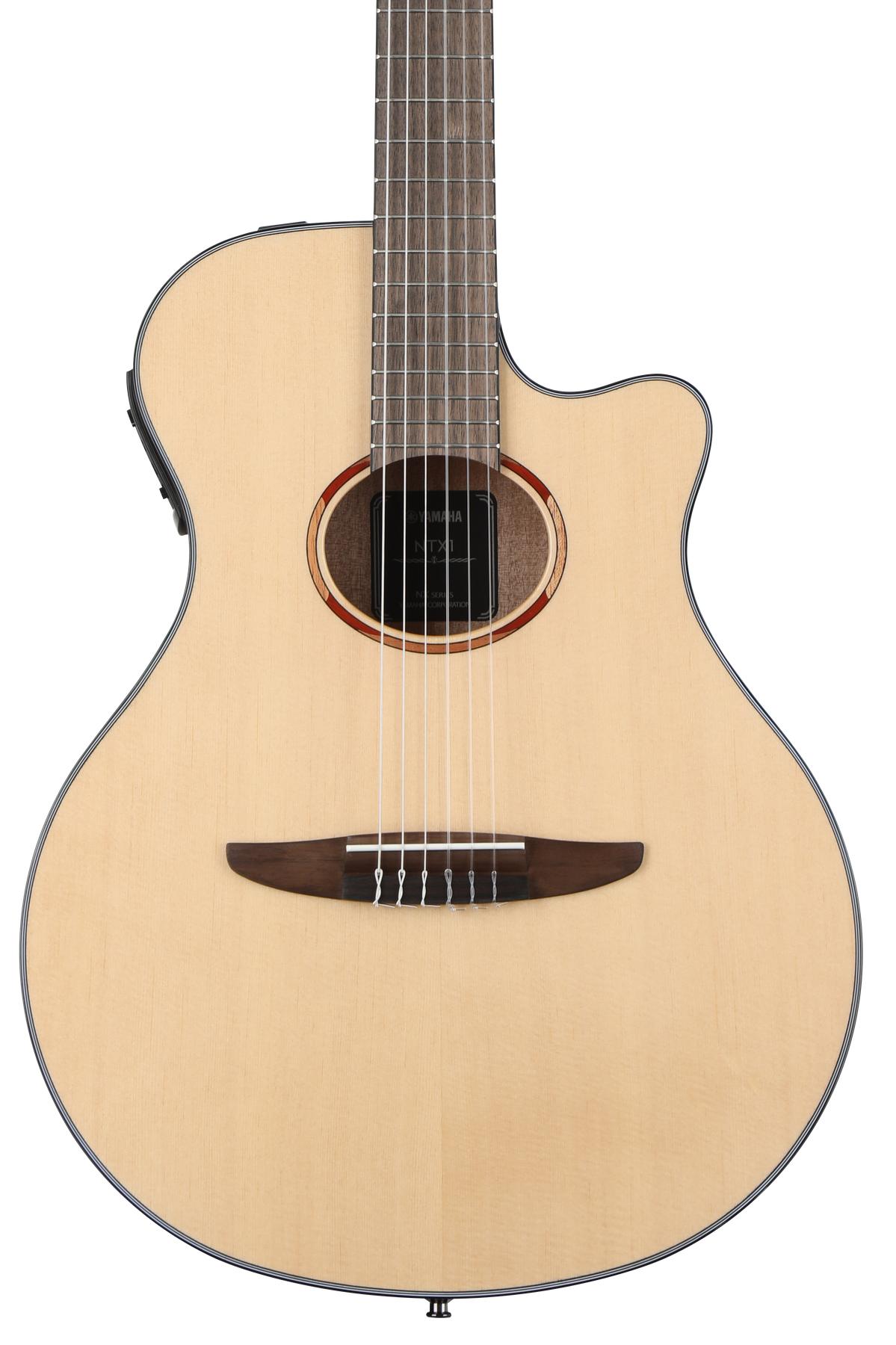 Compared to other guitars in this review, the NTX1 costs next to nothing and yet packs a punch. It is popular with electric and thin line players who need a nylon tone in their arsenal and want to go on stage as well. The modern neck profile along with the slimmer nut width (1 7/8") makes for easy playability. Check out the Yamaha NTX1 at Sweetwater.
The under-saddle pickup system works well and you can plug it in anywhere from a coffee shop to a club. The NTX1 is a spruce top guitar with Nato back and sides, Nato neck, a walnut Fingerboard, and Yamaha's proprietary Atmosfeel Electronics.
Even with its affordable price tag, the Yamaha NTX1 is built from premium solid tonewoods, including Sitka spruce for the top and Nato wood, a mahogany alternative.
Onboard electronics comprises the under-saddle pickup powered by an advanced Yamaha preamp system, with an onboard 3-band EQ. The NTX1 also features an onboard tuner.
| | |
| --- | --- |
| Yamaha NTX1 | |
| Color | Natural |
| Finish | Gloss |
| Top Wood | Spruce |
| Back & Sides | Nato |
| Body Bracing | Fan |
| Bridge | Ebony/walnut |
| Neck | Mahogany |
| Fingerboard | Walnut |
| Tuning Machines | Chrome with Matte Black Shafts |
| Nut and saddle | Urea |
| Electronics | Atmosfeel Pickup/Preamp |
| Strings | Yamaha S10 Mediums |
| Nut width | 1.875″ |
| Number of Frets | 22 |
It is easy to play and the strings are easier to fret than my steel string Ovation. I'll still play the steel sting guitar some, but not as much as this new Yamaha.
Yamaha NTX3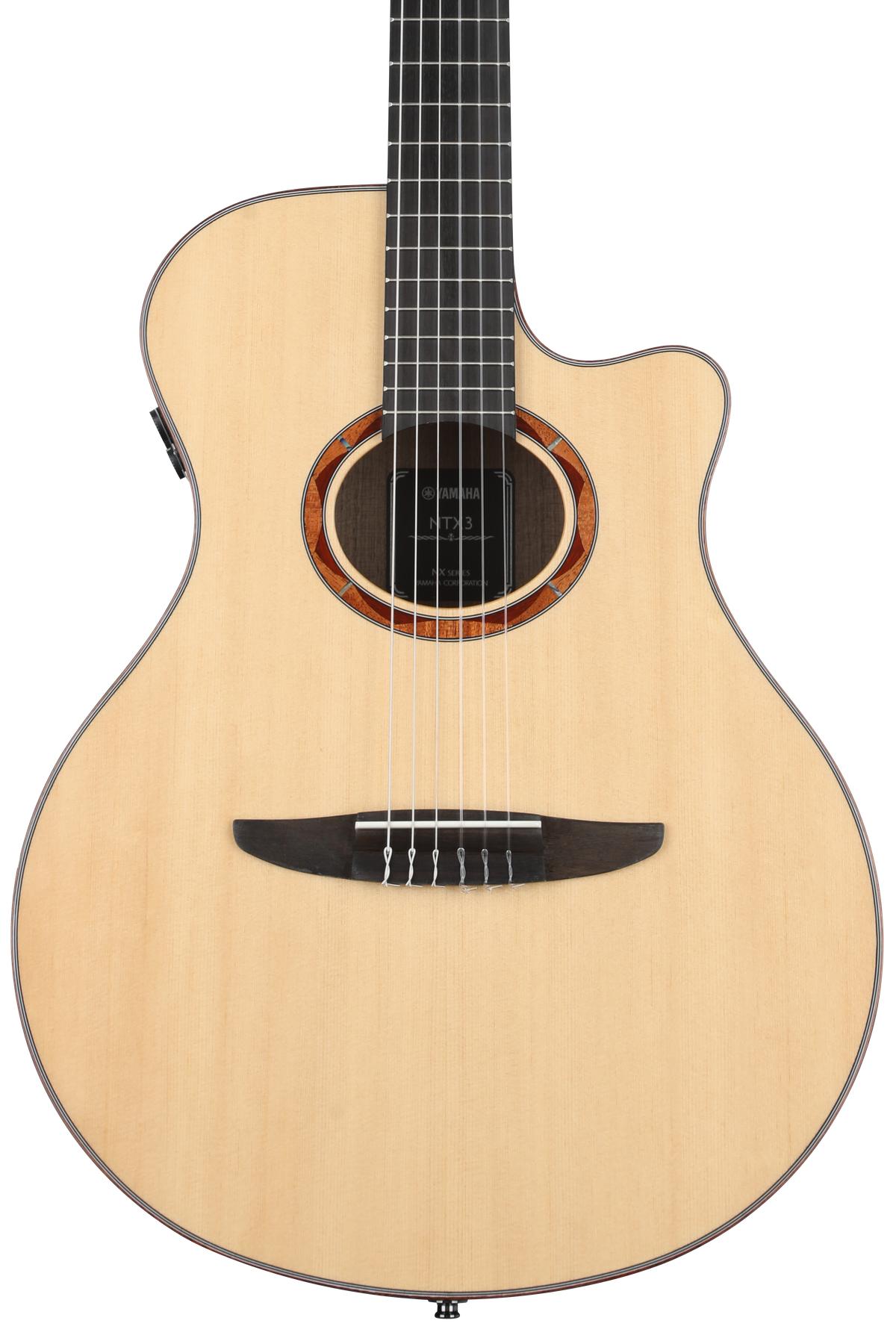 With its low action and slender neck, the Yamaha NTX3 is a great intermediate-level guitar for those from the acoustic-electric side of the fence. Complex chords and lead lines become easier and the cutaway design gives full access to the upper frets. Check out the Yamaha NTX3 at Sweetwater.
This is an all-solid woods guitar with good resonance and great sustain. It has a Sitka spruce top, walnut back and sides, a mahogany neck and an ebony fingerboard.
It comes fitted with the company's own Atmosfeel electronics. This innovative system features a 3-way sensor setup. A piezo under-saddle sensor picks up sound where the strings meet the bridge, while an internal microphone captures the guitar's internal resonance and a sheet sensor picks up vibrations from its soundboard.
A blend knob enables you to blend the mic signal with the piezo. A treble EQ knob shapes the tone. You also get a master volume control. Whether an experienced player or just making the switch from steel to nylon strings, you will find the NTX3 is a great choice.
In addition, Yamaha has "refined the bracing pattern to improve bass response and increase the volume without compromising any structural integrity."
| | |
| --- | --- |
| Yamaha NTX3 | |
| Color | Natural |
| Finish | Gloss |
| Top Wood | Sitka Spruce |
| Back & Sides | Walnut |
| Body Bracing | Fan |
| Bridge | Ebony/walnut |
| Neck | African Mahogany |
| Fingerboard | Ebony |
| Tuning Machines | Gold with Matte Black Shafts |
| Nut and saddle | Urea |
| Electronics | Atmosfeel Pickup/Preamp |
| Strings | Yamaha S10 Mediums |
| Nut width | 1.875″ |
| Number of Frets | 22 |
The NXT3 right out of the box changed my mind about the possibilities of ever finding a nylon string that I would be comfortable playing.
It's beautiful to look at and the tonal quality is superb.
Kremona Fiesta F65CW-SB
A name that has been making its mark among classical players for many years is the Kremona brand. Its Fiesta FC model is a resonant, affordable and well-built guitar in the classical tradition. More on this Made in Bulgaria model you can find in my article A Guitar from Bulgaria, Anyone?  The electric-cutaway variant of this popular option is the Fiesta F65CW which retains the high quality and affordability. Check out this Kremona on Amazon.
For over 85 years, Kremona has crafted musical instruments in Bulgaria by hand. Fiesta F65CW "features old world craftsmanship with modern electronics for a complete playing experience." Good for all styles of playing, the F65CW features a solid European spruce top paired with solid Indian rosewood back for a great sound straight off or plugged in. In fact, many owners comment on its excellent sound quality even without being plugged in – something that cannot always be said of many acoustic-electric guitars.
Fiesta F65CW has a dual source Fishman Prefix Pro Blend pickup-complete with both an under-saddle transducer and a sensitive condenser mic. The neck is much like a regular classical guitar in nut width: 52mm (2-inch) width.
| | |
| --- | --- |
| Kremona Fiesta F65CW-SB | |
| Back Material | Rosewood |
| Body Material | Laminated-and-solid-wood |
| Color Name | Natural |
| Fretboard Material | Ebony |
| String Material | Nylon |
| Top Material | Spruce |
| Neck Material Type | Cedar |
| Number of Strings | 6 |
| Guitar Bridge System | Adjustable |
I am a professional classical guitarist. I have tried countless guitars and brands. I know that Kremona guitars are the absolute best for your money. The quality and tone of this guitar are amazing. Other guitars in this price range do not even compare to the quality and look of this classical.
Craftsmanship is exemplary. I think all the Kremonas have a brighter tone that leans toward Spanish/flamenco which is what I was looking for. I really like the unplugged tone of this guitar.
Taylor 12e-N Grand Concert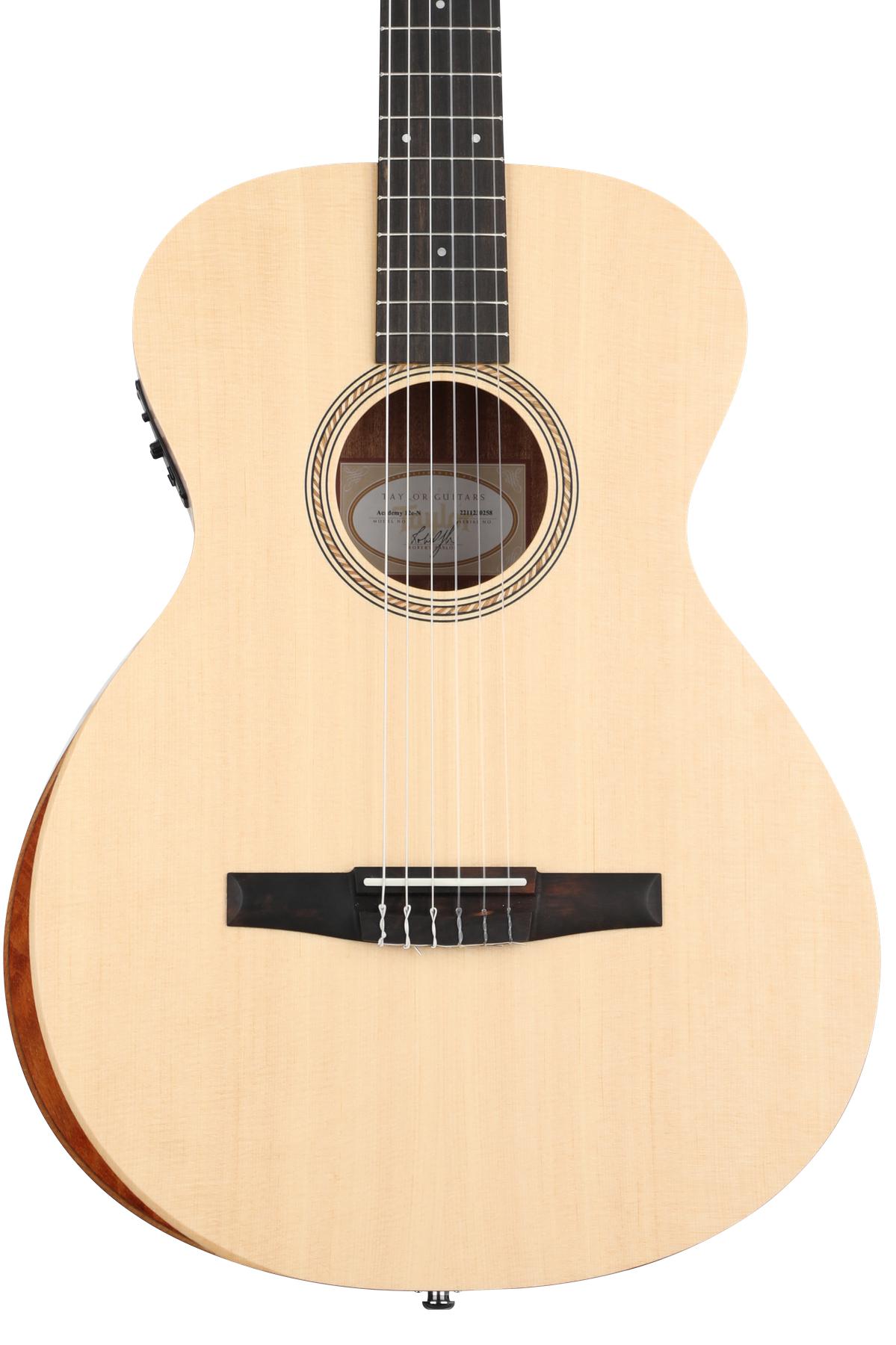 Taylor is a huge name in acoustic guitars. Started in 1974, Taylor is a leading brand in acoustic and acoustic/electric guitars with legions of fans across the globe. And they make a few classical guitar models as well, including the electric-acoustic cutaways we are looking at.
Jazz and pop guitarists especially, looking to expand their sound with a nylon flourish, have great things to say about Taylor classical guitars. And the Academy Series comes at an affordable price. It is a popular choice for those entering the world of nylon strings. For beginners to the guitar in any style, this is a good choice because nylon strings make for a less painful and softer learning curve. Check out the Taylor 12e-N Grand Concert at Sweetwater.
The combination of a narrower 1-11/16-inch nut width and a shorter 24-7/8-inch scale length makes for great playability. The Academy 12-N Grand Concert is a nylon string Taylor with a Lutz Spruce top, which is a hybrid of Sitka Spruce and White Spruce and affords greater volume. Taylor 12-N at Sweetwater. This is the non-electrified, non-cutaway, 'pure' classical model – a popular guitar with crossover artists and beginners.
There is an electric equivalent of this model, the Academy 12e-N Grand Concert. It's the same 12-N with added electronics on board. The onboard ES-N pickup and preamp give you tone-shaping control. Whether you're a steel-string player looking to add an affordable nylon-string instrument to your acoustic toolbox or want a Taylor acoustic guitar that's easy on the hands and the wallet, the A12e-N is an option well worth exploring. Check out Taylor 12e-N at Sweetwater.
With the Taylor name backing them, these are ideal guitars for anyone on a budget. I have a detailed review of more Taylor classical guitars if you're interested.
__________
If you're looking for a good gig bag to go with your new guitar, here's the lowdown on 8 Cool Gig Bags for your Classical Guitar.
Happy choosing!