Hiscox cases for classical guitars are an upgrade to a better class of protection from gig bags and basic guitar cases. Hiscox is costlier than the regular 'hardshell case' although much cheaper than the most expensive cases you can buy. It is made in the UK and is certainly one of the popular brands in recent times.
The Hiscox case comes in two variants: a pricey Artist series and the more affordable Pro II series, although there is the original, basic Standard model too at the low end. The main difference between the Artist and Pro II series is the thickness of the ABS outer shell: 2.5 mm as against 2.0 mm. This marginal increase apparently doubles the impact/puncture resistance of the shell. (In the Standard model, the thickness is 1.5 mm.)
Whether you choose the Pro II or the Artist will depend on mainly the price of your guitar itself and to what extent you believe you should go to protect it from air travel travails.
Online user reviews are pretty impressive overall. There are companies who ship expensive guitars internationally who vouch for the Hiscox Pro II. The Spanish retailer Guitarras de Luthier routinely ship their guitars to customers worldwide in these cases.
Made in the UK by an engineer turned case maker
Hiscox cases are made in the UK by a former professional guitar maker and engineer, Brynn Hiscox. In the 80's he was "fed up of seeing guitars that were broken and these guitars were in the case when they broke."
He put his engineering background to good use and twenty or so years later, his Hiscox brand of cases is well known for its sturdiness and overall performance. Brynn's customers demanded cases that had higher protection but with less weight and that's what he's been delivering to them through the years.
Hiscox aims at putting out the basic things that matter in a guitar case: protection, light weight and a good price. Going by the way the brand has been making inroads in a fairly competitive market, it must be said Hiscox has been successful. Hiscox cases are sold in 20 countries worldwide.
It is certainly not among the most expensive brands. Brands like BAM (French), Visesnut (Thailand) and Calton (US) – to mention a few – are among the expensive end of the spectrum, more than double the price of a Hiscox Pro II. 
Hiscox cases may be many things but they are certainly not pretty looking. Even die-hard fans of Hiscox – and there are thousands of them – will go silent on its (non-existent) beauty. There are much better-looking offerings in the market, including the three already mentioned. But when it comes to protection, insulation, reasonable water tightness and a good price, a Hiscox is no slouch. It delivers.
Around 2012, the company put up its sales video – about 30 minutes long – on the technology behind its products, its emphasis on protection, lighter weight and so on. It is a reasonably informational video on the materials used and methods employed, but what seems to have caught the fancy of the internet was the first few minutes of the video.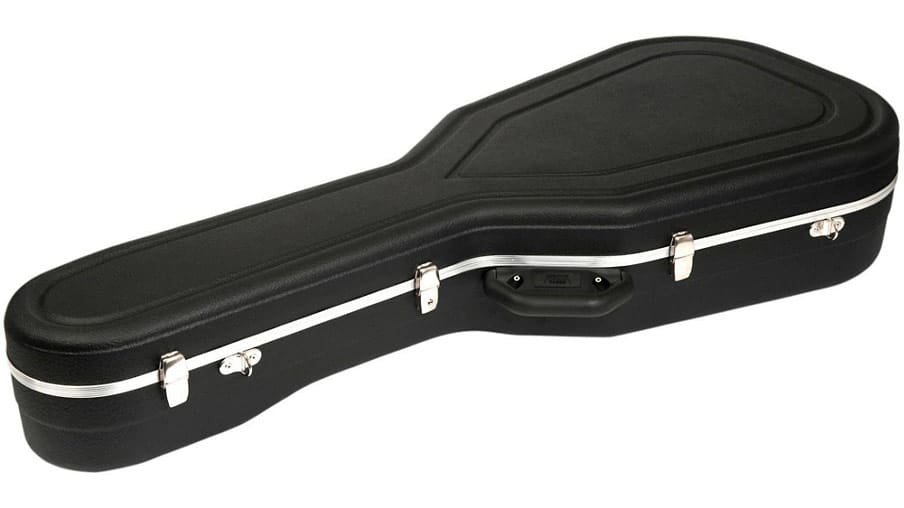 Five workers from the company step on the case and stand on it with a guitar already packed inside. It is a fun thing to watch but it is also a telling image of protection and strength where the guitar case takes on over half a ton of load and comes out unscathed.
If you haven't seen it, here it is. The 'team stand' happens in the first few minutes.
Standing demo of a Hiscox case
It's designed for some serious protection
In all Hiscox cases, the shell is made of tough ABS chemically bonded with polyurethane foam. It is an effective combination, what the company calls its LiteFlite technology – ultimate hard case protection that is lightweight.
The soft foam cushion padding for surrounding the instrument provides shock protection. The fully hardened aluminum valance provides for more rigidity. The handle is 100% leather and the case has 5 catches – the one for larger guitars has an extra catch.
The outer ABS shell material is chosen for its high impact resistance – on average it has a crush resistance rate greater than 500 kg. Equally important is the choice of the inner molding: a blend of polyurethane insulating foam proprietary to Hiscox Cases. It provides a high level of shock protection, good rigidity and thermal insulation against rapid temperature changes.
Lastly, there is soft foam padding in the most important locations of the instrument for additional protection from impacts.
Three choices: Standard, Pro II and Artist
Hiscox Lifelite Standard
This is the original Lifelite construction utilizing an outer shell of 1.5mm thick ABS bonded to Polyurethane inner moulding. This is the lightest case in the range. It is also the least expensive.
With all the other brand options out there today, you wouldn't consider it for air travel, but as a lightweight option within the city to get to gigs and practice sessions and short walks, the Standard is still a great choice. While it is not watertight enough for you to place it under a waterfall, it will certainly get you through a drizzle safely. It is an affordable case with good protection against bumps and drops.
Hiscox Lifelite Pro-II
The thickness of the outer shell in the Pro II is an increased 2.0mm. This increase apparently doubles the impact/puncture resistance of the outer shell compared to the Standard range. An extra catch comes fitted on the guitar case. Steel 'D' rings are there for strap fixing. A soft foam cushion padding fitted at key areas around the instrument provides extra shock protection.
The padded interior is lined with silver-grey velour and has an accessory box. There is also an aluminum perimeter valance to increase shell rigidity and provide an extra secure attachment for latches and hinges. In addition to impact protection, the inner cradle also provides excellent thermal protection.
The Pro II is the biggest hit of the range among users, going by opinions in forums. Everyone is convinced that this is the ideal classical guitar case – lightweight (~10 lbs), durable, a very reasonable price (although it's more costly than the Standard model) and worthy of air travel.
The Pro II (like the other two variants) comes in a variety of sizes to fit various sizes of classical guitar: Small, Medium, Standard and Large. A large body classical guitar with a lower bout of up to 14-5/8″ and up to 40″ long can be fitted in comfortably.
A classical guitar like the full-sized Cordoba C9 with a lower bout of 371 mm (14 5/8"), an upper bout of 292 mm (11 1/2") and a body depth 95 mm (3 3 /4") will fit snugly in the Hiscox Pro II.
In fact, the company recommends that you take the following measurements of your guitar before deciding on your Hiscox case: the overall length, the lower bout width, upper bout width and the depth of the body of the guitar (don't count the string height or bridge height). The company's website shows clearly all the sizes of its cases so that you can decide what's best for you.
What may be contentious about the Pro II is its fitness for air travel. While many users claim to have gone on numerous air trips without incident, a few are unsure if they'd take this case and check it into the hands of (potentially hazardous) air baggage handlers. 
There is something about the shape and bulkiness of the Hiscox that it is next to impossible to sweet-talk your way into carrying it on board and placing it in the overhead bin. You will have to more often than not check it in. Some prefer, for extra safety, to surround it in bubble wrap before checking it while others have no issue at all checking it bare. It may all come down finally to the value of the guitar inside the case that guides you on how much protection is enough protection for you!
All in all, if we are not talking about design enhancements, and talking about purely rational stuff like protection, a great reputation and an excellent price/performance ratio, the Pro II is a winner through and through. They seem to be selling a lot of Hiscox cases with this winning formula for over a decade or more now.
Hiscox Lifelite Artist
Here, the outer shell width is increased further to 2.5mm. This increase in outer shell thickness improves the impact/puncture resistance by 4 times compared to the Standard range. A fully hardened aluminum valance perimeter provides increased rigidity over Standard and Pro-II ranges. More heavily padded interior finished in deluxe velour and a 100% leather handle are other improvements. It is also more expensive, placing it closer to BAM pricing (although not expensive as a Calton).
The Artist has all the advantages of the popular Pro II plus it is built for air travel. Based on a couple of close friends who travel a lot, I would suggest buying the Artist Hiscox case if you are flying a bit. It is made for air travel.
The sales literature from on online retailer says, "Hiscox Artist Series Guitar cases are beautifully styled and incredibly rugged with padded crushed velour interior and integrated accessory compartment. The instrument sits on strategically placed foam cushions to create the ultimate in lightweight protection."
Beautifully styled? Here is Bradford Werner of ThisIsClassicalGuitar.com reviewing the Hiscox Artist. He seems to be pleased with it overall.
Hiscox LiteFlite Artist Case review by Bradford Werner
Hiscox guitar case dimensions
As mentioned, all three variants of Hiscox cases – Standard, Pro II and Artist – come in a range of sizes to fit various sizes of classical guitar.
STANDARD CLASSICAL GUITAR CASE
| | |
| --- | --- |
| Length | 1035mm 40 3/4″ |
| Lower Bout | 387mm 15 1/4″ |
| Upper Bout | 298mm 11 3/4″ |
| Body Length | 495mm 19 1/2″ |
| Body Depth | 120mm 4 3/4″ |
| Empty Weight | 3.84kg 8.47lbs |
As an example, most popular Cordoba models of classical guitar should fit a Standard case. The Cordoba C7 and C9 with a lower bout size of 371 mm (14.6") and the C10 with a slightly wider lower bout of 375 mm (14.75") should fit comfortably. You will want to check for final confirmation with the company or dealer, of course.
SMALL CLASSICAL GUITAR CASE
| | |
| --- | --- |
| Lower Bout | 368mm 14 1/2″ |
| Upper Bout | 255mm 10 " |
| Body Length | 482mm 19″ |
| Body Depth | 117mm 4 1/2″ |
| Empty Weight | 4.85kg 10.69lb |
Again, as an example, the fractional guitars of most popular brands should fit. The Cordoba C1M 1/2 size, with its lower bout width of 337 mm (13.25"), and the C1M 3/4 size, with its lower bout width of 340 mm (13 3/8"), would fit comfortably in the Small case.
MEDIUM CLASSICAL GUITAR CASE
| | |
| --- | --- |
| Length | 1029mm 40 1/2″ |
| Lower Bout | 380mm 15″ |
| Upper Bout | 267mm 10 1/2″ |
| Body Length | 489mm 19 1/4″ |
| Body Depth | 117mm 4 1/2″ |
| Empty Weight | 4.02kg 8.86lbs |
LARGE CLASSICAL GUITAR CASE
| | |
| --- | --- |
| Length | 1028mm 40 1/2″ |
| Lower Bout | 390mm 15 3/8″ |
| Upper Bout | 279mm 11″ |
| Body Length | 495mm 19 1/2″ |
| Body Depth | 117mm 4 1/2″ |
| Empty Weight | 3.99kg 8.80lbs |
Note: All dimensions are courtesy of the manufacturer's site. Do check there for final confirmation in case the numbers have changed over time.
In summary…
You can spend fabulous money on a classical guitar case, like a Visesnut or Hoffee or Calton. The last mentioned is reputedly the ultimate in protection but also notoriously heavy. It is doubtful if any of these offer any appreciably higher level of protection, but they will certainly look posh!
We may safely say Hiscox cases provide the best thermal protection, crush resistance and puncture resistance of any case in its weight or price range. They are simply excellent value for money.
Most damage to guitars comes from drops. In such cases, even a cheap polyfoam case offers better protection with its minimal mass so that it 'gives' with the drop and absorbs energy. A carbon case when dropped will send the energy into the guitar, damaging it.
Of course the size or bulkiness is an important factor for those of us who travel by plane often. And you are probably better off with the Pro II if you have to check it and certainly better off with the Artist.
In the UK the Hiscox Pro II seems to have become a staple. It is functional and gets the job done. If you're not traveling much and merely lugging the guitar for practice sessions and local gigs or to a nearby conservatory within a 15-minute walk, the Hiscox case will probably be heavy and uncomfortable to carry. You should get yourself a gig bag, perhaps.
For everyone else, the value that Hiscox cases bring to the table is quite substantial. Highly recommended!
While more freely available in the UK (of course) and Europe, Hiscox cases can be purchased in the USA from the regular big stores like Guitar Center, Musician's Friend, Elderly and others.
In about the same price range as Hiscox is another popular brand Crossrock with its many models. You can read my Crossrock Cases Review to check out their range. On a related and more general note, you can read my article on choosing a flight case for your classical guitar. For those who believe style matters, I have a detailed review of BAM Guitar Cases.
_______________
Happy travels!