Your travel case needs to protect your classical guitar from drops and shocks, humidity and climate change. The brands listed below are popular, trusted options for travel.
1. Cordoba Humidified Archtop
Let's start with a hardshell guitar case that is more than a hardshell guitar case. In addition to snugly fitting in your guitar, this one also tackles dry weather. The Cordoba Humidified Archtop has a humidifier built into it. It has a HumiCase humidification system to keep your enclosed guitar 'moisturized' through the journey and later.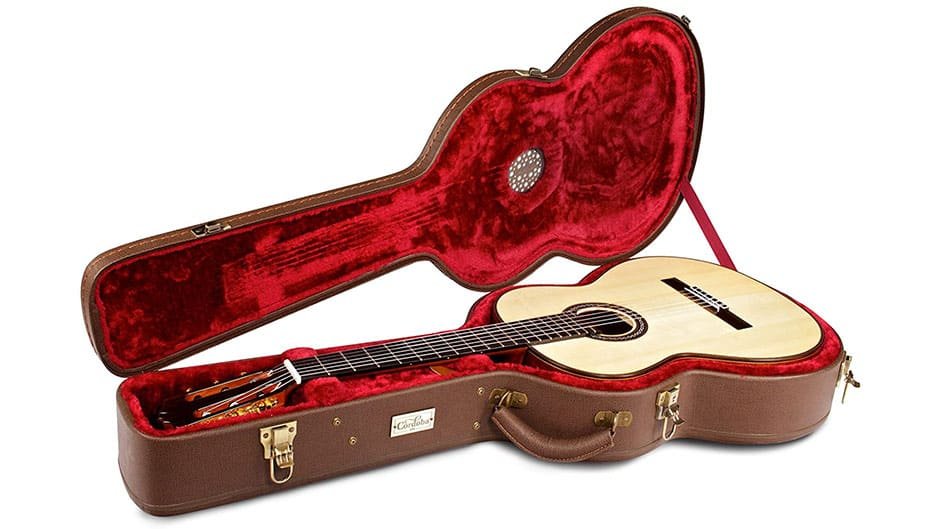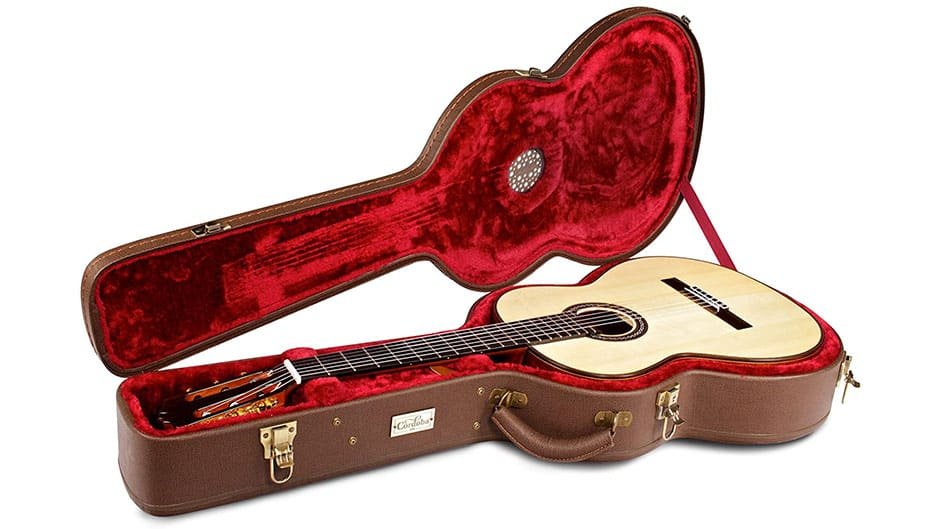 Since travel takes us to varied places, including extremely dry ones, the Archtop is worth serious consideration. You do not want your instrument to crack. (You'd think a guitar cracking is a rare thing. It isn't.)
It's made of 7-ply hardwood and has a vinyl exterior. It is suitable for both classical and flamenco guitars. The overall length (inside the case) is 39.5" (100 cm) and the width at the lower bout is 14.75" (37.5 cm). Its interior is deep burgundy and it has the usual compartment with a lid for accessories. The hinges and locks are chrome. 
The Humicase humidifier inside the case is a well known one. You moisten it with distilled water to maintain proper humidity levels and you're set for the journey. A couple of tiny details stand out in this regard.
One is the provision for an extra humidity pod for additional moisture, in case your destination demands it. And second is a tiny slot for a digital hygrometer (sold separately) which reads out the humidity level in the case. Useful!
User reviews have been gushing in their praise naming its sturdiness, good looks and welcome humidification. Including one reviewer who called it a 'rock star' among cases. There is a product variant that goes by the name of Cordoba Humicase Protege for classical and flamenco guitars.
Yet, I know others who think this case is perfect for storage, light travel and, of course, humidification. It may be fine for occasional air travel too, but not for frequent travel. They think other (costlier) options are safer and sturdier.
(Amazon link) Cordoba Humidified Archtop
2. Yamaha CG-HC Hardshell Classical Guitar Case
Yamaha CG-HC cases are hardshell cases meant only, it is claimed, for the company's own line of guitars. Particularly the CG classical entry level range, the high-end GC range and the cutaway electro-acoustic NCX range.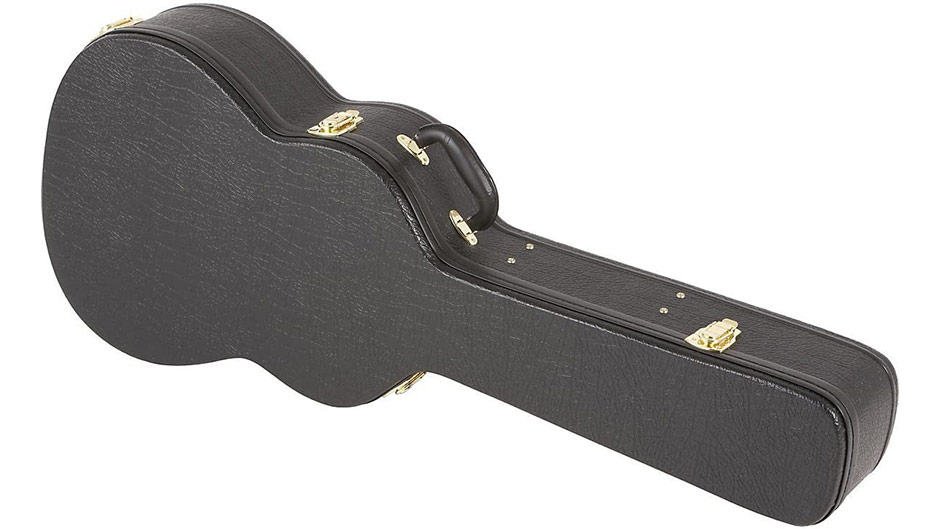 As is to be expected, people have thrust their Takamines and Ibanezes into the case. And they are extremely happy with the fit, comfort and protection features. Equally, there are other unsuccessful people who have tried thrusting their brand of guitars into it in vain.
The key outside measurements of the CG-HC case are as follows:
| | |
| --- | --- |
| Length | 43.3″ (1099 mm) |
| Depth | 6.4″ (163 mm) |
| Lower Bout | 17.1″ (433 mm) |
| Upper Bout | 13.3″ (338 mm) |
Yamaha CG-HC case measurements
It will make sense to check with the supplier if your guitar will fit into it. The main reason you'll want to do that is that this is a Yamaha after all, a brand name people trust for making quality products. The case is built like a tank, according to many user reviews.
Yamaha is known for their solid build in classical guitars, so you wouldn't expect their cases to be any less. Although one user did notice that the name of the brand is not on the case but only on the tag. He noticed that the case is made by Access Cases jointly with Yamaha.
There are multiple clasps for locking. The case stands vertically or horizontally for it has metal bumpers on it. As cases go, this is not a fiberglass or carbon fiber one, so do not expect it to be lightweight or particularly strong. It is on the heavier side but much less expensive than a lightweight fiberglass or carbon fiber case.
It is overall a sturdy case with a lock and key and should last a long time. If traveling mainly by road and occasionally by air, the case should put up with everything within normal ranges – from handling to weather. For a heavy air traveler or those with expensive guitars, there are other cases made of better material.
(Amazon link) Yamaha GC-HC Hardshell Case
3. Ibanez AC100C Classical Guitar Hardshell Case
Ibanez has the AC100 Hard Shell Case for their own GA line of classical guitars. It's always an issue to think about when manufacturers claim only their own accessories can do the job for their products.
The argument here runs like this: "Generic look-alike cases designed to fit everything rarely fit anything right. Only Ibanez cases and bags are made to fit the unique shape of Ibanez guitars and basses. If it doesn't say Ibanez on the case, it isn't an Ibanez. Accept no substitutes!"
OK, so you've been warned. It appears to be a good gig bag, according to satisfied users. It was specifically designed to hold the Ibanez Grand Concert style acoustic as a reliable gig bag. It has the usual storage section for stuff like tuners, spare strings and such.
You can look at the specs and see if they work for a brand of guitar you have. But be sure to call and verify with the vendor in any case. The internal dimensions are:
| | |
| --- | --- |
| Overall Length | 41.37″ (1050 mm) |
| Body Depth | 4.12″ (105 mm) |
| Lower Bout Width | 15.5″ (394 mm) |
| Upper Bout Width | 11.62″ (294 mm) |
| Weight | 10.5 lbs (4.76 kg) |
Ibanez AC100C case measurements
(Amazon link) Ibanez AC100C case
4. Gator Molded Flight Case GTSA-GTRCLASS
With the Gator Cases GTSA series, we enter the brave and strong world of third-party case manufacturers. Gator is particularly popular among the early to intermediate classical guitar owners, say, any guitar not costing upward of a thousand dollars.
The first and crucial line of defense for a classical guitar bag for air travel is the material used. The material here is "solid, military grade polyethylene plastic". It is sturdy for air travel, as many users attest and good at protecting your guitar from damage. I know a user who has completed 6 trips (12 to and fros) with his Gator GTSA-GTRCLASS with no complaints at all, although he was nervous the first few times.
A strong point for the Gator is the TSA-approved locking latch. It's a feature that allows airport security personnel to open and check the case contents quickly (yes, they do it all the time if it's a guitar case – if you gate-check your bag especially).
There is a roomy compartment for strings, capos, tuners and such.
The exterior is black powder-coated for a clean look. The case is recommended for popular models of classical acoustic guitars by Cordoba, Fender, Martin, Epiphone, PRS, Gretsch, Ibanez, Yamaha, Takamine, Washburn, and many more. For a perfect fit, compare your guitar dimensions to the GTSA guitar case internal dimensions below.
| | |
| --- | --- |
| Overall Length | 40″ (1016 mm) |
| Body Height | 4.5″ (114 mm) |
| Lower Bout Width | 15.5″ (393 mm) |
| Upper Bout Width | 11.5″ (292 mm) |
Gator GTSA-GTRCLASS case measurements
(Amazon link) Gator GTSA-GTRCLASS case
5. Hiscox Cases Classical Guitar Case/Medium Black Shell/Silver Int-Pro II
This is a reputed brand name in guitar cases including the classical guitar. It is made in the UK by a former professional guitar maker, Brynn Hiscox. In the 80's he was "fed up of seeing guitars that were broken and these guitars were in the case when they broke."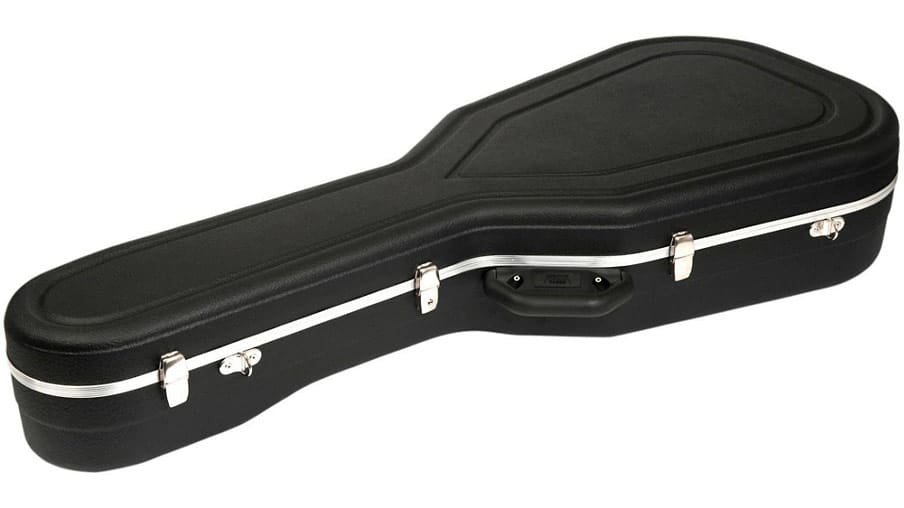 He put his engineering background to good use and twenty or so years later, his Hiscox brand of cases is well known for its sturdiness and overall performance.
The shell is made of tough ABS bonded with polyurethane. The technology used is what the company calls LiteFlite technology – ultimate hard case protection that is lightweight. The lightweight aspect of the case is something many users vouch for online.
The soft foam cushion padding for surrounding the instrument provides shock protection. The more expensive Artist series case (as against the Pro II series) has an additional, fully hardened aluminum valance for more rigidity. It is also more fully padded.
The handle is 100% leather and the case has 5 catches – the one for larger guitars has an extra catch.
The Hiscox case can be considered a serious upgrade to a better class of protection. It is naturally costlier than the regular 'hard shell case' but comes with real features that make a difference.
The Hiscox case comes in two variants: a pricey Artist series and the more affordable Pro II series. There is a wide range of sub-variants within each series based on the various sizes of guitars it caters to. The main difference between the Artist and Pro II series is the thickness of the outer shell: 2.5 mm as against 2.0 mm. This marginal increase apparently doubles the impact/puncture resistance of the shell.
Whether you go for the Pro II or the Artist will depend on mainly the price of your guitar itself and to what extent you believe you should go to protect it from air travel travails.
Online user reviews are pretty impressive overall. There are people who ship expensive guitars internationally who vouch for the Hiscox Pro II. The Spanish retailer Guitarras de Luthier routinely ships their guitars to customers worldwide in these cases.
The specs below are for a specific model – what the company calls PRO-II-GCL-M – Medium Classical size. You will want to be exact about your own guitar's measurements and choose the model appropriately.
| | |
| --- | --- |
| Overall Length | 40 1/2″ (1029mm) |
| Body Depth | 4 1/2″ (117mm) |
| Lower Bout | up to 15″ (380mm) |
| Upper Bout | 10 1/2″ (267mm) |
| Empty Weight | 8.86lbs (4.02kg) |
Hiscox Silver-Int Pro II case measurements
Size classification here is one of Small, Medium, Standard and Large, all to do with lower bout sizes. I have a dedicated write-up on Hiscox Classical Guitar Cases specifically which you can check for more details.
(Guitar Center link) Hiscox Silver-Int Pro II case
6. Crossrock Air Carbon 4/4 classical guitar case
Crossrock Air Carbon is the latest offering of a guitar case company based out of Hong Kong. While fiberglass is known to be tough and durable, it is also relatively heavy. Carbon fiber tends to be strong but lightweight.
Prompting the company to break into poetic rapture: "Light as air, strong as steel."
With an empty weight of a mere 5 pounds (2.2 kg), the case is designed for a full size, standard classical guitar. It claims to be impact-resistant. It has a 'TSA-lock' made by Dupont Nylon which is said to handle extreme temperatures well.
The handle is genuine leather. The body is 100% carbon fiber.  And it is certainly designed with air travel in mind. Some user reviews online say the exterior may be scratched easily and suggest using a case cover to protect the case itself. It's a good thing that a free padded protective cover comes with the Crossrock Air Carbon case.
According to a frequent traveler, the Air Carbon has handled many a cargo hold experience with no problems. Many owners confirm it's sturdy for air travel.
I read about a luthier-teacher of the classical guitar who strongly believes a guitar gets more damaged while the case is being opened and shut rather than during actual travel. He even teaches his students how to place and take out the guitar in and out of the case. He attributes dings and dents on a guitar's front or back to sharp metal struts and clasps and thingies that poke way above the edges of a case.
It is reassuring to read that the Air Carbon has 'easy-to-use clasps that can't damage the guitar'.
It is certainly among the pricier options we are covering but the Air Carbon is worth considering if the cost of the guitar is much higher than the case's price. Here are the internal dimensions:
| | |
| --- | --- |
| Overall length | 40.1″ (1020 mm) |
| Depth (with suspension padding) | 3.93″ (100 mm) |
| Depth (max depth without suspension padding) | 5.5″ (140 mm) |
| Lower bout | 14.9″ (380 mm) |
| Upper bout | 11.4″ (290 mm) |
Crossrock Air Carbon case measurements
(Amazon link) Crossrock Air Carbon case
Crossrock has a lot of other models at different price ranges. To get an idea, read my Crossrock Cases Review if you're interested.
7. Visesnut Premiere Adjustable Hard Shell Classical Guitar Case
If you wanted to make a hardshell case, the last brand name that will occur to you is surely… Visesnut. But then there it is – a hugely respected and popular brand among the crowd that owns expensive guitars especially.
A friend of mine from New Zealand spends half the month in work-related travel. His Visesnut case – bright yellow if you don't mind – goes with him everywhere. He is not just happy with it, he's proud of it! Reading online rave reviews of Visesnut is like watching a mass ecstatic ceremony of some sort. 
Its basic design is a double-walled structure of ABS. Acrylonitrile Butadiene Styrene, if you really want to know. The double-walled structure offers additional protection from drops and shocks plus insulates the guitar from sudden changes in temperature reaching inside too quickly. All fittings are of stainless steel.
Perhaps the most ingenious thing about a Visesnut case is the fact that it has an interesting mechanism to fit in smaller classical guitars of almost any size. By working a simple mechanism using two straps, you can get a smaller guitar to be snugly surrounded by protective padding all round. Why stuff crushed paper or old socks along the edges for a snug fit, right?
There is a neck support cushion and the customary compartment for storing accessories. The handle is leather. It is lightweight. It is small enough to be carried on board, but if you have to gate-check, it should be safe in the hold as well.
The case itself does not have TSA-approved locks (to help airport security officials open and check the contents of your case). But it has a case cover (sold separately) with lockable zippers which can be secured with any TSA-approved lock.
The Visesnut is a thoughtfully made bag with much attention to detail. Remember, it's pricey. It will only make sense if you have a luthier-made guitar costing anything above #3,000.
These cases are made in Thailand and if you order from the company website, shipping cost is free to any part of the world. (You will have to pay VAT and import duties of your country if any.) If ordering from a dealer the costs could be different.
The inner dimensions of a Visesnut Premiere:
| | |
| --- | --- |
| Overall length | 40.3″ (1025 mm) |
| Body thickness at heel | 4.1″ (105 mm) |
| lower bout | 14.9″ (380 mm) |
| upper bout | 11.4″ (292 mm) |
Visesnut Premiere case measurements
(Amazon link) Visesnut Premiere case
– – – 
So what really matters in a flight case?
Main Material: While fiberglass affords big protection, it is heavy. Carbon fiber is lightweight and if you don't want to strain your back lugging your guitar through airport lanes forever, this will matter. Or a reasonable compromise between adequate protection and manageable weight is a material like ABS.
Secondary material: You are looking for chrome in locks and clasps and hinges. You are also looking for innovative designs like lock clasps that don't jut over the edge of the case, which can potentially damage your guitar as it goes in or out.
Humidity control: While protection against bumps and drops is the main concern in airport baggage handling, you are also looking for some form of humidity control, either with an explicit feature like in the Cordoba Humicase or through thicker padding or an insulated gap in the enclosing shell. Most good quality travel cases provide reasonable to excellent humidity control.
Even in those cases without an explicitly stated humidity feature, you can drop in a packet or two of Boveda 49 for humidification.
Locks: With the Transportation Security Administration (TSA) regulations in place, a security official in a US airport can (and mostly will) open a guitar case to check its contents. A non-TSA-approved lock can be broken in the process. It is good to keep in mind that the locks should ideally be TSA-approved ones. Many cases have these fitted in but it's always good to make sure.
Case cover: That a solid case in itself needs protection may seem odd, but many a strong case can end up with scratch marks. A case cover is useful and not expensive.
Aesthetics: About the colors offered and the design itself… you can go to town dissecting the various options from various brands. The Hiscox case, for instance, is thought of as looking dull or boring on some forums even though its usefulness and functionality are hardly in doubt. Suit yourself.
Price: The all important price tag, as ever, matters. You are probably looking for something under $300 for less expensive guitars. And closer to $800 or more if your guitar is expensive. If you travel quite a bit by air with your guitar and need a rule of thumb, think of 20% of the cost of your guitar as being your outlay for the case.
For someone with a luthier guitar in the range of $6,000 plus, spending $1200 on a case will sound reasonable. In fact there are very high end guitar case brands like Hoffee and Calton we are not even discussing here.
Compartment: How much can it store? What is the biggest thing I can stuff inside (a guitar support, maybe)? Does it have a hard lid or a soft one? Does it have minor gaps that make things like your nail file slide over into the main area with potential harm to your guitar surface?
And, oh, before we start, measure your guitar first: lower bout, upper bout and overall length. Place your guitar flat on a table and measure its height (also known as depth of guitar).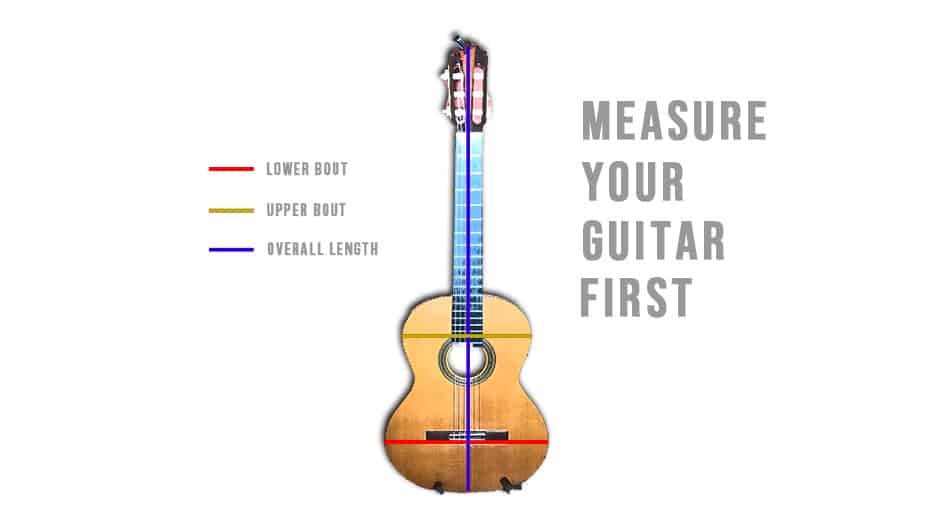 In the end, what you think sounds perfect for you will be the one that's right for you! Because it all depends on the emphasis you place on the different aspects in relation to your own instrument.
If you live in a dry area or travel to dry areas often and humidification solutions for your guitar are paramount, do read our review of various humidification options you can use.
To learn about managing your strings' life, see our When Do I Change My Guitar Strings post.
And finally, here's an article on USA Today on airplane travel with a guitar for some handy information.
Happy travels!