From the great lutenist John Dowland of Shakespeare's times to the Baroque greatness of J.S.Bach to the classical player-composers Fernando Sor and Mauro Giuliani of the Romantic period to modern talent like Andrew York and Leo Brouwer, the classical guitar has always had its champion creators of music. Here is a listing of 15 of the greatest composers the classical guitar world has ever seen.
The top composers for classical guitar are:
John Dowland (Renaissance)
J S Bach (Baroque)
Silvius Leopold Weiss (Baroque)
Fernando Sor (Classical)
Mauro Giuliani (Classical)
Francisco Tarrega (Classical)
Isaac Albeniz (Classical)
Agustin Barrios (Modern)
Heitor Villa-Lobos (Modern)
Miguel Llobet (Modern)
Manuel Ponce (Modern)
Federico Morena Torroba (Modern)
Antonio Lauro (Modern)
Leo Brouwer (Contemporary)
Andrew York (Contemporary)
Music of the Renaissance period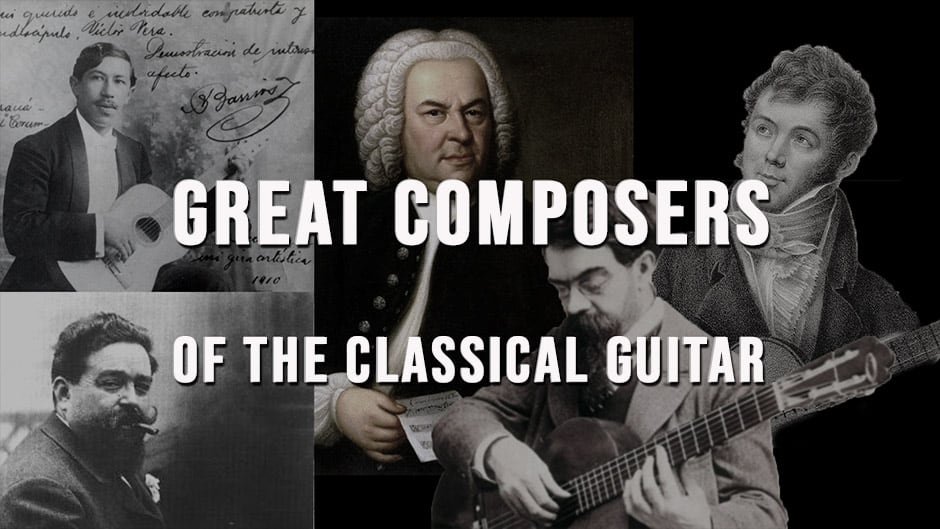 John Dowland, master of the Renaissance lute
 An English Renaissance composer from 400 years ago, John Dowland was a skilled and accomplished lutenist and singer. His music with its energy and melancholy is played to this day encouraged by performances by classical guitar greats like Julian Bream and John Williams among many others. Bream in fact played Dowland on the original instrument, the lute.
The 20th century's early music revival has helped this music stay alive while being a continuing source of repertoire for lutenists and classical guitarists. Dowland was the period's most renowned and significant composer of lute solos, and especially ayres (also called lute songs) There are some ninety works for solo lute; many are dances, often with highly embellished variations. Some of his famous works are:
Frog Galliard
Lord Willoughby's Welcome Home
Lachrimae Pavan
Lady Hunsdon's Almain
Melancholy Galliard
Mr. Dowland's Midnight
Orlando Sleepeth
Lady Clifton's Spirit
Tarleton's Resurrection
Here is noted guitarist Per-Olov Kindgren playing Dowland's Frog Galliard on classical guitar.
Frog Galliard (J.Dowland) performed by Per-Olov Kindgren
Music of the Baroque period
Johann Sebastian Bach, master of sublime
Thanks to the work of Andres Segovia, many of the compositions of the mighty J.S.Bach were arranged for classical guitar. Among his more ambitious endeavors, Segovia took it upon himself to arrange the massive solo work of Bach's Violin Partita No.2 in D minor BWV 1004, the Chaconne. This remains the pinnacle to reach for any high-level player of the guitar even today.
The unbeatable rendition, in my opinion, of Bach's Chaconne is by John Feely who plays his own arrangement in this video.
Chaconne (J.S.Bach) performed by John Feeley
In addition to Segovia, although following his example, many prolific educators and performers of Bach's music have transcribed and arranged their own editions of his many works arranging different movements and works of the violin sonatas and partitas, the cello suites, and keyboard sonatas for the guitar. There is no mistaking the Baroque music of Bach and although he composed a lot of his music for harpsichord (or rather the lute-harpsichord) it is all well suited to the classical guitar.
Suite in E minor, BWV 996; Suite in A minor, BWV 995; Suite in E major, BWV 1006a; Prelude and Fugue in C minor, from BWV 997; Chaconne in D minor, BWV 1004; French Suite No 1 in E minor, BWV 812; Fantasia and Chromatic Fugue, BWV 919/906; Partita No. 1 in E major, BWV 825, Fantasia and Fugue in A minor, BWV 904; Fugue in A minor, BWV 539; Trio Sonata in D major, BWV 529; Sonata in A minor, BWV 1020 are among the concert and recording favorites of the best guitar players of any generation.
Sylvius Leopold Weiss, greatest lutenist ever
"The great lutenist Weiss in the fiftieth year of his life answered the question of how long he had been playing the lute with 'twenty years.' One of his friends, who knew for certain that Weiss already was playing the lute in his tenth year, wanted to contradict him, but he interrupted and said, 'True, but for twenty years I was tuning'."
Silvius Leopold Weiss is considered the best lutenist the world has ever seen. He and the great J.S.Bach were said to have competed in improvisation. As one of the most important and most prolific composers of lute music in history, Weiss probably wrote more than 1000 pieces for lute, from which about 850 attributed pieces have survived. Most of them have been grouped into 'sonatas'.
As the master lutenist of the eighteenth century. his works were not intended for amateur players but for virtuosi whose skills approached his own.
Passacaille (S.L.Weiss) performed by Edson Lopes
Concert guitarists and recording artists pick up pieces from Weiss's prodigious output and his pieces that are played are too long to list. His Lute Sonatas Nos. 30, 39, 96 are probably among the most played as also his Tombeau sur la mort de M. de Logy.
Music of the Classical period
Fernando Sor, Beethoven of the guitar
Every student of the classical guitar is familiar with the etudes of the great Fernando Sor, a Spanish performer, composer and teacher of the guitar. Sor is known for being among the first to play the guitar as a classical concert instrument and for writing one of the earliest guitar methods – a book of 30 studies for the guitar that is still considered a major contribution to classical guitar studies.
In the video below, guitarist Taso Comanescu plays Sor's famous Study in Bm the purpose of which is to extract a melody out of continuous arpeggiated chords.
Study in B Minor (F.Sor) performed by Taso Comanescu
Sor's repertory was brought to life by Spanish guitarist and composer Andrés Segovia. In addition to his numerous studies, some of which are concert-worthy, his Grand Sonata in C Major, Op. 22 and Introduction, Theme and Variations on a Theme from Mozart's "The Magic Flute," Op. 9 for guitar are among his best-known works. Segovia also handpicked 20 studies from Sor's prolific output and gave them the status of a serious intermediate repertoire. They are still played today and playing them well is a reliable indicator of a player's skill.
Mauro Giuliani, maestro of the romantic
Another master from Sor's Romantic/Classical era was the Italian composer Mauro Giuliani who was quite the rage as a player and composer all over Europe. He had a magazine The Giulianiad dedicated to him in London. Giuliani was a skilled performer whose premiere of Guitar concerto Op. 30 with full orchestral accompaniment was received with great public acclaim.
He moved in high social circles, was acquainted with the likes of Rossini and Beethoven and collaborated with the best performers. Giuliani's 150 works for guitar are at the heart of 19th-century guitar repertory. Among these works are challenging pieces for solo guitar, orchestra and duets for guitar partnered with flute or violin.
Guitarist Manuel Espiñas plays the composer's famous Grand Overture with all the flourishes of the classical/romantic era. A robust and bold rendition that was very much the maestro's style.
Grand Overture (M.Giuliani) performed by Manuel Espiñas
Today Giuliani's works are widely performed: including his three guitar concertos (op. 30, 36 and 70); a series of six fantasias for guitar solo, op. 119–124, based on airs from Rossini operas and entitled the Rossiniane; several sonatas for violin and guitar and flute and guitar; a quintet, op. 65, for strings and guitar; some collections for voice and guitar, and a Grand Overture written in the Italian style.
He also transcribed many symphonic works, both for solo guitar and guitar duo. He also wrote a method for the guitar that is used frequently by teachers to this day.
Francisco Tarrega, father of the classical guitar
Tarrega is an influential figure in the early 20th century, often called the father of the classical guitar. An important Spanish composer, he was central to reviving the guitar as a solo instrument in recitals and concerts. Among his most popular compositions are the unforgettable Recuerdos de la Alhambra and Danza Mora. He wrote nearly 80 original works for the guitar and over 100 transcriptions, mostly of piano pieces by Chopin, Beethoven, and others.
Tárrega acquired an extraordinarily loud and resonant guitar from the Seville luthier Antonio Torres which became a universal standard in the years to come. Tarrega taught both Miguel Llobet and Emilio Pujol who in turn became two prolific composers for the guitar. Llobet's celebrated student was the great Andrés Segovia.
Perhaps the most well-known song of Tarrega to even those uninterested in classical guitar is the one in the video, Recuerdos de la Alhambra. It is an evocative piece so idiomatic of the guitar with its special tremolo technique to provide sustain and continuance to a single note. Performed here expertly by guitarist Tavi Jinariu.
Recuerdos de la Alhambra (F.Tarrega) performed by Tavi Jinariu
Tárrega's list of works include scherzos, preludes, estudios, danzas, fantasias, minuets, mazurkas and tangos.
Isaac Albeniz, greatest guitar non-composer
Some of the best-known songs for the classical guitar come from a great composer who did not ever compose for the guitar: Isaac Albeniz. He was more a Spanish virtuoso pianist, composer, and conductor. As one of the foremost composers of the post-Romantic era, he is best known for his piano works based on Spanish folk music idioms. 
It so happens that transcriptions of many of his pieces such as Asturias (Leyenda), Granada, Sevilla, Cadiz, Córdoba, Cataluña, Mallorca, and Tango in D are important pieces for classical guitar. Each of these pieces is played by countless guitarists for their melodic inventiveness and complex texture.
Perhaps no one plays Asturias better than the great John Williams. Watch the video and see if you agree with the assessment.
Asturias (I.Albeniz) performed by John Williams
Albeniz's activities as a conductor, performer and composer significantly raised the profile of Spanish music abroad. The bulk of the pieces that have become standards in guitar repertoire — Suite Espanola, Piezas Caracteristicas and Chants d'Esapgne — are thanks to arrangements made by Francisco Tárrega and Miguel Llobet (and then later Andrés Segovia, John Williams, Manuel Barrueco, and many others).
Music of the Modern period
Agustin Barrios Mangore, poet of the guitar
John Williams, a former student of Andres Segovia as well as one of the greatest performers ever, said of Barrios: "As a guitarist/composer, Barrios is the best of the lot, regardless of era. His music is better formed, it's more poetic, it's more everything! And it's more of all those things in a timeless way." 
This Paraguayan Maestro dedicated his career to music composition and poetic literature after graduating from university. He was also a phenomenal performer as well as one of the most prolific composers for the guitar. The Johann Sebastian Bach-inspired La Catedral is widely considered to be Barrios' magnum opus. Danza Paraguaya,  Julia Florida, Las Abejas, El Ultimo Tremolo and Vals No. 4 are among his popular works.
In the video, Guitarist Tatyana Ryzhkova does full justice to the lyrical romanticism of Barrios' Julia Florida, a popular piece that never fails to please.
Julia Florida (A.Barrios) performed by Tatyana Ryzhkova
The album John Williams—Barrios was the first full-length album of Barrios' music. It was also a brave and bold gesture on the part of Williams to dedicate an entire album to a composer not well known outside of Latin America at the time. Mangoré, thanks in part to Williams' efforts, is a well-known name in the classical guitar world today, famed for his innovative compositions.
Heitor Villa-Lobos, voice of Brazil
HVL, as he is known in guitar circles, was a Brazilian composer whose music combined indigenous melodic and rhythmic elements with Western classical music. He composed ceaselessly (about 2,000 works are credited to him in all) and by the time of his first trip to Europe in 1923 he had produced a long list of compositions in every form, from solo pieces for the guitar to trios, quartets, concerti, vocal music, and symphonies.
His 12 Etudes for guitar were dedicated to Andrés Segovia, while his later 5 Preludes were dedicated to his spouse. Both are important works in the guitar repertory and require virtuosity to play. These are concert pieces. The composer was requested by Andrés Segovia, looking to expand material for the up and coming guitar, to write an etude for it. HVL responded with writing twelve of them. They are still played to this day on the concert stage as in practice rooms.
Marcin Dylla plays HVL's melodic and charming Prelude No. 1, the staple of every intermediate guitar student. 
Prelude No. 1 (H.Villa-Lobos) performed by Marcin Dylla
His works for guitar form part of the standard repertoire for soloists on this instrument. While not extensive, his output for the guitar is quite distinctive and owes much to the way he thought about the instrument. 
Miguel Llobet: Tarrega's pupil, Segovia's teacher
Spanish guitarist and composer Miguel Llobet was a renowned virtuoso who toured Europe and America extensively. He was a student of the great Tarrega and a teacher of the great Segovia, a formidable link between the two influential strands in classical guitar literature. Llobet also taught the young Cuban virtuoso José Rey de la Torre.
He made well-known arrangements of Catalan folk songs for the solo guitar, including the mesmeric El Testamen d'Amelia, Canço del Lladre and El Noi de la Mare. He made famous arrangements for the guitar of the piano compositions of Isaac Albéniz. He was also the composer of original works.
Guitarist Andreas Grossman plays Llobet's famous El Testamen D'Amelia, typical of the composer's arrangements of folk songs, with its trademark harmonics.
El Testamen D'Amelia (M.Llobet) performed by Andreas Grossman
Andrés Segovia was an admirer of Llobet's virtuosity as well as of his compositional skills. 
Manuel Ponce, music of Mexico
Manuel Ponce was a Mexican composer active in the 20th century who was also a music educator and scholar of Mexican music. He was much influenced by the local culture and Mexican folklore. Many of his compositions are strongly influenced by the harmonies and forms of traditional songs.
His best-known works for the guitar are Variations and Fugue on La Folia and Sonatina meridional. He also wrote a guitar concerto Concierto del sur, which is dedicated to his long-time friend and guitar virtuoso Andrés Segovia. His last known work was Variations on a Theme of Cabezón.
It was Ponce who anonymously created the striking arrangement for guitar of J. S. Bach's Prelude from the first cello suite as performed and recorded by Segovia.
Watch Ana Vidovic play Ponce's Sonatina Meridional (Campo) with all its Spanish idioms intact.
Sonatina Meridional (M.Ponce) performed by Ana Vidovic
Federico Moreno Torroba: songs of the non-guitarist
Torroba was a Spanish composer and conductor with important contributions to the classical guitar repertoire, becoming one of the leading twentieth-century composers for the instrument. Many of his compositions for the guitar were dedicated to Andrés Segovia. Although he did not play the guitar himself he had a deep understanding of the instrument, according to the virtuoso Pepe Romero.
Segovia himself had this to say: "Then there was a 'first' in the field of the guitar: for the first time, a composer who was not a guitarist, wrote a piece for the guitar. It was Federico Moreno Torroba." 
Moreno Torroba rejected avant-garde compositional techniques which was the fashion of the time and opted for lyrically melodic music with tonal harmony. Proudly patriotic, his music emphasized the combining of Iberian folk elements with conventional forms.
Watch guitarist Brig Urias bring life and punch into Torroba's energetic, yet melodic Fandanguillo.
Fandanguillo (F.Torroba) performed by Brig Urias
Among his numerous works for the work, Torroba is particularly famous for: Suite Castellana with its Fandanguillo, Arada and Danza movements. Piezas características contains Preámbulo, Oliveras, Melodía, Albada, Los Mayos and Panorama. He is also well known for his Segoviana, Sevillana, Madroños and Sonatina. All of which and more have remained some of the most popular elements of the guitar's modern repertoire.
Antonio Lauro, Strauss of the guitar
One of the foremost South American player-composers for the guitar in the 20th century is Antonio Lauro from Venezuela. John Williams is quoted as having referred to Antonio Lauro as being the "Strauss of the guitar". Watch Alirio Diaz blast through Lauro's Seis por derecho:
Seis por derecho (A.Lauro) performed by Alirio Diaz
Díaz, incidentally among other players, was responsible for unveiling Lauro's works to an international audience, including guitar luminaries such as Andrés Segovia, Leo Brouwer and John Williams.
A young Lauro was impressed after attending a concert by the legendary guitarist and composer Agustín Barrios. The Paraguayan maestro made such an impact on him that he abandoned the piano and violin in favor of the guitar. Lauro went on to become the first Venezuelan guitarist and greatly contributed to the acceptance of the guitar as a significant instrument in his country.
Among his famous works are:
Seis por derecho
María Carolina
El Marabino
Natalia
Suite Venezolana
Angostura
Nelly
4 Valses Venezolanos
El Negrito
Triptico
Music of the Contemporary period
Leo Brouwer, the Cuban legend
Among the living legends in classical guitar music is Cuban composer, conductor, and classical guitarist Leo Brouwer. At age 17 he performed in public and began composing. Brouwer has written for guitar, piano, and percussion, and has composed orchestral works, ballet, and music for over one hundred movies. Brouwer has also transcribed Beatles songs for classical guitar. He is a prolific composer.
He is known for a series of studies called the Etudes Simples which he wrote in the seventies that are still popular with students today. These Etudes take up an aspect or two of guitar technique and combine them with a lot of musicality. Brouwer's early compositions reflect a Cuban influence and are strongly rhythmic while his later works veer towards a more minimalist style.
Brouwer's atmospheric Un Dia de Noviembre is here performed by guitarist Alexandra Whittingham.
Un Dia de Noviembre (L.Brouwer) performed by Alexandra Whittingham
Among his most recognizable and oft performed pieces are the following:
Un Dia de Noviembre
El Decamerón Negro (Dedicated to Sharon Isbin)
Estudios Sencillos (Nos. 1–10)
Estudios Sencillos (Nos. 11–20)
Paisaje Cubano con Campanas
Sonata (dedicated to Julian Bream)
Nuevos Estudios Sencillos No. 1–10
Sonata del Caminante (Dedicated to Odair Assad)
Variations on a Theme of Django Reinhardt
Andrew York, the voice of today
Andrew York is an American Grammy Award-winning classical guitarist and composer who studied in Spain. In a concert at the end of the course, he played one of his original compositions, Sunburst. Guitarist John Williams, who happened to be in the audience, was impressed with the piece. In later years, not only did Williams add it to his performances, but he also recorded it.
In addition to his solo career, recording and performing his own compositions, York's recent collaborations include projects with Andy Summers, W. A. Mathieu, Dai Kimura, and Mitsuko Kado.
York's tour schedule has included concerts in thirty countries. York's compositions and arrangements for guitar have been performed and recorded by guitarists John Williams, Christopher Parkening, Karin Schaupp, Jason Vieaux and Sharon Isbin. York has over 50 works published for guitar: solo, duo, trio, quartet, and ensemble.
Watch Andrew York perform Sunburst in the video – the piece that impressed John Williams and set the young composer on his way to greater things.
Sunburst (A.York) performed by Andrew York
His solo albums include: Perfect Sky, Dénouement, Into Dark, California Breeze, Hauser Sessions, Yamour, Home and The Equations of Beauty. Some of his famous pieces are:
Sunburst
Lullaby
Andecy
In Sorrow's Wake
Three Dances: Saraband
Hidden Realm of Light
Emergence
Snowflight
Walking
Chilean Dance
Home
John Williams began performing another York composition Lullaby eventually recording it on his Spirit of the Guitar —Music of the Americas album.
___
In a related vein, here is our listing of the All-time Greatest Hits of the Classical Guitar. Get exposed to 15 evergreen and unforgettable classical guitar songs that continue to hold their sway over audiences.
To learn more about the artists who breathed life into the works of composers, read our round-up of 20 fantastic classical guitarists of all time. Get to know their music, their albums, their videos and their legacy.