For a child learning the guitar, a 3/4 size classical guitar is a good choice. Most teachers recommend this size as being the ideal one for a child above 7 years of age.
Regarding which 3/4 guitar model to buy, there are fortunately a few good options at different price points. These are:
J & Z Beginner Classical Guitar
Strong Wind Classical Guitar
Fender FA-15N
Yamaha 103A
Cordoba C1M
Cordoba Cadete
Each of the above varies in its features, reputation and price. But the main variation is in the meaning of 3/4 size itself. There is no standard size called 3/4 size that all manufacturers agree on. So you have to be clear about what you are getting by being watchful. Read on.
What is a 3/4 size guitar exactly?
Before we dive in to the various models, it is good to know about a useful measurement called the scale length – the distance between the bridge (behind the soundhole) to the nut at the other end where the strings pass over to enter the headstock. 
Standard, full-size classical guitars (also known as 4/4 guitars) have a scale length of 650 mm. A 3/4 size guitar, as defined by Yamaha, one of the world's biggest manufacturers, is a guitar with a scale length of 585 mm (23").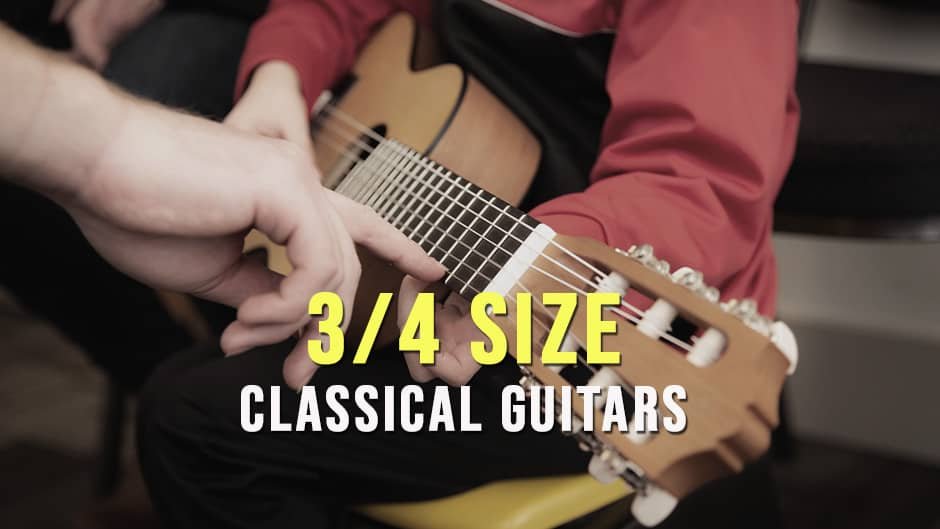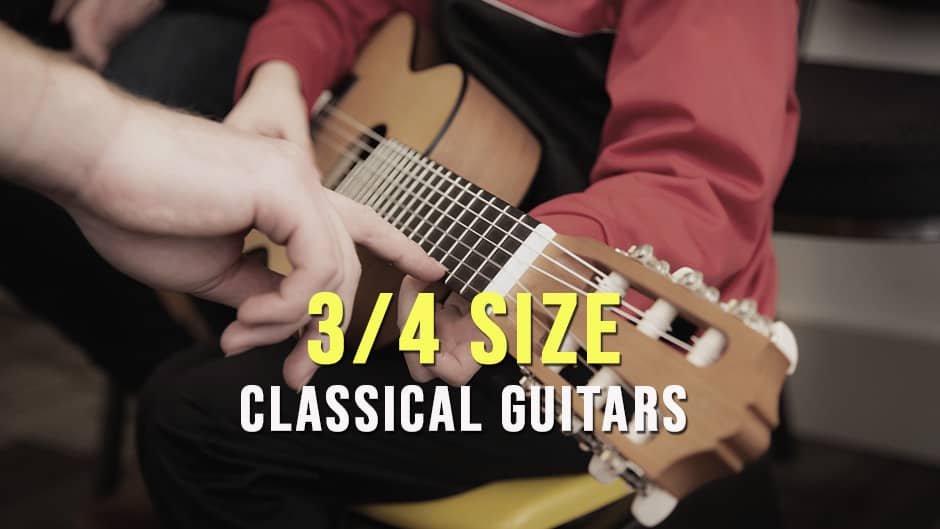 Cordoba, another major manufacturer, makes 3/4 guitars with a scale length of 615 mm (24.2"). Other manufacturers follow either the Yamaha standard or the Cordoba standard or have something of their own in between the two measurements. Yet others do not mention scale length at all and talk about the overall length of their guitars from end to end.
Why does this matter at all? When a child – or for that matter, even an adult with small hands – plays on a 3/4 guitar every millimetre counts! So check for one of these two things:
1. Either the scale length is 585 mm (Cordoba spec) or 615 mm (Yamaha spec) or something in between but nothing longer
2. Or, if scale length is not mentioned, make sure the overall length is in the region of 36" to 36 1/2"
You should be good to go and you can check out all other features now. If you are wondering about what all sizes a classical guitar can possibly come in, check my primer on Classical Guitar Sizes: A Buyer's Guide.
J & Z Beginner Classical Guitar 3/4 Junior Size
This is a popular choice on Amazon, a decent entry-level option at a very affordable price. It is a 3/4 size classical guitar (with nylon, not steel, strings) with a stated overall length of 36". Nylon strings are good on the fingers of young players, unlike steel strings which cut into delicate fingers. The model is well made for its price with solid basswood for the top, back and sides. Maple is used for the neck, head and fretboard. 
The distinctive feature of this classical guitar is it comes with a package of useful accessories: a waterproof guitar bag, a guitar strap, a tuner, a guitar wipe and even two picks. Check the price of the guitar + package at Amazon.
Strong Wind classical guitar
This is a 36" overall length classical guitar that was featured on the ThisIsClassicalGuitar website. It is very affordable and a bargain for beginning students. It looks and sounds great. It uses solid basswood for the top, back  and sides. It has a dreadnought body with smooth curves for comfort during playing.
The chrome geared tuning head has pegs that are smooth to operate to keep the guitar in tune. The guitar is easy to tune but like all classical guitars, new strings will take their time to settle in and in that period will require constant re-tuning.
The guitar comes with a soft kit bag and no other accessories. Check the price of Strong Wind classical guitar on Amazon.
Fender Squier FA-15N 3/4 Scale Nylon String Beginner Guitar
The reputed Fender name in electric and acoustic guitars has a beginner's 3/4 size classical guitar in its range. Made of laminated Agathis top with Sapele back and sides, the Fender Squier FA-15N has a fingerboard made with Rosewood and a neck made of Nato. The scale length is 592 mm (23.3") which falls comfortably within the accepted range.
The neck width at the nut is an unusually slim 43 mm (1.69").
It is a stunning looking guitar at a budget-friendly price that is easy to play and sounds great. It is a good choice for children or older beginners. Upgraded sapele sides and back, upgraded machine heads, dot inlays, compensated saddle and Fender screened headstock logo are some of the features claimed by the company.
Adding value to your purchase, the Fender Squier FA-15N comes with useful accessories including a gig bag. Everything you need to start playing immediately comes in one box. An easy-to-use Fender clip-on tuner and a Fender guitar strap are included. Picks are included if you want to add to the basic fingerstyle. An Austin Bazaar instructional DVD is included for learning the guitar. Check the price of the Fender Squier + the package at Amazon.
Yamaha CGS103A Classical Guitar
Its scale length (distance from nut to bridge) is a reduced 585 mm (23") as against a full size of 25.6" (650 mm). Yamaha calls it 3/4 size. It has a Spruce top, Nato for sides, back and neck, Rosewood for fingerboard and bridge.
This is a favorite model among teachers for their students.
Perhaps because it's not too small like the Yamaha 1/2 size version and not full size either, the 103A is perfect for a child under 11 years. It appeals to adults with small hands too.
For children certainly, the 103A is a dependable Yamaha product with its renowned consistency in good sound and great construction. It comes with quality Savarez D'angelico Light Tension strings.
Yamaha has always been popular with the student crowd for decades mainly because of its consistency in quality for a factory-made guitar. The Bundle comes with handy accessories for the beginner: an Instructional DVD, extra set of strings, picks, tuner and polishing cloth. Check the price of Yamaha CGS103A II + Bundle at Amazon. And here's the Sweetwater link for the CGS103A.
Cordoba C1M 3/4 Classical Guitar
This is a popular Cordoba model for children. As we saw already, a 3/4 guitar as defined by Cordoba has its scale length set at 615 mm (24.2").
It is a handsome guitar with a Spruce top and Mahogany for sides, back and neck, Rosewood for fingerboard and bridge. Its craftsmanship and build are excellent and the guitar should last many years under normal care and use.
The C1M 1/2 size (which is even smaller and meant for children below 7 years of age) and 3/4 size are part of Cordoba's impressive Protege line of classical guitars. Both feature the premium Savarez Cristal Corum strings and have everything in common except for the length.
Again, the 1/2 size is only for young children while the 3/4 size (longer than the Yamaha equivalent) should be OK for children below 11 years as well as adults with small hands. These are excellent Cordoba variants.
Cordoba has marginally less width of the neck at the nut at 1.875" (about 48 mm) than the Yamaha. This is a quality guitar overall. Check the price of Cordoba C1M 3/4 guitar at Amazon. Or check out the C1M 3/4 at Sweetwater.
I also have a dedicated review of the Cordoba C1M 3/4 on the site if you want to know more about it.
Cordoba Cadete 3/4 Classical Guitar
The Cordoba Cadete is a 3/4 size guitar (615mm scale length) at the high end of the price range. It has advanced features of a kind that adult players will appreciate readily. It has the traditional Spanish 7-fan bracing, a solid Cedar top (instead of a laminated top) and mahogany back and sides.
Additional features include a hand-inlaid wooden rosette, gold tuning machines with pearl buttons and a rosewood fingerboard. An adjustable truss rod is built into the neck. This is a great guitar for anyone looking for a lightweight, comfortable, and easy playing instrument.
The Cordoba Cadete is easy to play, thanks to the 3/4 body size and 48 mm (1.88") nut width. The smaller body size makes the Cadete ideal for younger players, or anyone who finds a standard-sized classical nylon guitar just a bit too big. And the 48 mm (1.88″) nut width makes it easier to form chords and change positions, great for new players or those transitioning from a standard acoustic or electric guitar.
Needless to say, this cost is hard to justify if you're going to buy it for a young child who will at some stage outgrow it. It's a great guitar to last the years for an adult learner, though. It comes with a quality package that includes an excellent gig bag and a tuner.
The gig bag is made from heavy-duty water resistant nylon denier with a thick foam padding for extra protection. It includes a shoulder strap system for backpack style wear and a large pocket to carry other wandering-musician goods. Check the price of Cordoba Cadete at Sweetwater. Or check the price of the Cordoba Cadete + package at Amazon.
Should you buy a 3/4 size classical guitar or go full size?
3/4 guitars are advised for beginners, especially young beginners who have small hands. It's about the size of the hands. When you're an adult and you don't have small hands, you can use a 'normal' guitar. 
It can be exhausting for a child below say 11 or 12 years to struggle with the finger stretches required of full-size guitars. A 3/4 guitar is a definite must for young children and in fact, for younger children below 7 years of age, an even smaller scale guitar is called for. Yamaha's 1/2 size guitar will suit very young players in their beginning years.
Of course, once the child grows up (say 12 years or older), he or she will be ready for a full-size instrument and there's no need to deny them that. A full-size instrument will obviously have greater tonality, greater volume and better for techniques like tremolo and vibrato.
Can adults use 3/4 guitars?
The rule of thumb is this: If you are at least 12 years old, get a full-size guitar. If you are younger than 12 get a 3/4 size guitar. If you're an adult with short hands/arms, perhaps a height of 4 and a half feet or shorter, you should consider a 3/4 guitar.
While adult beginners of the classical guitar may choose the 3/4 size to learn comfortably, there are some adults at high skill levels too who prefer the sound of a smaller guitar. So regardless of age or skill level, if you like the sound of a 3/4 size guitar, by all means, keep playing one.
If you lug your guitar around all the time, a 3/4 size guitar is a good idea. It is lighter and more fun to travel with.
There is another serious option available for adult players of the classical guitar: the 7/8 size guitar. It is beyond the scope of this article to get into details on that one. It is also known as the 630 mm guitar.
But, guess what, we have you covered. I have a full detailed review of various 630 mm models available and who can benefit from them. If you're interested, be sure to check my article on 630 mm guitars.
_____
Happy learning!