Great German luthiers have always been a part of classical guitar heritage. Names from the past like Herman Hauser and Dieter Hense and today's luthiers like Mathias Dammann and Gernot Wagner are celebrated for the next-level quality of their instruments. While luthiers of great skill are plentiful in today's times, your everyday guitarist can hardly afford their sky-high prices nor the waiting time of a few years!
Thankfully, there are a handful of German-made classical guitars that are affordable and readily available at various price points. They also have a sizeable, worldwide fan base. These workshop-built brands are well regarded for sound quality and build, precision and workmanship. They are viewed in the same light as other commercially produced guitars like, say, Cordoba or Yamaha. Let's consider three of the popular ones: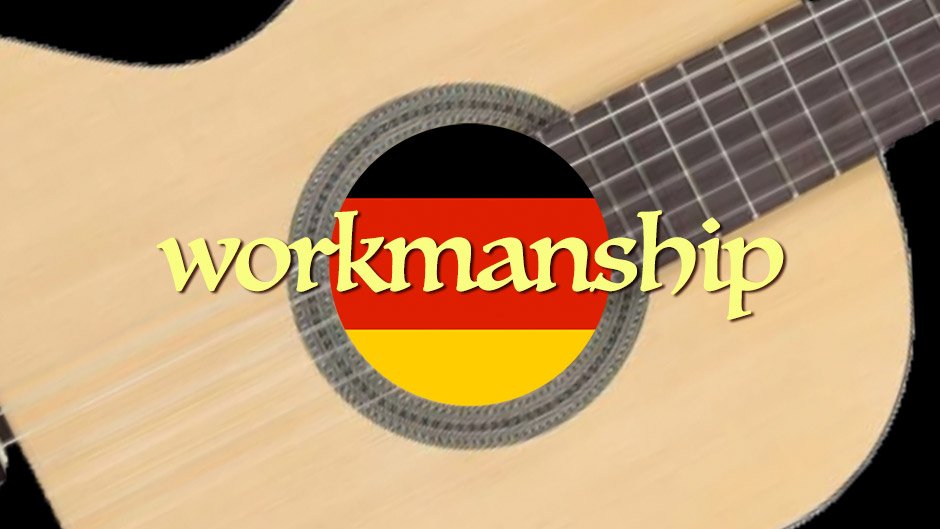 Hanika classical guitars: High quality, high class
Hanika is a reputed name in guitars from the '50s and is today led by master luthier Armin Hanika who is renowned in guitar making and educational circles. For all the CNC machining and other mass production facilities of a modern factory, there is traditional skill at play. They "use the human ear, hand and eye in the stages of production where they determine the acoustic properties of the guitar."
The Hanika range of classical guitars is divided into 4 lines. A noteworthy feature is that the entire range features an all solid wood construction, not just the expensive lines.
The Professional Line caters to the serious concert guitarist or one with such aspirations. Advanced features like lattice bracing and composite top are offered. The Grand Konzert is the top of the line model which is highly rated. The next level of guitars, the Concert Line, is affordable for the serious guitarist.
The Concert Line at the top end uses high-quality woods and features three models of natural finish with conventional or a lattice soundboard and three models of high gloss finish also with conventional and lattice options.
As an example, the Hanika 58PF is a highly regarded instrument from the Concert Line. It is a solid spruce top model with maple back and sides. It is known for its even sound, great volume and top quality with a bright character and excellent projection. It is also known for its playability and its rich tone colours. You can get onto a concert platform with this one.
And for all that, it is under $3,000. This is a popular model with intermediate/advanced players because they consider it tremendous value for the buck. Watch it in action below.
Hanika 58PF demo
For the serious student, the Recital Line has a great option in the Hanika 56PF. At a much lesser price than the next level Hanika 58PF, the 56PF is a great guitar. I've read quite a few owners say on forums that this is practically the same as the 58PF minus some ornamentation and is even greater value for money. Both guitars have quality finishing as well.
The Recital Line features hand-picked tonewoods with cedar and spruce soundboard options. For back and sides, there are Indian and Madagascan rosewood options as well as maple on various models. You get cutaway body shapes too for crossover players. Check out the 56PF in action below in Mathew McAllister's hands.
Hanika 56PF demo
The Studio Line is aimed at the student primarily although not a beginner. This is not the equivalent of a beginner guitar like the Yamaha C40 or the Cordoba C1M. The popular Hanika 50 MC model, for instance, is a solid cedar top with mahogany back and sides with a matte finish. It retails (at the time of writing) close to $1,000.
It's certainly no novice guitar. It is, in fact, a serious step-up guitar for someone who has a couple of years of playing behind them and wishes to upgrade to a better quality instrument. You do get a cutaway option in the 50 series of guitars. Check out Hanika 50MC in action below.
Hanika 50MC demo
A remarkable facet of Hanika guitars is you get tons of customization at every level. You can choose right or left-handed guitars; spruce top or cedar top; scale length, neck width, flat or radiused fingerboard (for crossover players), string action heights, optional pickups  and so forth.
Even such details as alternative tone woods for back and sides, a finish choice of gloss, matte, natural or French polish, choice of machine heads, elevated fingerboards, soundports, double backs and cutaway options are offered across most models. They claim that such extensive options "are not available from other guitar makers anywhere" and they may be well be right.
You can check the details out at the Hanika website. The Classical Guitar Store in Philadelphia and the US Thomann store are among the company's dealers in the US besides online marketplaces like reverb.com where you can sometimes pick up a real good deal.
Hofner classical guitars: Famously German
Hofner is another German brand with a deep tradition of over a hundred years in musical instruments. Their claim to fame outside of Germany was when Paul McCartney played a Hofner violin bass (it featured in the Beatles' famous rooftop concert.)
Hofner guitars are handmade in Germany and are known locally and outside for their high quality build and good value for money. Their HM range of top-end guitars used to have a restricted 50mm nut width for a long time but that is no longer the case with the modern production lines.
The Carmencita line is a popular range of children's or beginner's guitars that come in half, three-quarters, seven-eights and full sizes. It is popular in Germany, of course, as also in Europe generally because of their affordable price and robust build to last, as the company says, "the rough everyday school life."
These guitars at the lower end of the company's product range are harder to find in the US, even with those that stock the Hofner brand. You may luck into a listing at eBay that carries an HC504 or HC502 occasionally.
The Classic Series is a range of handcrafted guitars for students with solid tops: cedar or spruce. Again, the guitars are reasonably priced and the tone woods are chosen and crafted well. Prices start around the $500 mark. For the quality it offers to a student who may not exactly be a beginner, a Classic Series instrument is a bargain for a handcrafted German guitar.
The Hofner HZ27 in this Series, for instance, is a popular model available in places like Musician's Friend and Guitar Center.
It features a high gloss rosewood body and a solid cedar top with a satin wax finish. The body binding is in walnut. High quality gold plated machine heads are just the kind of thing that gives the instrument full marks on German workmanship. Watch the HZ27 in action.
Hofner HZ27 guitar demo
The less expensive Hofner HZ23 is also a lovely instrument in its class. The HZ23 has a mahogany body and a solid cedar top with excellent projection and a warm tone. It is finished in a matt lacquer with a cream binding complementing the caramel tones of the body for a smart appearance. With a full scale length of 650mm and a slightly diminished nut width of 50mm, this instrument is the ideal student's model. Watch the HZ23 in action.
Hofner HZ23 guitar demo
Mention must be made of a Classic Series model, the HZ18. It is made of an unusual wood choice. The body is made of laurel, a wood with a unique grain. "Laurel wood, a natural product, looks completely different on every instrument, which makes every single guitar distinctive and unique. The play of colors in the wood ranges from almost black to chocolate to rich gold." 
The HF18 looks distinctive, for sure. And the guitar is topped with a high gloss finish.
At the high end of the brand's offerings stands the Meister Series which are professional guitars handcrafted by their best luthiers. These instruments offer the professional and advanced students some of the best German craftsmanship combined with a great selection of tonewoods.
The Hofner HM65-Z, handcrafted by master builders in Germany, is at the entry level of the Höfner Meister series. Selling at around the $750 mark at the US Thomann store, the quality to price value is very good. A solid cedar top guitar with a solid mahogany body, the HM65-Z comes with a matte finish. See it in action below.
Hofner HM65-Z guitar demo
Till some time back, the top of the line model of the Meister Series used to be the highly rated HM88. It is still one of the finest German workshop-made guitars available and has a fan following all its own. It is well known for its loud volume and great projection. But recently three more higher level models have been introduced: the Allemande (HM90-0), the Sarabande (HM92-0) and the Gigue (HM96-0).
With a body made of Cocobolo wood, the Gigue (HM 96) has a spruce top, which has been air-dried for many years and is sealed with a wafer-thin surface finish. The neck handle is oiled and waxed. It is a special high-end classical guitar without a doubt. Watch it in action below.
Hofner HM96 demo
You can check out the Hofner website for more details on their instruments.
Ortega guitars: Budget friendly for beginners
Ortega are "German design" classical guitars mostly made in China and very popular with those looking for a beginner guitar either for themselves or for a child. For all its affordability, Ortega guitars offer a surprising number of variations in sizes, nut widths and materials.
Their R121 and R122 models, for instance, from their best selling Family Series have 7/8, 3/4, 1/2 and 1/4 size variants besides colours and left hand models. There are also slim neck variants for crossover players. For instance, the R121SNWH model's name translates to the Slim Neck White variant of the base R121 model.
All models in the Family Series come with a gig bag. No wonder these guitars are so popular. The value for money is undeniably good.
In addition, these starter guitars often come with advanced features like truss rods and 12-hole bridges, normally not seen in this price range. The Ortega R122 student model at around the $200 mark features a cedar top with mahogany back and sides and a walnut fretboard and bridge. Additionally it has a 12-hole bridge, a 2-way truss rod and a deluxe gig bag included. It is a full scale (650 mm) guitar with a standard 52 mm nut width. As starter guitars go, the R122 is a surprise package. Check out the R122 left-handed version below.
Ortega R122 demo
The Ortega R121-3/4WR is a 3/4 size nylon string classical guitar in the Family Series with a spruce top, mahogany back and sides with a wine red (WR in the name) gloss finish. The fretboard and bridge are of walnut. The 3/4 size translates to 590 mm scale length which is great for young children and adults looking for a smaller size guitar. Making it easier to play for those with small hands is the slimmer nut width of 45 mm as against the standard 52 mm.
This model is around the $200 mark but comes with a 12-hole bridge for secure tying of the strings and a better break angle. The R121 comes factory-fitted with high-quality Savarez 540CS strings, a good choice. And includes a free gig bag.
The Ortega RCE131 is the cutaway, electric version. At around $400 the RCE131 is not priced too steep. It is a full-size guitar with a full nut width and the usual 19 frets. It has a 12-hole bridge and a 2-way truss rod. It comes fitted with the Ortega MagusPro preamp/pickup system with a built-in tuner.
You can check these popular range of guitars on Amazon with the links below and mark one of them as a next buy for your son or daughter, if not for yourself.
A note on today's German luthier-made guitars
Although covering the vast (and interesting!) topic of today's German luthiers is beyond the scope of this article, mention must be made that there never has been a better time to find yourself a German luthier-made classical guitar. There are literally hundreds of talented luthiers who are following in the tradition of their illustrious forbears. You could even make it a full German thing after you review my article on the quintessential German strings of them all: Hannabach.
Just to give an idea of what's available out there, here is a sampling of German luthiers who have made a name for themselves and have probably not yet priced themselves out of the market for intermediate, non-concert level players! (Incidentally, if you'd like to look a great collection of guitars from Spain, check out my review of 9 Spanish-made Guitars.)
By no means is this an exhaustive or representative list. Just a sprinkling of promising talent that is around us today.
_______
You should probably look at one of the latest and very effective guitar supports in the market today with Woodside Guitar Supports. (There's nothing particularly German about them, but we recently reviewed them and they stood up well.)
Happy playing German-style!