When a classical guitar player gets past the beginner stage and starts shopping for an 'intermediate guitar', certain brands come readily to mind. These are typically in the $600-$1,000 range which is a definite step-up into a world of better quality instruments. In its pricing and feature set, the Alhambra 5P sits squarely in this market that is looking to up its game.
All Alhambra guitars are proper Spanish guitars in the sense they are actually made in Alicante, Spain. The widely respected Alhambra range of classical guitars starts with their Student Line and the next step up is the Conservatory Line to which the 5P belongs. The company terms it "an instrument with very interesting features with qualities to interpret different musical styles."
The Conservatory Line also features the 4P, 6P, 7C Classic, 7P Classic and 7PA models. These mid-range guitars are aimed intermediate-level musicians who wish to continue their guitar studies. The selection of excellent materials and better quality craftsmanship are attractive features for advanced students looking to improve their technique and musicality.
The 5P is a guitar with a full-bodied and mature sound, quite resembling the popular 4P model. It is in many ways similar to the 4P, but with a cedar neck, an ebony-reinforcement inside the neck, and rosewood laminate on the interior. The 5P is also often compared to the Cordoba C7 (mostly in Europe where the 5P appears to be cheaper) and the Cordoba C9 (in the US where their prices are comparable.)
Features at a glance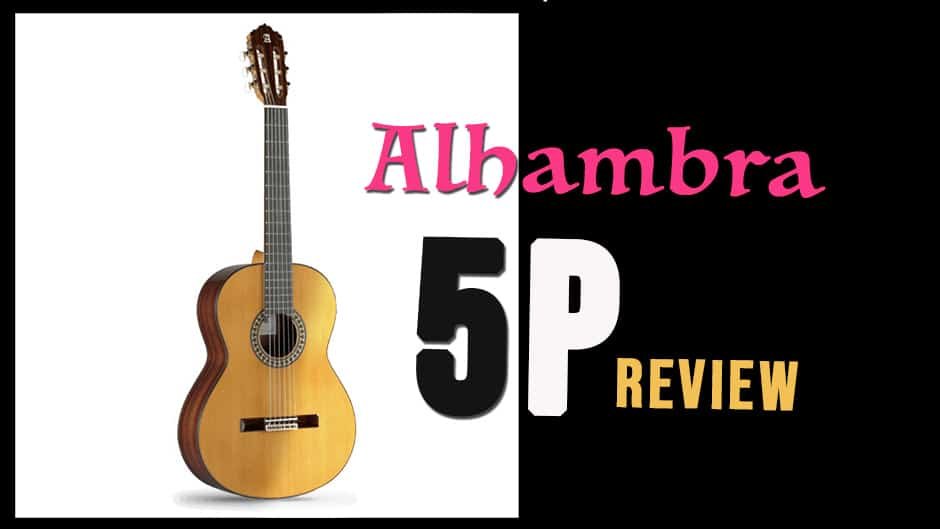 | | |
| --- | --- |
| Feature | Description |
| Top wood | Solid Red Cedar/Solid German Spruce |
| Sides and back | Laminated Indian Rosewood |
| Fingerboard | Ebony |
| Neck | Mahogany with Ebony reinforcement |
| Bridge | Melamine |
| Scale length | 650 mm (25.6") |
| Number of frets | 19 |
| Nut width | 52 mm |
| Body depth | 102 mm |
| Machine heads | Gold plated |
| Strings | D'Addario EXP 44 Extra Hard Tension |
| Finish | Glossy |
| Country of origin | Spain |
| Check price | Alhambra 5P on Amazon |
Features that matter
The 5P guitar is built with solid red cedar for the top with Indian rosewood for the back and sides. The mahogany neck is reinforced with ebony, with an ebony fretboard as well.
As noted, the Alhambra 5P Classical Guitar is a step up from the 4P model in quality. The top wood is the most influential part of the instrument when it comes to sound quality. The 5P's cedar top is thus equipped with 7 braces that "help improve the resonance of the instrument without sacrificing its lightweight or durability." This bracing includes two additional transverse "harmonic bars" that contribute to the warm, full-bodied tone.
The company believes that quality woods with a close grain count and high stiffness to mass ratio make for resilience, light weight and resonance. The body goes through as many as four layers of varnish. With an ebony fingerboard, better machine heads and Indian rosewood for back and sides, the 5P is a handsome, well-crafted classical guitar from Spain at the end of the day. The ebony bracing in the neck prevents warping.
The saddle and nut are made of melamine instead of bone, considered the usual standard in any guitar over $500. Melamine, according to the company, is the chosen material for its sound transmission qualities.
The guitar comes fitted with D'Addario EXP 44 Extra Hard Tension strings, again an unusual choice. This is true of all Alhambra guitars. Hard tension strings are recommended as the default choice for them all.
Here's a nice rendition of Agustin Barrios' Julia Florida played on an Alhambra 5P. It's an audio file on the following page (just scroll down the page a little).
Julia Florida played on Alhambra 5P
Opinions online
As a well worn and respected brand, Alhambra guitars enjoy a reputation for excellent quality, design and sound. Their instruments are sold in at least 40 countries all over the world. Their student models are as well known as their advanced models like the 11P for instance.
The 5P is often compared to the Cordoba C7 and even the C9. The C9 comparison is a close one. The C9 has an all solid wood construction, whereas the 5P only has a solid top. This counts for a lot in the C9's favor in the opinion of some. Others argue, with reason, that the back and sides bring much less influence to the final sonority of the instrument.
The C9 is at heart an American guitar (although made in China) with noted luthier Kenny Hill as their master craftsman while the 5P is quintessentially a classical guitar made in Spain. I myself own an Alhambra 7P as one of my guitars and I love its sound which I can only describe as darker and warmer. As against the light and bright sound of a Cordoba C9. It's a clear difference in the sound. Which is better? Only you can answer that.
There is no doubt that the 5P is a cut above the beginner guitars, which it leaves way behind. Low-end Yamahas and similar models cannot really be compared to it.
Some users (in the US mainly) find the 5P overpriced. They say that while it is certainly a quality guitar, it is not really value for money. The model appears to be more competitively priced in Europe and elsewhere.
Yet others believe that the one-rung-down model of 4P is a great value when compared to the 5P. The 4P, they say, is almost 5P in terms of its features and specs. At a fraction of the cost.
Many users have experimented with other strings with great success. The model comes from Alhambra with D'Addario EXP44 Extra-Hard Tension strings installed. Some have found that Savarez Alliance 540J Hard Tension strings give a better tone with more volume and sustain.
Others recommend the Hannabach 728 High Tension strings. For the budget-conscious, there's the D'Addario ProArte EJ46 HT strings which is a great value (that's an excellent set of strings, don't be fooled by its affordability).
In my own case, I have come full circle to the bread-and-butter D'Addario EJ45 Normal Tension strings. For my style of playing, I found hard tension strings harder to play on my guitar (which is a 7P though). Plus I didn't lose any volume. I've never been a fan of carbon strings (or titanium) for they always sounded harsh and screechy to my ears. So I'm back to the good ol' warmth of nylon once again.
If you are confused by the profusion of string brands out there and what exactly different tensions do to your guitar, you can read my article on 5-Step Guide to Choosing Your Perfect Strings.
Alhambra 5P options: Cutaway, narrow body, Señorita…
The Alhambra 5P offers interesting options: the Cutaway (CW) and the Narrow Body (CT), for instance. In a bid to appeal to a multitude of musical styles, these models appeal to the crossover guitarist who straddles both the acoustic and classical worlds.
The Alhambra 5PCW E8 is the new version featuring the Fishman FLEX-Blend pickup and preamp system. This is an Electro Classical Guitar made in Spain from the 5P prototype, you might say. This is Alhambra's best-selling, mid-range, cutaway classical guitar.
The Alhambra 5PCT E2 is a professional classical electric guitar with a narrow body and narrow neck. A solid 5P model paired with a Fishman Pro-Blend pickup.
The Alhambra Senorita 5P – 7/8 is a special-sized classical guitar, a 7/8 version of the 5P.  It is quite a well known and popular variant. The Señorita has a scale length of 636 mm with a 50 mm nut width. The 5P offers other size options as well. It has a version for left-handed guitarists too.
If you want to research the smaller scale 7/8 guitar in some detail, check out my article All About the 630 mm Classical Guitar.
In summary
The Alhambra 5P is a classical guitar with a great bracing design and overall robust sound. It is a guitar made in Spain in the traditional way that the country is known for. It is a comfortable instrument with great playability. It uses hard to extra hard tension strings. Its sound is warm and powerful.
The price can arguably be considered on the higher side. But feature for feature, it holds its own against any brand in the mid-price segment that aims at the intermediate guitarist or the advanced beginner.
_____________
On a related note, if you want to know more about the Cordoba C9 read my full review of the C9 so that you can compare what it has to offer. If you want to know about other prominent brands of Spanish origin, read my article on 9 Made in Spain Classical Guitars.
For a different experience from the other side of Europe, if you can up your budget somewhat, there's the Kremona Fiesta to consider – it's from Bulgaria and a very fine guitar. Read my review of the Kremona Fiesta here.
I've also added the review of the 5P's illustrious older brother, the 7P. Read about the exciting option for intermediate guitarists: the Alhambra 7P. For a comparison between the industry's big-league majors, check out my article Yamaha vs Cordoba.
Happy strumming!