Some time back, I wrote about all the different Yamaha models of classical guitar covering a wide range – from the inexpensive, beginner's C40II to the mighty GC Series models. Being so wide on a topic, the article had only brief notes on each of the variants covered. This article looks at some fine guitars that Yamaha makes that will resonate with intermediate level players.
Yamaha CG162C/162S
Yamaha CG182C/182S
Yamaha CG192C/192S
Yamaha GC12C/12S
Yamaha GC22C/22S
Yamaha GC32C/32S
Note the top 3 in the list start with CG, while the bottom 3 start with GC. Easy to miss!
The popular CG Series has been revamped and features a new bracing pattern for great response and resonance. All classical guitars in this series also feature a bridge plate that "efficiently transfers string vibration to the guitar top."
Yamaha believes its saddle-and-slot design is crafted with great precision for an accurate fit. This reduces string vibration loss and improves attack and sustain. For a factory-made guitar, every variant in the CG Series is built with expertise and craftsmanship. The CG Series definitely belongs to the higher end of similarly priced guitars and far above the cheap and ordinary.
The flagship GC Series, on the other hand, is Yamaha's handcrafted guitars by their senior craftsmen trained in Spanish methods of construction. The woods are hand chosen, the features are refined. These are constructed at workshops in Japan and China. They are all-solid wood guitars with a characteristic rich tone. Quality stuff. If you are a serious intermediate level player, these are guitars you will consider at some point in your journey.
The Yamaha GC Series for intermediate students
Yamaha CG162C/162S: Impressive and under $500
Although there are other models in the CG Series, a good starting place for an intermediate player looking for a better quality instrument is the CG162C or CG162S. The C stands for a solid Western Red cedar top and the S represents a solid European Spruce top. The key word to note is 'solid'. A solid wood refers to a single piece of wood, cedar or spruce, always a great choice for superb sound quality. A laminate, on the other hand, is a bunch of thin pieces glued together. Obviously, laminates are cheaper – and the sound quality is not on par.
The question of whether cedar is better or spruce is better as a guitar top has been beaten to death online and is down to individual opinion. Don't look for conclusive debates on this. Play the same model of both variants and make up your mind. Once you're done, you can walk into a party conversation and state with quiet confidence, "I'm a cedar guy myself" and take a sip. Substitute with 'spruce' and 'girl' as appropriate.
The CG162 is a good quality guitar at a reasonable price that you shouldn't pass up. Anybody should be able to afford it, really. The striking thing about it on the first impression is its Ovangkol sides and back with its unique patterns. Like all Yamahas the CG62 is well built and consistent in quality. And the price is ridiculously good.
Feature
Details
Top wood
Solid American Red Cedar Top (CG162C)
Solid Engelmann Spruce Top (CG162S)
Other woods
Ovangol for back and sides, Nato for neck, Rosewood for fingerboard and bridge
Number of frets
19
Finish
Gloss
Notes
After trying many guitars in the sub-$500 range, it is very possible you will be impressed with the CG162. Many have been. One user went so far as to say it was better than even guitars in a totally higher price bracket: Yamaha's own flagship CG192. While opinions can be pretty subjective, there is no denying that a sizable lot of owners out there truly believe they've lucked into something very valuable for their money with the CG162. For an early guitarist knocking on the doors of intermediate playing, a good guitar can bolster confidence. This is a solid option to consider.
Affiliate Links
CG162C – Check the price at Amazon
CG162S – Check the price at Guitar Center
Yamaha CG162C/CG162S classical guitars
The sound is rich, 'mid-rangey' and balanced. It is earning consistent, high praise for its playability and response from users online.
Yamaha CG182C/CG182S: A step up at only $500
The CG182 and its older brother (CG192) are often spoken of together as a set of great guitars from the Yamaha stable. It's hard to disagree especially when you consider the price tag of the CG182. It is great value for the guitar you get.
Feature
Details
Top wood
Solid American Red Cedar Top (CG182C)
Solid Engelmann Spruce Top (CG182S)
Other woods
Rosewood for back and sides. Nato for neck. Ebony for fingerboard
Number of frets
19
Finish
Gloss
Notes
The CG182 is spoken of highly for its volume and projection. Its mosaic-design rosette, gloss finish, gold hardware and mother-of-pearl peg tuners lend it a quiet and classy exterior. The neck was deliberately made thin and lighter to increase playability. It is a guitar built for a small room performance for the budding guitarist who is gaining confidence in his repertoire.
Affiliate Links
CG182C – Check the price at Amazon
CG182S – Check the price at Amazon
Yamaha CG182C/CG182S classical guitars
Classical guitar purists believe that a proper fingerboard should be nothing other than ebony. Not rosewood painted black, but real ebony. The CG182, even though it is hardly an expensive guitar, introduces the student to an ebony fingerboard. The guitar is made with other excellent wood choices: Rosewood for back and sides, a feature of more expensive guitars; and Nato for the neck. And, of course, you have the usual choice of guitar top woods: cedar or spruce.
As far as I can tell, the difference between the CG182 and CG192 is the neck material – Mahogany for CG192 and Nato for CG182, and better tuning machines on the CG192. They are the kind of differences that deal with the durability of the guitar rather than sound quality.
You will find a whole host of folks plonking for the CG182, C or S, because it's "really" as good as its older brother and why pay extra? And there is another crowd that says find those few pesky dollars more and go for a better guitar in the CG192.
The Yamaha CG182C's full-size classical body has a nicely balanced, robust tone with a slight emphasis on the mid-range for punch. It has plenty of projection to fill a small room. And I'm going to say it again: it's offered at a surprisingly low price for the value you get.
CG192C/CG192S: Top of the CG Series line
The CG192S is the flagship instrument of Yamaha's renowned CG series. It comes with the famous Yamaha sturdy construction using high-quality tonewoods. It continues to be the choice of many an intermediate player. Yamaha CG192 is a value-packed classical guitar – great for players of all levels, actually.
Feature
Details
Top wood
Solid American Red Cedar Top (CG192C)
Solid Engelmann Spruce Top (CG192S)
Other woods
Rosewood for back and sides. Mahogany for neck. Ebony for fingerboard
Number of frets
19
Finish
Gloss
Notes
It is possible, as some have done, to jump straight from a beginner C40 right onto the CG192 (or a Cordoba C7 or equivalent) by skipping all the in-between line of guitars. It is a massive jump in tonal quality, playability, touch, durability – and the price, of course. Between the 182 and 192, is there a significant difference? The mahogany wood for the neck as a significant upgrade? No, not really. Along with better tuners, better wood may count for longevity of the guitar, but the impact on sound quality? Negligible. However, you may consider the price difference – not too much really – and opt for the older brother, perhaps
Affiliate Links
CG192C – Check the price at Amazon
CG192S – Check the price at Amazon
Yamaha CG192C/CG192S classical guitars
This again is an all-solid woods guitar with no laminates in sight. And, as we saw in the CG182 section, some say the CG192 is practically the same as the lesser-priced variant but for the Mahogany neck (instead of Nato) and better tuning machines.
This is a much loved guitar. Owners gush in spades online. The sound quality, the perfect 'action' height, the choice of superior woods, a light but sturdy construction and a huge fan base give the CG192 something of a rock star sheen.
Due to its light weight, it is comfortable to play. It also has good projection and volume. It makes a very good guitar for the intermediate student. In its price bracket, you can compare it to the Cordoba C7 which is a good guitar in itself. Personally, I'd choose the Yamaha CG192S any day. You can't beat the quality at this price.
For an intermediate player with a confident repertoire, this is Yamaha's top of the line offering at the intermediate range. Listen to Baroque composer S.L.Weiss' Sonata in Dm played on a Yamaha GC192.
If you consider the CG Series guitars as a whole, the general rule of thumb for buying a classical guitar applies: Buy the best model you can afford. Because you can't go wrong with a Yamaha. (Till you're ready for a luthier-made guitar, of course.)
Beyond the CG192 we get into the company's highest range: the Grand Concert (GC) Series. And that is what we will discuss next.
Yamaha GC Series: Next level guitars for intermediates
The company website says: "Yamaha has decades of experience in making hand-crafted guitars with their senior craftsmen having formally trained in traditional Spanish methods. The woods are hand chosen, the features are far more refined. Welcome to the Grand Concert Series (GC)."
It is an impressive lineup of fine guitars and we'll look at 3 of them here. If you are anything like me, you'd love to watch craftsmen making a guitar in a workshop (even though it's a sales video).
For the consumers' side of the story, I have read someone online saying aptly that the GC Series can be compared to the Martin or Gibson level of guitars of the steel string world. Though they are all factory-built guitars, the excellent craftsmanship and overall quality put them on a higher pedestal and win them huge respect than more run of the mill guitars.
All models in the GC series feature solid tops and backs.
Yamaha GC12C/GC12S: Among the best under $1000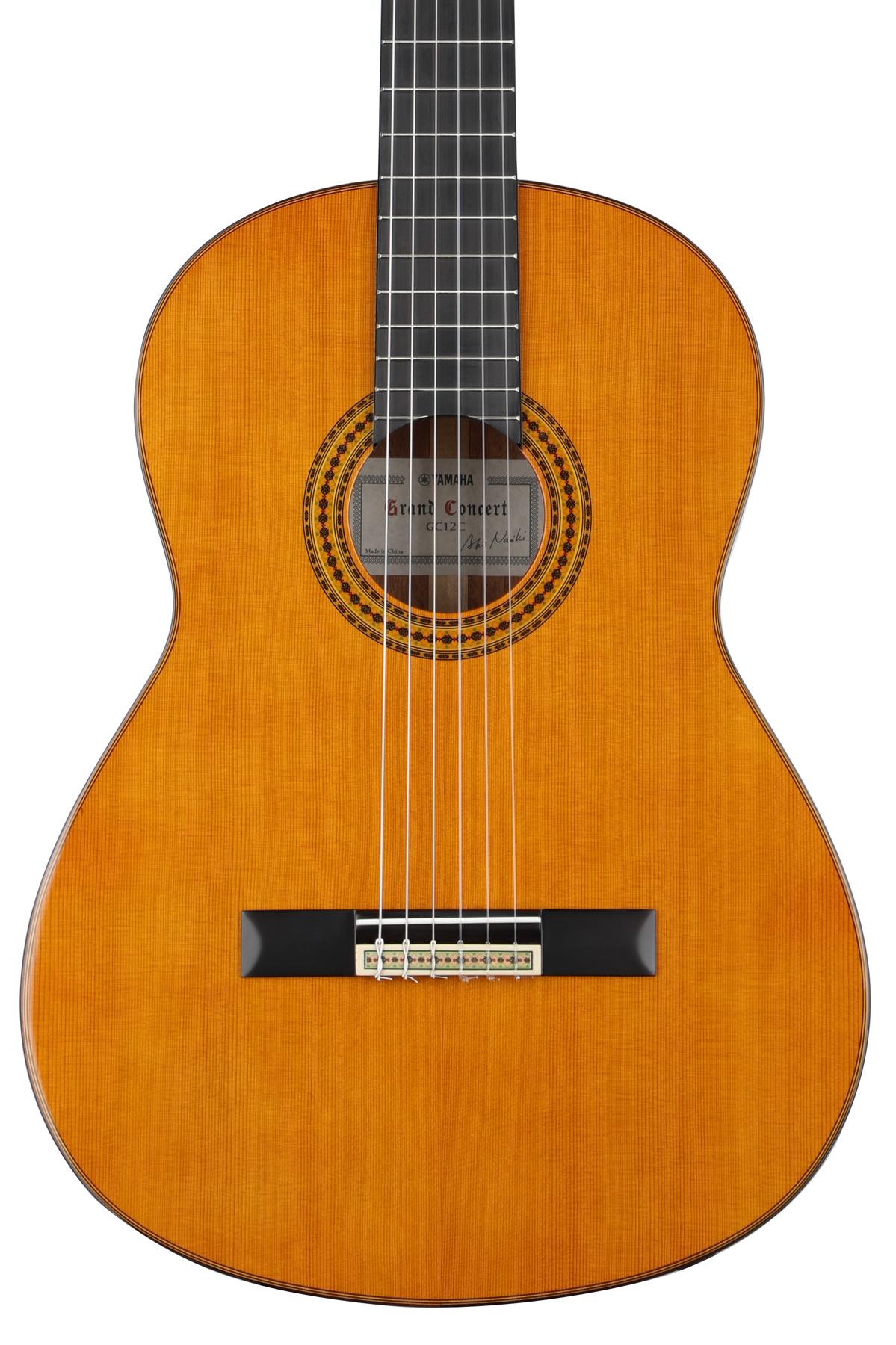 We are entering the world of carefully chosen all-solid tonewoods and ebony fingerboards. The GC12 is a popular model with intermediate-level classical guitarists looking for their next step up. And also with those wanting to add some quality nylon sounds to their soundscapes.
Feature
Details
Top wood
Solid European Spruce (GC12S)
American Red Cedar (GC12C)
Other woods
Solid Mahogany for back and sides. Ebony fingerboard
Number of frets
19
Finish
Gloss
Notes
The GC12 is known for its bright sound. You expect the sound to mature with age as with guitars of this caliber. Guitars at this price range have a bone saddle, but the GC12 has one made of Urea. The word doesn't sound too good to my ears but I've learned it is indeed a very good material for the job. (If it bothers you still, you can replace it with a bone saddle.) The choice of high-quality tonewoods lends subtlety to the sound. The ebony fretboard has a good touch. Great tuners. This is certainly the next level of guitar for an intermediate guitarist.
Affiliate Links
Check the price of Yamaha GC12C at Sweetwater | or at Amazon
Check the price of Yamaha GC12S at Sweetwater | or at Amazon
Yamaha GC12C/GC12S classical guitars
At this level of guitar making, you'd expect an appreciable jump in craftsmanship as well as sound quality. The GC12 does not disappoint. It has a balanced sound and Yamaha guitars are known for their consistent quality of construction. The fingerboard ebony looks and feels 'smooth' with no blemishes. 
It plays better than some over-$1000 guitars I have played. You can compare it to a Cordoba C9 which is a popular guitar. Which one wins you over is a matter of taste and preference. I would think a GC12 is slightly better off on overall sound quality and construction, but that's just me.
I have played this model over a few years, about three of them owned by friends at different times. That experience, as well as other similar experiences with Yamaha guitars in general, has led me to believe their quality control process is really top notch. The quality of guitars that Yamaha puts out is consistently good.
A few players have commented that the action is a little too high on the GC12 making it difficult to hold barres in the first position. Though no Yamaha comes with a truss rod, its action can be lowered through sanding the saddle a little. It's a job best done by those who know – a luthier, a guitar tech or a skilled DIYer.
The GC12 has similar specs to the GC22, the next one up the GC order. The solid Mahogany for back and sides gets replaced with solid Rosewood in the GC22. Rosewood is the preferred choice for this use among more expensive guitars. Strictly speaking, it's hard to tell the differences in sound that such woods (other than the top) impart.
For a price difference of about $200 you can argue equally convincingly for or against buying the GC12 instead of a GC22. Check the guitar forums to find both kinds of people.
What's beyond question is that for a sub-$1000 classical guitar, the GC12 is a fine and worthy guitar.
Yamaha GC22C/GC22S: Highly rated and popular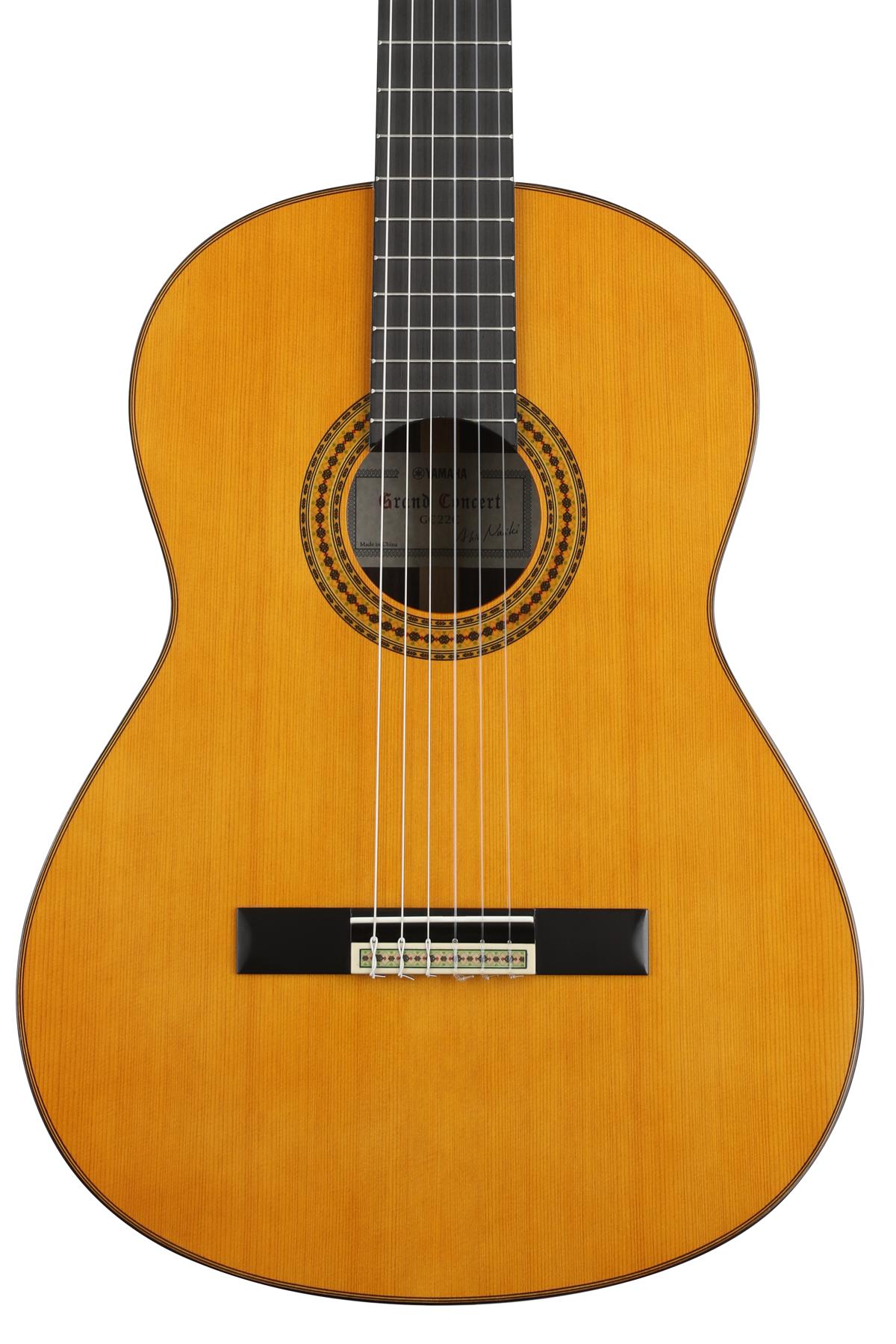 The GC22 has solid Rosewood for its back and sides and the top is either solid American Red Cedar or solid European Spruce. It is a tonewood combination, typical of higher quality guitars, that promise nuanced sound and expression. As the woods age, the tonal richness improves.
Feature
Details
Top wood
Solid European Spruce (GC22S)
American Red Cedar (GC22C)
Other woods
Solid Rosewood for back and sides. African Mahogany for neck. Ebony fingerboard
Number of frets
19
Finish
Gloss
Notes
Consistent quality is Yamaha's strong point. You can expect a GC22 to sound big and sustained. Trebles are not overpowered by the bass. And the sound will certainly improve with age. In general terms, it can be compared to a Cordoba C10. I'd pick the Yamaha, no hesitation. The neck profile is very comfortable for better playability. Even owners of the excellent CGS192 will find the GC22 a step up the ladder.
Affiliate Links
Check the price of Yamaha GC22C at Sweetwater
Check the price of Yamaha GC22S at Sweetwater | or at Amazon
Yamaha GC22C/GC22S classical guitars
The result is a sound and tone that surpasses many others in its class. Listen to some fine playing of classical music on the GC22C (along with some surprising Bossanova rhythms down the line).
Great sound with easy playability. Those who may find the action a little high will have to lower the saddle but that's not unusual these days on a new guitar. I asked a friend who has a GC22S to measure his action and he reported normal values: a little over 3 mm for the first string and a little under 4 mm for the sixth string (both measured at the 12th fret). These are fairly standard numbers, yet there are a few who find the action high.
Incidentally, I have discussed high-action issues and solutions in the article Fix Your High Action Classical Guitar if you'd like to know more about that.
For many owners, the GC22, cedar top or spruce, is a stand-out guitar from their previous one. They love the expression they can get out of it and the nuances it brings to their playing. As with all high end Yamahas, the GC22 has a well rounded, balanced sound with no particular leaning towards the basses. The basses, in fact, sound pure and rich on a typical GC22.
Users who have played both the GC22 and the GC12 say they sound pretty much identical, sharing a rich, resonant quality. It may then come down to whether you love the looks of Mahogany or Rosewood more.
Some have got excellent results using normal tension strings on the GC22 while replacing the G string with a carbon one. It brings out more clarity and gets rid of tubbiness, according to them.
The nut and saddle on most of the GC models are not made of bone as is customary with expensive guitars. They are made of urea instead. That's an appropriate material according to Yamaha but it can make some of us feel funny.
Replace with a bone saddle and nut if it bothers you that much.
Overall, the GC22 is a really great guitar with excellent workmanship. It sounds full and responsive and will keep the intermediate player in good company for years to come. Yamaha's legendary build quality can be counted on.
This is a model (even though it's not the most expensive in the Series) that reminds you that "factory made" isn't automatically a bad thing.
Yamaha GC32C/GC32S: A distinct leap in quality (and price)
Many of us started our classical guitar journey on a cheap Yamaha. As we gain better skills with time, we assume it's time to leave the Yamaha's behind and move on. Nothing could be further from the truth!
For me, Yamaha produces the best guitar possible at every price range. They are a professional company with excellent quality control and more than 50 years of guitar making experience. (I don't work for them and they don't even know I exist, so this is not a paid promotion). Given their resources, they can acquire the best materials available. As a perceptive online writer said, just look at how detailed the rosette and purflings are. Not many guitars come close in detail work or pride in craftsmanship like that.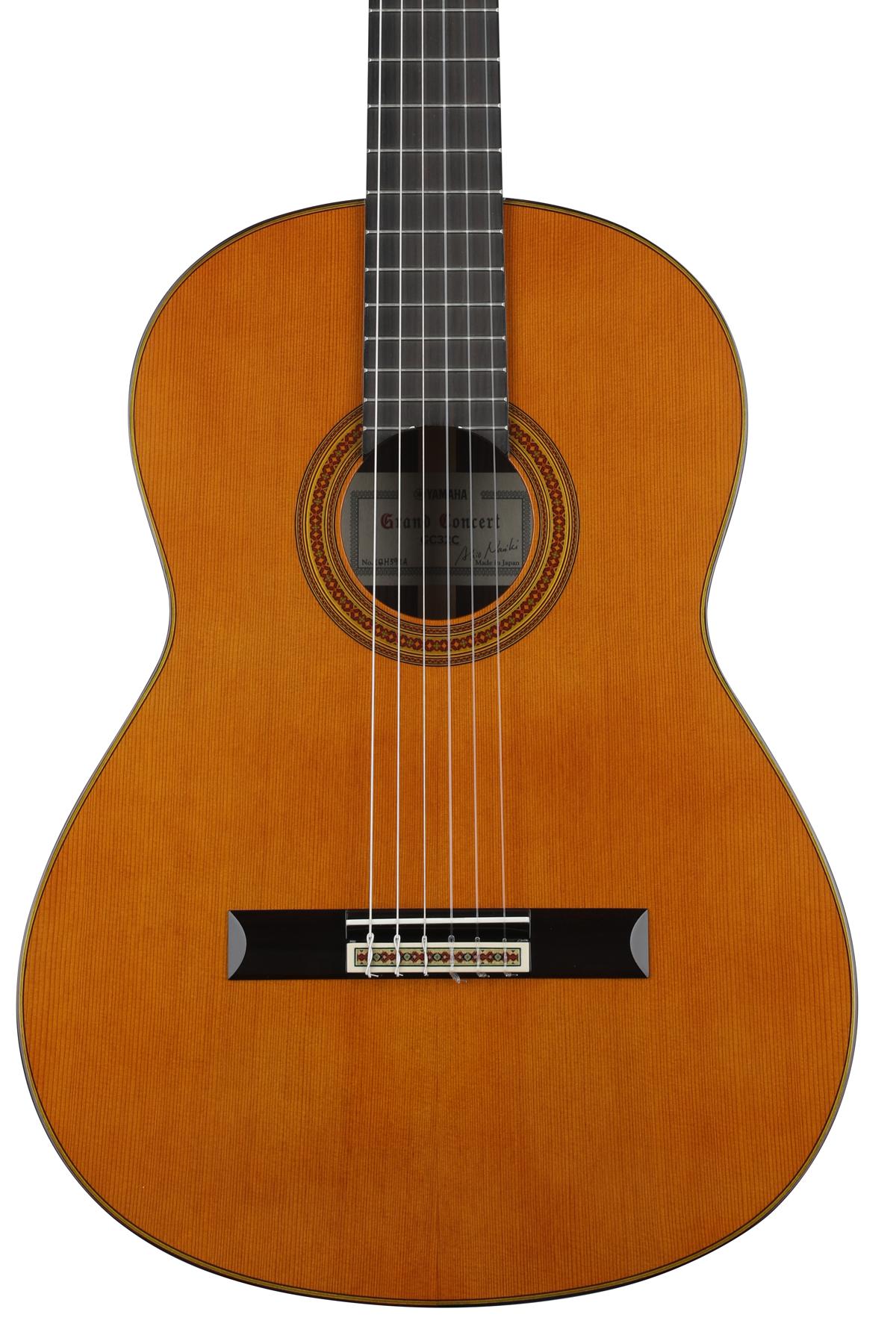 The Yamaha GC32 is considered the start of the "higher end" of the GC line and is solid proof of the high-end quality that's possible. It is a very Spanish sounding guitar, produced in the Hamamatsu factory in Japan. (The GC12 and GC22 are reportedly made in China.)
Feature
Details
Top wood
Solid European Spruce (GC32S)
American Red Cedar (GC32C)
Other woods
Solid Rosewood for back and sides, Ebony fingerboard
Number of frets
18
Finish
Polyurethane Gloss
Notes
At less than $2,000, the Yamaha GC32C is an outstanding instrument. Solid rosewood back and sides. Ebony fingerboard. Solid American cedar top. Or European spruce top. It will sound better with age.
Affiliate Links
Check the price of Yamaha GC32C at Sweetwater
Yamaha GC32C/GC32S classical guitars
In high-end guitars like the GC32, it's not just the choice of the tonewoods. It's in the particular choice of the actual pieces of wood that go to make a classical guitar. No wood piece is ever identical to any other like no two fingerprints are the same. Care taken here by a master craftsman directly translates as the final quality of the instrument.
And, for the first time in this article, this Yamaha model has a bone nut and saddle.
The GC32 looks kind of plain from far away. Up close, the attention to detail is everywhere. It is lacquered, but thinly. Some have commented that the edges of the body and neck feel a little sharper than other guitars. The guitar is heavier than usual. The edge banding is very detailed. It does not buzz.
In terms of sound, the mid and treble tones are super clear and bright. Like the GC22, this one has a bright, open and responsive sound. But the GC32 has a bit more complexity in tone than the lesser models. The bass is relatively the weakest though.
The good thing about a Yamaha is that you know that it will arrive in good condition and be free of defects. You are also guaranteed reliability, consistency, great build and finish. Taken together, the GC32 in its price band is a hard one to beat.
I have heard that you get excellent results with Savarez Cantiga Premium HT  basses along with D'Addario Titanium trebles (EJ46TT). They brighten up the sound and deliver great harmonics. And the Savarez tightens up the weaker bass sounds.
If you are interested in getting great strings that match your guitar – you should be interested if you are at the intermediate level – check out my article 5-Step Guide To Finding Your Perfect Strings. It will set you off on an exciting journey.
If you can afford it and are ready to jump in, the GC32 is a great guitar to own and enjoy every day for years to come. No question about that.
__________
Maintaining your new guitar can be a simple and pleasurable routine if you follow the tips in my article Cleaning and Polishing Your Classical Guitar.
Happy choosing!