The C10 is a high-end guitar in the Cordoba range, part of its Luthier Series. It is also one of their top selling models. It is "handmade in a small boutique workshop" and features either a Canadian cedar top or a European spruce top. The company terms it a "concert-level instrument."
Aimed at the serious guitarist at the intermediate level, the Cordoba C10 is a high-quality instrument made of solid woods. It fits the recipe of a traditional classical guitar with its classic tonewood choices: cedar/spruce top, rosewood for sides and back, and ebony for the fingerboard.
The C10 is also one of the most striking guitars to look at: a well-crafted guitar, classy and elegant, with a remarkable degree of workmanship. As one satisfied user said, "I spent hours looking for surface defects and smears and overspills but I couldn't find any."
Let's look at the key features.
Features at a glance
Feature
Description
Top wood
Solid Western Red Cedar/Solid European Spruce
Sides and back
Solid Rosewood
Fingerboard
Ebony
Neck
Mahogany
Scale length
650 mm (25.6")
Number of frets
19
Tuning machines
Cordoba Premium Gold with Black Buttons
Nut and Saddle material
Bone
Width at nut
52 mm (2")
Strings
Savarez Cristal Corum High Tension 500CJ
Rosette design
Pearloid Esteso Weave Pattern
Truss rod
Dual action (4 mm Allen key included)
Finish
Gloss Polyurethane
Guitar case
Cordoba Polyfoam Case
Country of origin
China
Affiliate links
Cordoba C10 Cedar at Sweetwater
Cordoba C10 Spruce at Sweetwater
Cordoba C10 Cedar at Amazon
Cordoba C10 Spruce at Amazon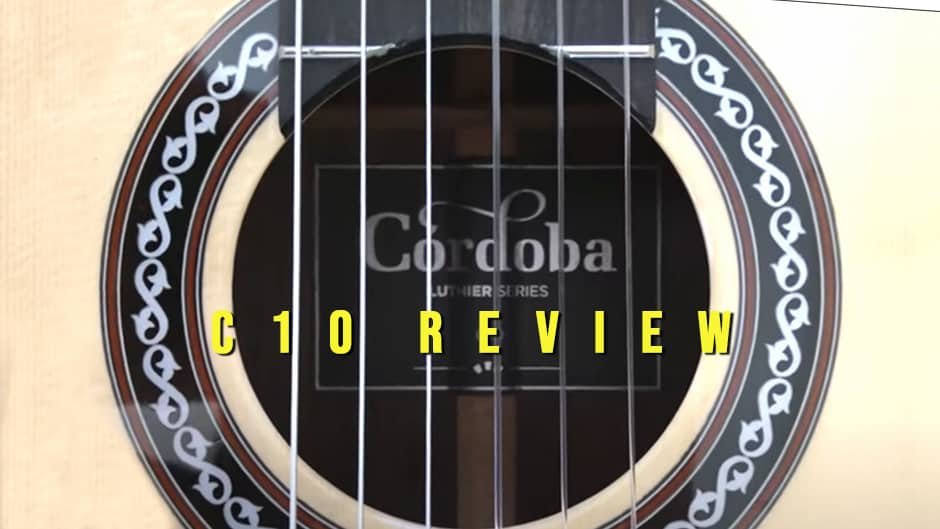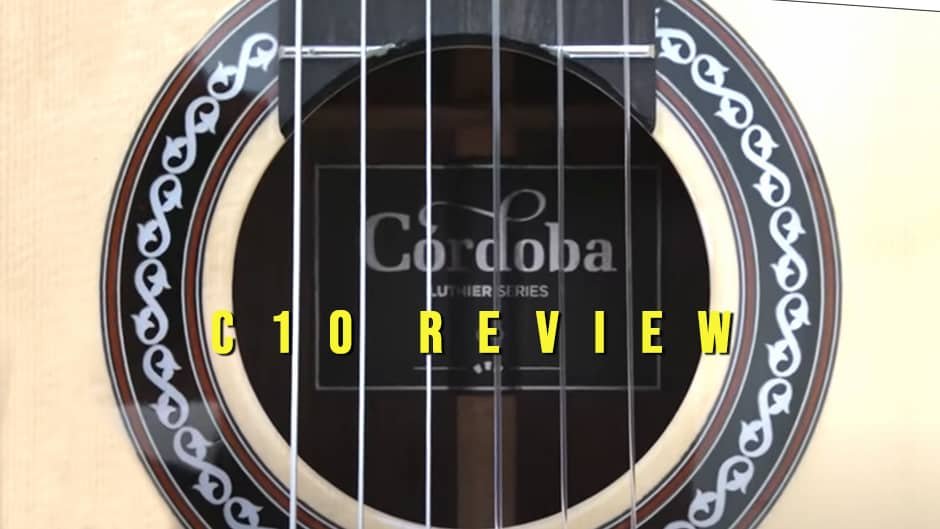 Cordoba C10: The key take-aways
All models in Cordoba's Luthier Series use common building methods such as the Spanish heel, hand-carved necks and braces, and domed soundboards which are built on a traditional solera. They feature a mother-of-pearl hand-inlaid rosette inspired by a 1920's Domingo Esteso rosette and a high gloss PU finish.
The Cordoba C10 is built to the traditional standards of a Spanish guitar. It has a Spanish fan bracing and Spanish heel construction where the top of the guitar is attached to the neck, the sides are added next, and the guitar's body is sealed by the installation of the back. This construction feature "allows the entire instrument to vibrate as one unified piece."
The solid Indian rosewood back and sides help with overall tone the C10 is known for – a well balanced treble and bass response and complex overtones.
The C10 has a C-shape neck (as against, for instance, the D-shaped one found in comparable Yamaha models) which many users find easier to grasp. It has a flat fingerboard of a traditional classical guitar in ebony, the tonewood of choice even in more expensive guitars. The bridge is made of rosewood.
Cordoba's promo material says, "The C10 features a fan bracing pattern, which gives the center of the soundboard more surface area to vibrate and respond to the tension of the strings. A more responsive soundboard makes the guitar louder, and provides better tone. The C10 is the perfect choice for the serious classical guitarist, or for any player looking to upgrade to a concert-level instrument at an affordable price."
I know the following video of about 2 minutes is a sales promo communication from the company. But it has the big honchos of the company talking about the Luthier Series, so we know how seriously they are taking this model. Plus the famed luthier Kenny Hill has a few words to say here in his capacity as Cordoba designer and master builder.
Cordoba corporate video on the Luthier Series
The two-way truss rod (Allen key included) is worthy of mention. When you have a guitar made in a factory far away and you have no reasonable way to contact the actual luthiers who built it, a truss rod is a good way to set the angle of the neck to your satisfaction. The so-called 'action' of the guitar will probably be perfectly fine right out of the box, but just in case you want to fine-tune it, you have a great way to do so.
All told, the C10 is a finely constructed guitar. It is a quality product. Its red purfling and high gloss finish and the black button tuning knobs are icing on the cake. The 1920s-inspired Pearloid rosette is a touch of vintage elegance, no doubt about that. It comes with high-quality Savarez Cristal Corum strings (high tension) which is a pretty good choice.
A lightweight Polyfoam case completes the package.
And now for some opinions…
I'll play this for a lifetime. The tone is lovely. It's a fantastic guitar at the price range.
You hear variations of the above sentiments many times over about the C10 when it comes to owner reviews.
Bradford Werner of ThisIsClassicalGuitar.com thinks the C10 has a "well-balanced sound… the volume is great… I'd happily recommend it to intermediate students." He must be impressed with its performance and quality for he goes on to say, "I'm teaching on it right now and I'm happy to continue doing so."
One recurring factor among most users is the well-balanced tone as well its volume and projection. The C10 is highly rated for its volume with almost every owner review making it a point to talk about it. The cedar version is known for its 'sweet, warm tone.'
There are others who have tried the C10 and think at the higher frets on the treble strings, the sound can get 'plasticky'. This is usually noticed when it is compared to luthier guitars at a higher price range which generally handle higher tonalities well.
And yet others think that a guitar even at the price of a C10 should have an elevated fingerboard. Currently, only models that reside at a much higher price tier feature an elevated fingerboard.
Perhaps the main criticism from those who are not totally impressed with the C10 is that for the money, one can instead get a second-hand luthier made guitar like Adalid, Picado, Camps and others that are made in relatively smaller workshops but of good repute.
On minor points, some (including owners) believe that a finer polish would have brought more maturity to the voice of the guitar. 
Some owners have commented that to get the 'true voice' of the C10, they had to change the strings from the original. In some cases, a new set of D'Addario carbon strings worked wonders and others said Augustine's Blue/Regal strings did the trick for them.
Meanwhile, the true fans of a C10 cannot be stopped from singing its praises:
This guitar is crafted amazingly, it's beautiful and really exceeded all my expectations. I'm really happy with my purchase and would recommend Cordoba to anyone.
Holding it in your hands is a completely different experience. The finish is perfect. The volume is much louder than expected. I went with the cedar top. The sound has a rich tonality with a solid bass and plenty of highs. The action seemed a bit high, but that can be easily adjusted.
The build quality was the highest of all guitars that I've played. I also noticed that it was heavier than many other guitars that I've played. Most probably due to the construction and truss rod. The guitar is absolutely quality and beautiful.
The C10 is like the entry point for what the stereotypical classical guitar should be… ebony board, rosewood back and sides, solid top, 52mm nut. Also the price is more attractive than the C12.
I would say if you want a traditional classical guitar sound go with the C10. These are super sounding guitars at the price point.
Time to listen to an audio sample of the C10 to help you figure out what they are really talking about.
Rossini Tarentella performed by Yury Nugmanov on Cordoba C10
C10 options
Cordoba offers two new options that appeal to guitarists from all backgrounds: the C10 Parlor, which is Cordoba-speak for a smaller guitar – the 7/8 size and 50mm nut width.
The 7/8 size variant is common among major manufacturers mainly for use among adults with small hands. It is also known as the 630 mm guitar which is the scale length (distance between the saddle and the nut).
The 630 mm model by leading brands (including high-end luthier-made instruments) is considered a full-fledged option even fit for playing in concerts – with only the size reduced for playing comfort.
Here is Jeffrey Chan doing a full review of the C10 Parlor.
Cordoba C10 Parlor Review by Jeffrey Chan
If you're interested in a fuller discussion of the 630 mm guitar, I recommend my article Is the 630 mm a Serious Option for Adults? 
The C10 also offers another, somewhat unusual, option: the C10 Crossover. This is a full-size guitar with a slim neck profile, radiused fingerboard, and 48mm nut width. It is obviously meant for those coming over from the acoustic/electric side of the fence. For purist classical players, it will feel odd to the touch.
Check prices at Amazon:
Check prices at Sweetwater:
______
On a related note, if you're interested in the less expensive and feature-rich Cordoba C9 model, do check out my detailed review of the C9.
Happy plucking!