Taylor is a huge name in acoustic guitars. Started in 1974, Taylor is a leading brand in acoustic and acoustic/electric guitars with legions of fans across the globe. Yet, when it comes to Taylor classical guitars, the opinion is divided.
Jazz and pop guitarists looking to expand their sound with a nylon flourish have great things to say about Taylor classical guitars. Traditional classical players, on the other hand, hardly ever mention them.
This is interesting and at the heart of what modern players expect from their guitars. I have a broader article on 8 Electro-Acoustic classical guitars if you're interested, but this one is all about Taylor guitars.
Taylor classical guitars: Great for crossover players
In recent years, the word "crossover" has been used frequently to describe a guitarist who is basically from the acoustic/electric side of the fence and wants to "cross over" to the classical-nylon side. Crossover guitarists typically are trained in the steel-strung guitar world of slim necks, comfortable guitar-body shapes, cutaway fingerboards and possibly electric amplification.
Crossover guitarists are comfortable with a manufacturer like Taylor who truly understands and respects their sensibilities. From the entry level 12N to the high-end 800 Series, all Taylor classical guitars are made with crossover guitarists in mind – giving them familiarity and playability without imposing unfamiliar, tough norms of traditional classical guitar construction.
As such, Taylor classical guitars are very popular with jazz and pop guitarists, especially those who favor the finger picking style of playing.
The fact is that Taylor classical guitars are built to different standards reflecting a wholly new approach. The fretboard is not too wide but is wide enough at around 1 7/8". This is straightaway a win for the acoustic players who find the traditional 2" wide, non-radiused necks of a 'real' classical guitar hard to play. A cutaway design aids familiarity and gives access to the higher frets. And electronic pickups provide volume and sustain.
This is truly liberating for a crossover player who just wants to add exotic, nylon string sounds to their palette without necessarily buying into what a 'proper' classical guitar ought to be constructed like.
For all the very same reasons above, it is easy to see why traditional players of the classical guitar will continue to discuss their Yamahas and Cordobas and Alhambras without anyone mentioning anything about a Taylor at all.
Taylor classical guitars classification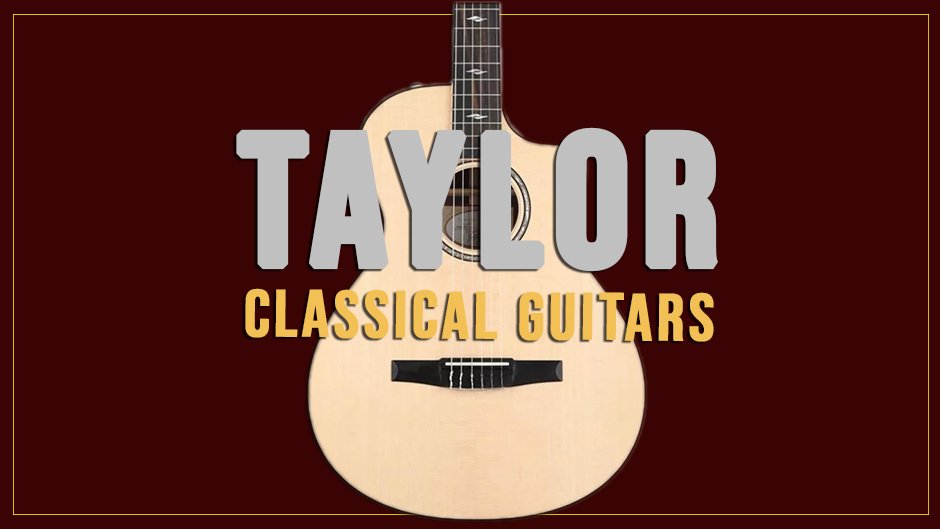 Like many musical instrument manufacturers, Taylor too has an identification system built into their model names. The earlier (now defunct) system had the popular NS Series of guitars to represent 'Nylon String' and you may still come across them with retailers who deal in used guitars. Something like a NS52-CE or a NS72-CE is still a great buy today – if you can find them somewhere.
Introduced in 2001, the original Nylon Series (NS) guitars featured either a Grand Concert (GC) or Grand Auditorium (GA) body shape and combinations of various tone woods like Sapele, Sitka spruce, Maple, Engelmann spruce, Indian rosewood and Western Red Cedar. These body shapes and tonewoods are still in place but the nomenclature surrounding them has changed.
In the latest catalog, Taylor has revamped the naming system they instituted some years ago. A model name like their popular 514ce-N breaks down as:
5 stands for the 500 Series
1 represents a 6-string softwood top (2 is a hardwood top)
4 identifies the shape as Grand Auditorium (2 is a Grand Concert – more on these below)
c is for 'cutaway' design 
e is of course 'electric'
N signifies Nylon strings
Grand Concert body shape
This is the smallest of Taylor full-size body shapes. Its dimensions "make for a physically comfortable guitar with an intimate feel and sound."
In contrast to the darker, boomier voices of bigger body styles like dreadnoughts and jumbos, this smaller size keeps overtones in check. The Grand Concert suits acoustic players who play finger style and want a clear, crisp tone. The Taylor website gives the dimensions of Grand Concert guitars as:
Body Length: 19 1/2"
Body Width: 15"
Body Depth: 4 3/8″
Compared to the Grand Auditorium shape (see below), the Grand Concert series guitars are smaller bodied.
Grand Auditorium body shape
This shape is the next up from the compact Grand Concert body shape and is smaller than the popular Dreadnought shape. The Grand Auditorium shape is Bob Taylor's original design for a sound that is "full in the lower register, present in the midrange, and sparkling on the treble strings."
This shape suits the all-purpose acoustic guitar that can cover a variety of styles and is said to be Taylor's best selling shape. While the bigger Dreadnought is traditionally a flat picker's guitar and the Grand Concert caters to finger style players, the Grand Auditorium aims to please both and aims at being the go-to guitar for folks who play multiple styles on the same guitar.
The Taylor website gives the dimensions of the Grand Auditorium guitars as:
Body Length: 20"
Body Width: 16"
Body Depth: 4 5/8″
Taylor Academy Series for the entry-level guitarist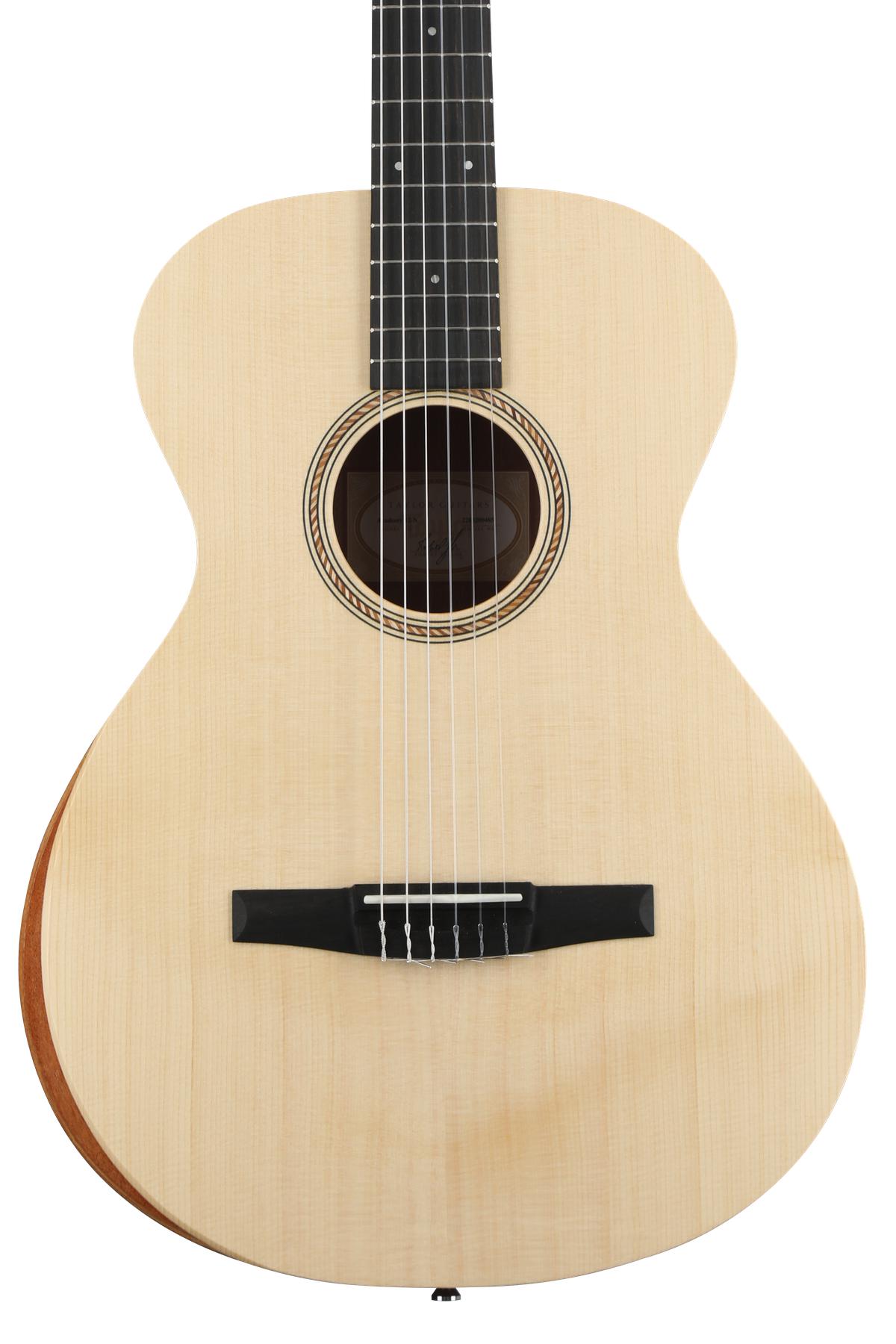 The Academy Series comes at an affordable price and is a popular choice for those entering the world of nylon strings. For beginners to the guitar in any style, this is a good choice because nylon strings make for a less painful and softer learning curve.
The combination of a narrower 1-11/16-inch nut width and a shorter 24-7/8-inch scale length makes for great playability. The Academy 12-N Grand Concert is a nylon string Taylor with a Lutz Spruce top, which is a hybrid of Sitka Spruce and White Spruce and affords greater volume. Check the Academy 12-N at Sweetwater.
The built-in armrest is a good feature for player comfort. At just over $500 the 12-N is a good guitar for crossover artists and beginners.
There is an electric equivalent of this model, the Academy 12e-N Grand Concert. It's the same 12-N with added electronics on board. The onboard ES-N pickup and preamp give you tone-shaping control. Whether you're a steel-string player looking to add an affordable nylon-string to your acoustic toolbox or want a Taylor acoustic guitar that's easy on the hands and the wallet, the A12e-N is an option well worth exploring. Check out the A12e-N at Sweetwater.
With the Taylor name backing them, these are ideal guitars for anyone on a budget.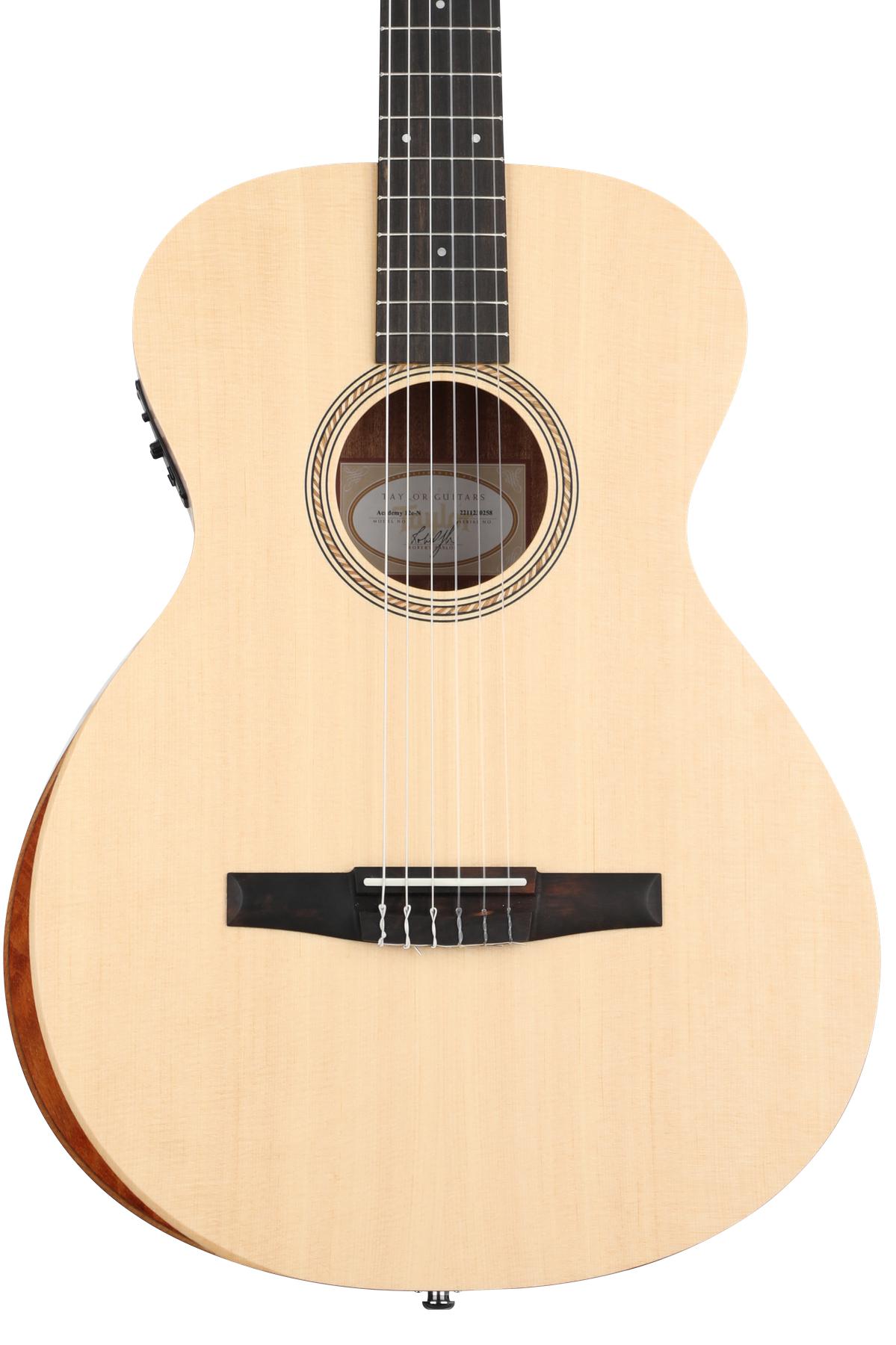 Taylor 200 and 300 Series classical guitars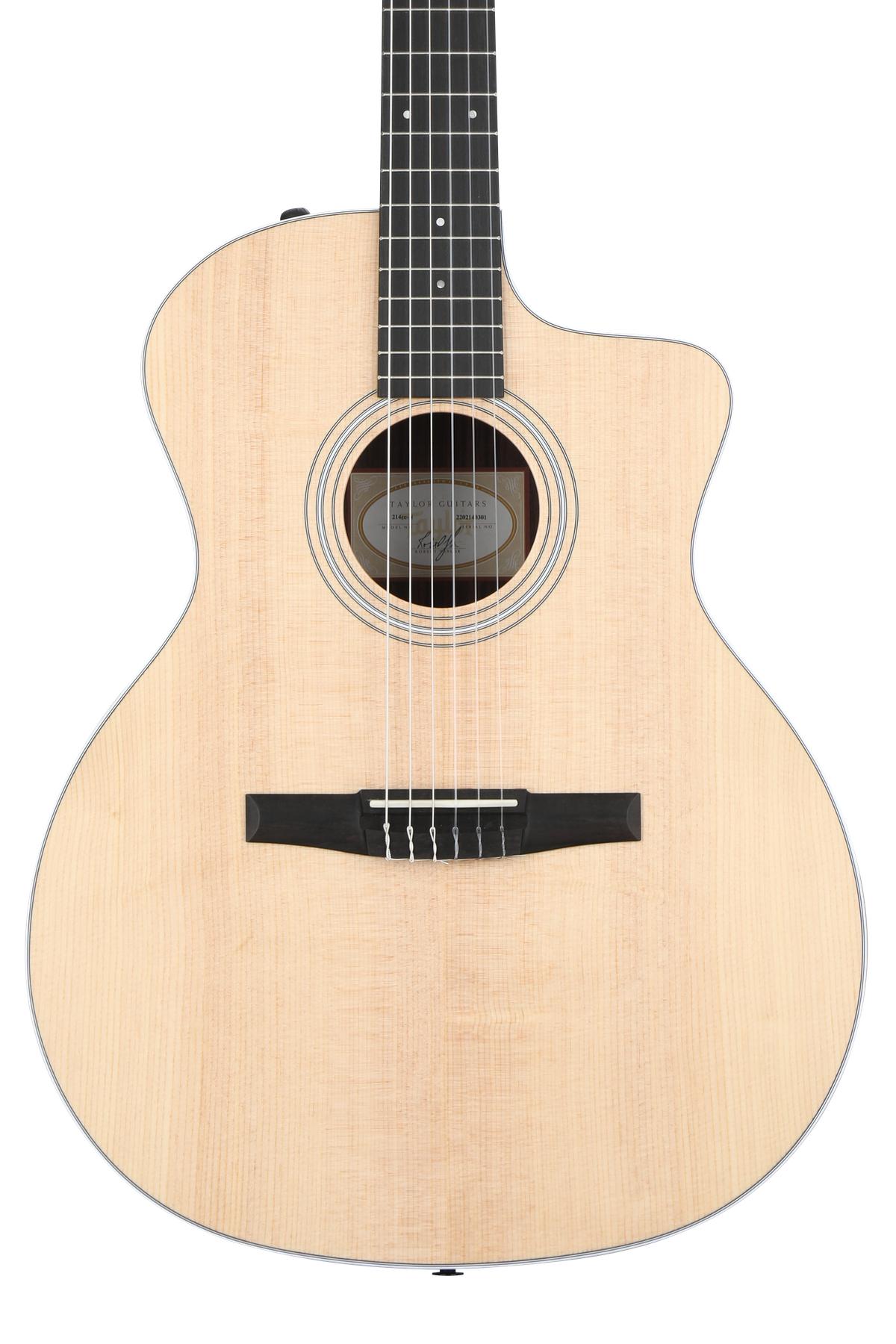 Classical guitars from Taylor under the $2000 mark fall in the general mid-range price offerings of the 200 and 300 Series of acoustic guitars. The well-built Taylor 214ce-N, for instance, is a Grand Auditorium shape classical guitar with layered Koa wood back and sides and a Sitka Spruce top that goes for around $1,000. Check out the 214ce-N at Sweetwater.
It is a great intermediate-level guitar for crossover artists who already have the experience of playing nylon strings.
The 214ce-N includes a cutaway for extra fretboard access and the reliable Taylor ES-N electronics. Cosmetic details include a white binding, Italian acrylic dot inlays, and satin-finish back and sides with a gloss-finish top. This model has been discontinued at the time of writing but it was available with Sweetwater. If you can find it, it's a very worthwhile, value-for-money guitar with a great sound and amplification.
The Taylor 300 Series has a couple of nylon string guitars: 312ce-N and 314ce-N which are two size variants basically, the Grand Concert and the Grand Auditorium.
The Grand Concert 312ce-N balances Sapele's bright and focused tone with the naturally mellow flavors of the nylon sound. This is great for crossover players who favor the comfort of a small-body acoustic and also wish for modern steel-string features like a cutaway and an onboard pickup on a nylon-string guitar. Check out the 312ce-N at Sweetwater.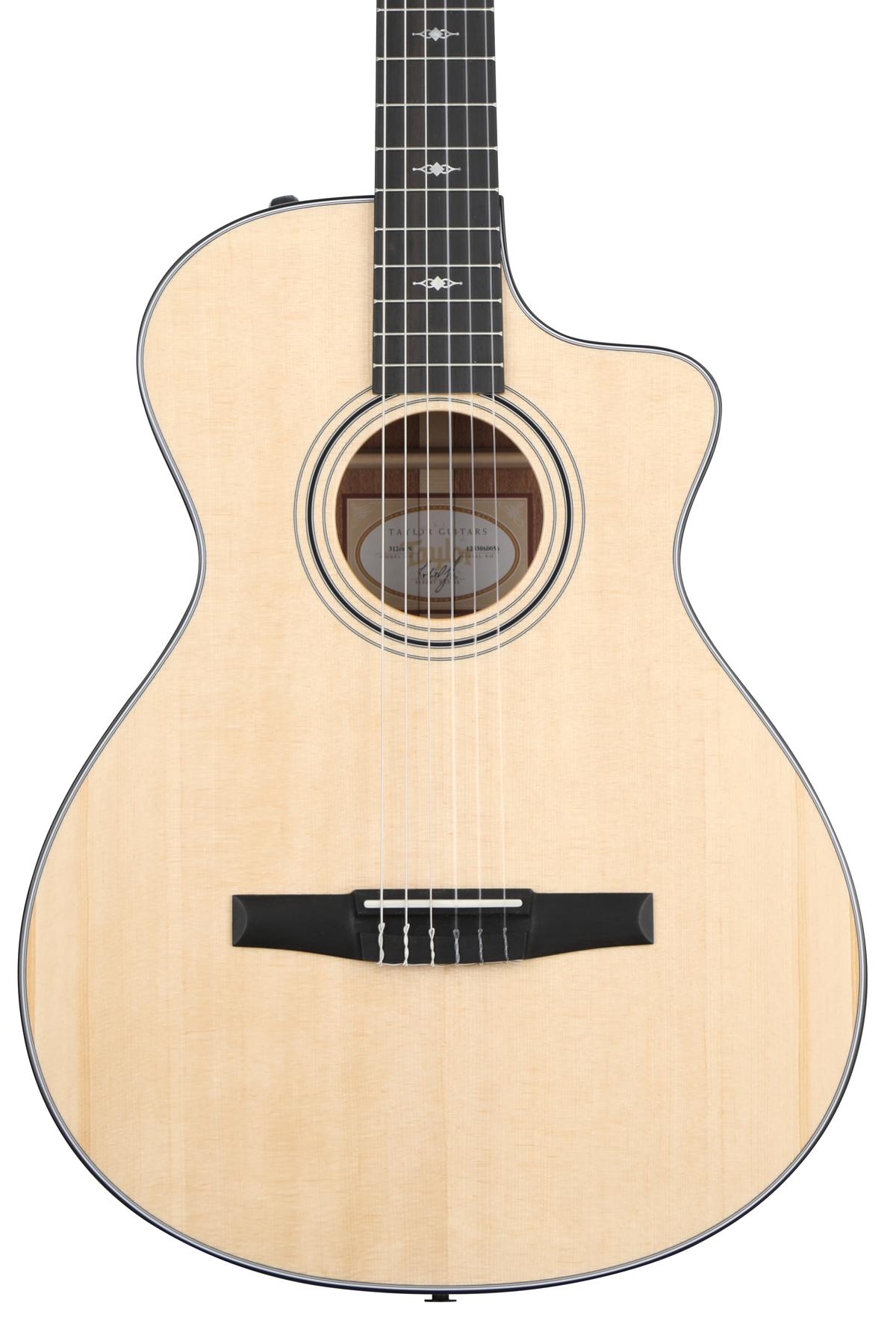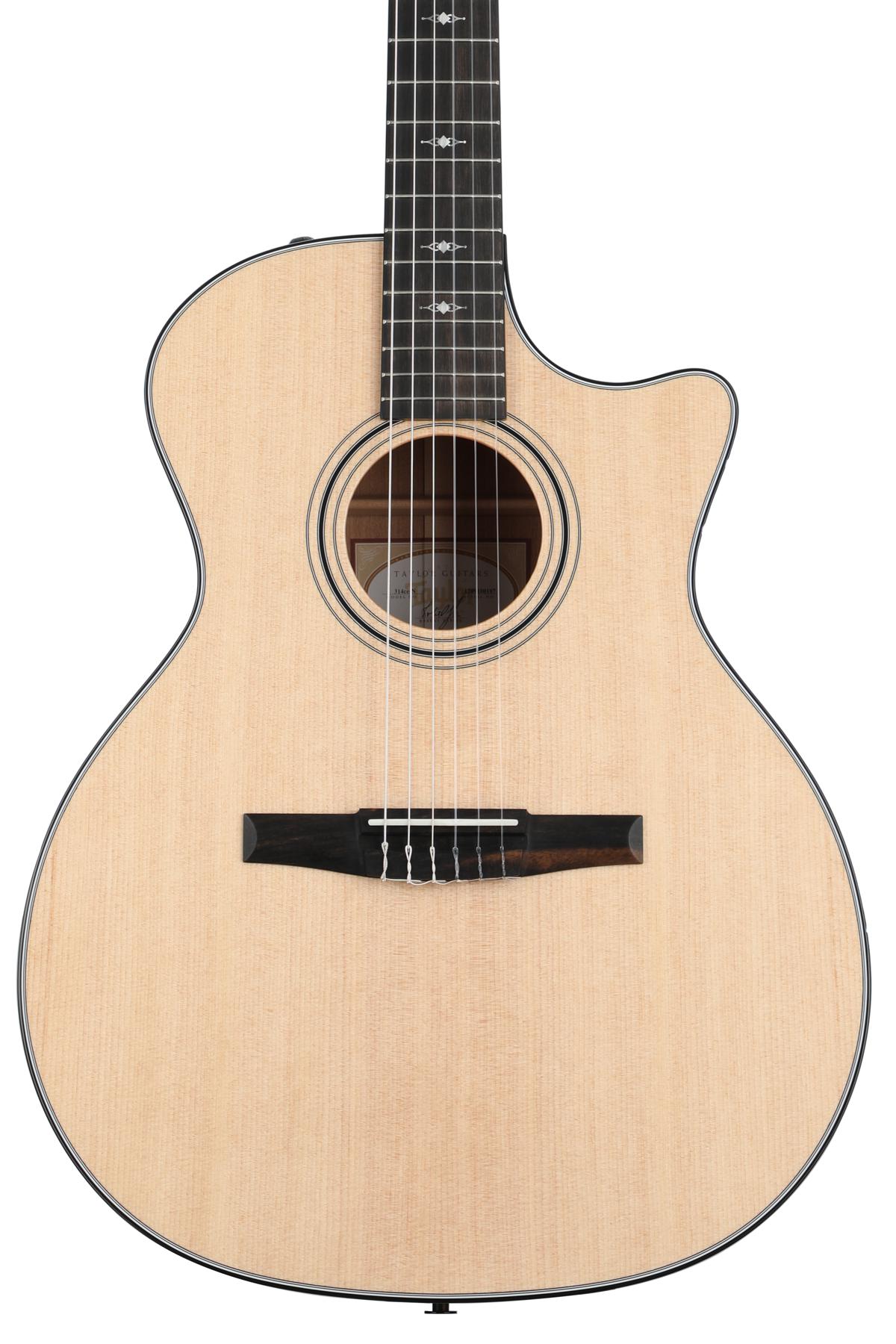 You get a 1-7/8-inch neck, black binding, Italian acrylic small diamond fretboard inlays and a 3-ring rosette. The guitar incorporates a Venetian cutaway for easy access to the upper register and comes fitted with Taylor's ES-N pickup for great amplified tone.
The bigger size Grand Auditorium 314ce-N, introduced in 2015, has been discontinued according to the company website. It is essentially the same guitar with the same specs as the 312ce-N but of a bigger size. Check out the 314ce-N at Sweetwater.
At least at the time of writing, I have seen it listed in a few online retail outlets including at Sweetwater. So if you're interested and lucky, you could be the proud owner of a full-bodied all-rounder, the 314ce-N.
Taylor's classical guitars – 500 Series and above
500 Series: Tropical mahogany as a tonewood is the key common factor in the 500 Series. Many consider these striking all-gloss guitars the ultimate finger pickers.
Unlike most Taylor guitars which feature a spruce top, the 514ce-N Grand Auditorium has a cedar top paired with mahogany back and sides. This has an interesting tone profile for a Taylor guitar with focused midrange and good articulation for finger-style players and light strummers. The slim and fast neck with a Venetian cutaway is there as usual along with the ES-N onboard electronics. It is a great guitar under $3,000 for serious crossover players looking for an excellent nylon strings guitar. Check out the 514ce-N at Sweetwater.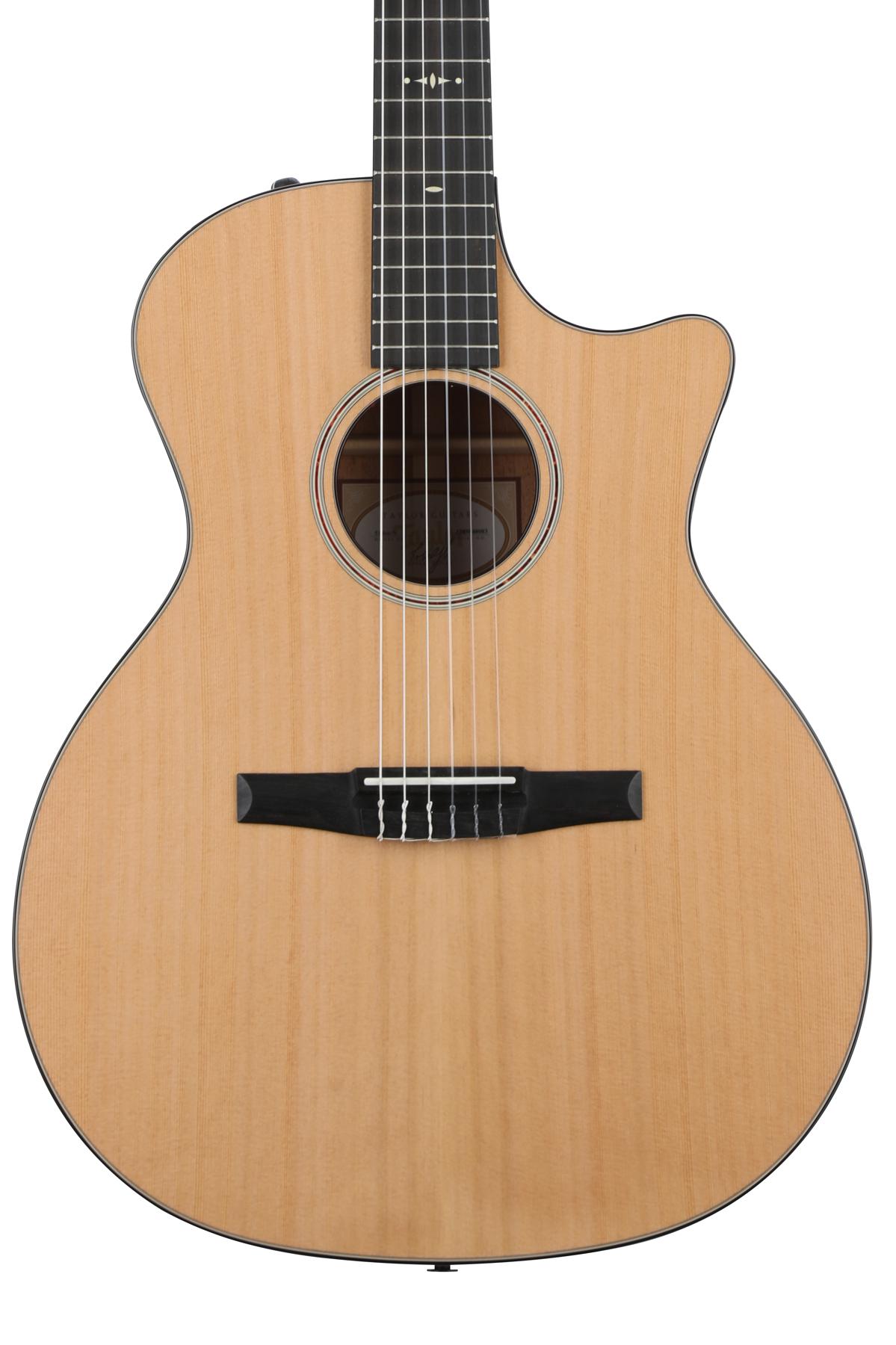 In what is becoming a constant refrain now, this model too has been discontinued by the company although it is available at leading retailers at the time of writing. Sweetwater has it if you want to check the price.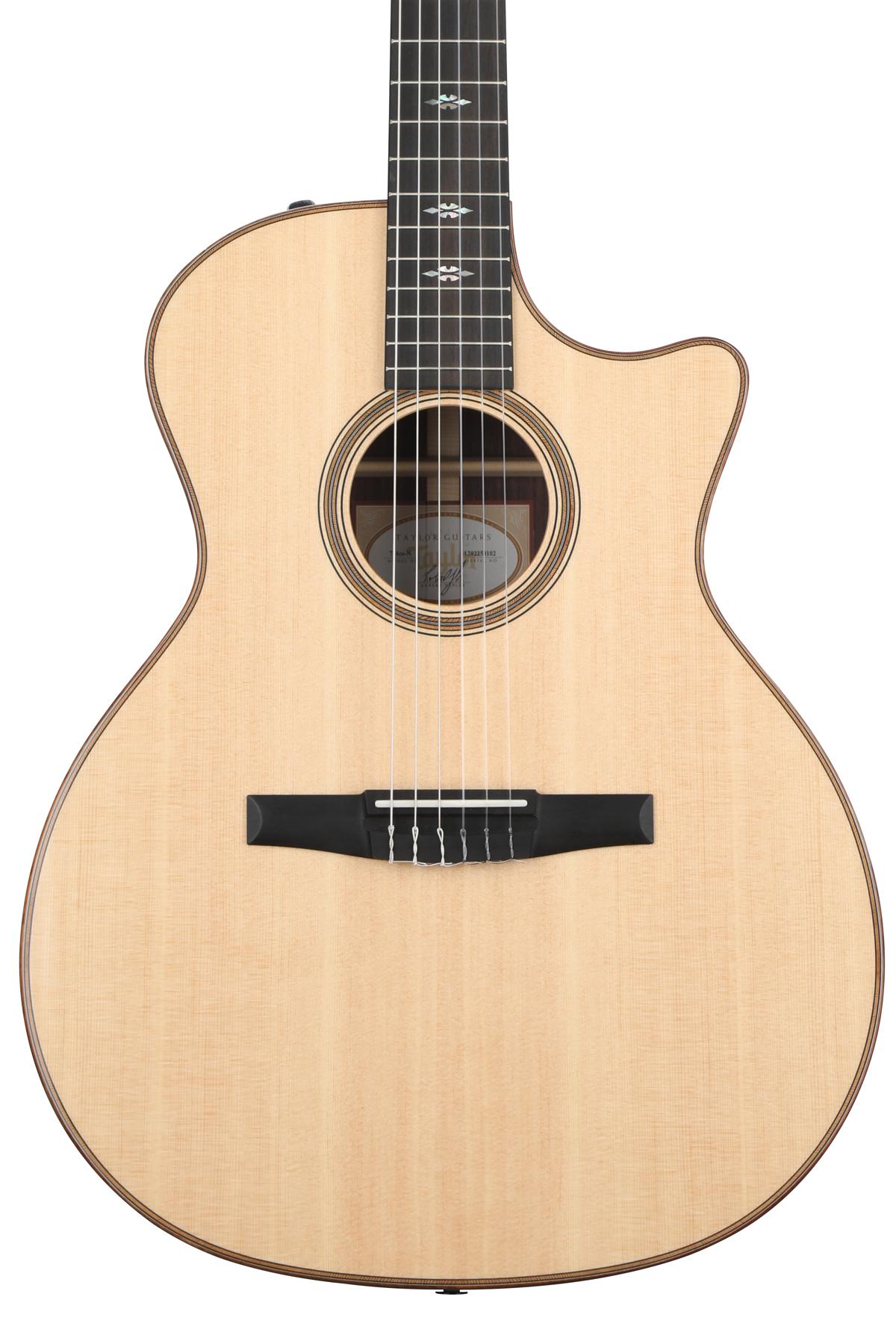 700 Series: Indian rosewood's rich musical properties have made it one of the most popular tonewoods in the acoustic guitar world especially for the back and sides of a classical guitar. This is paired with a Lutz spruce top – a hybrid of Sitka and White spruce. It raises the volume ceiling making for a louder guitar with a price tag of just over $3,000.
The 714ce-N is near the top end of Taylor classicals and was introduced in 2016. The 714ce-N combines the nylon string sound with Taylor's ideas on playability to create a guitar for modern steel-string players as with their other nylon-string models. Check out the 714ce-N at Sweetwater.
The rosewood/Lutz spruce Grand Auditorium 714ce-N features a slightly radiused (20-inch) fretboard and 1-7/8-inch neck. It features the ES-N pickup for amplification plus a Venetian cutaway for greater access to the guitar's upper register.
Is the model out of production but still available in places like Sweetwater? Well, how did you guess? Yes, it is phased out but still available here and there if you look hard.
800 Series: Bob Taylor is a big fan of Indian rosewood as a tonewood for guitars. Indian rosewood's sweeping frequency range at both ends of the tonal spectrum has made it one of the most popular and musically rich tonewoods. Both the 700 and 800 Series models feature Indian rosewood extensively.
The 812ce-N is the top-of-the-line classical guitar from Taylor, pegged at $3,500. "We've made the evocative tone of a nylon-string guitar more accessible to steel-string players by crafting our nylon models with signature Taylor playability."
The Grand Concert (read smaller size) 812ce-N features a 12-fret, 1 7/8-inch neck and a radiused fretboard (20-inch), along with a cutaway and our ES-N pickup for easy amplified tone. Cosmetic touches include maple binding, rosewood top edge trim, and Taylor's Element fretboard inlay in mother-of-pearl. Check out the 812ce-N at Sweetwater.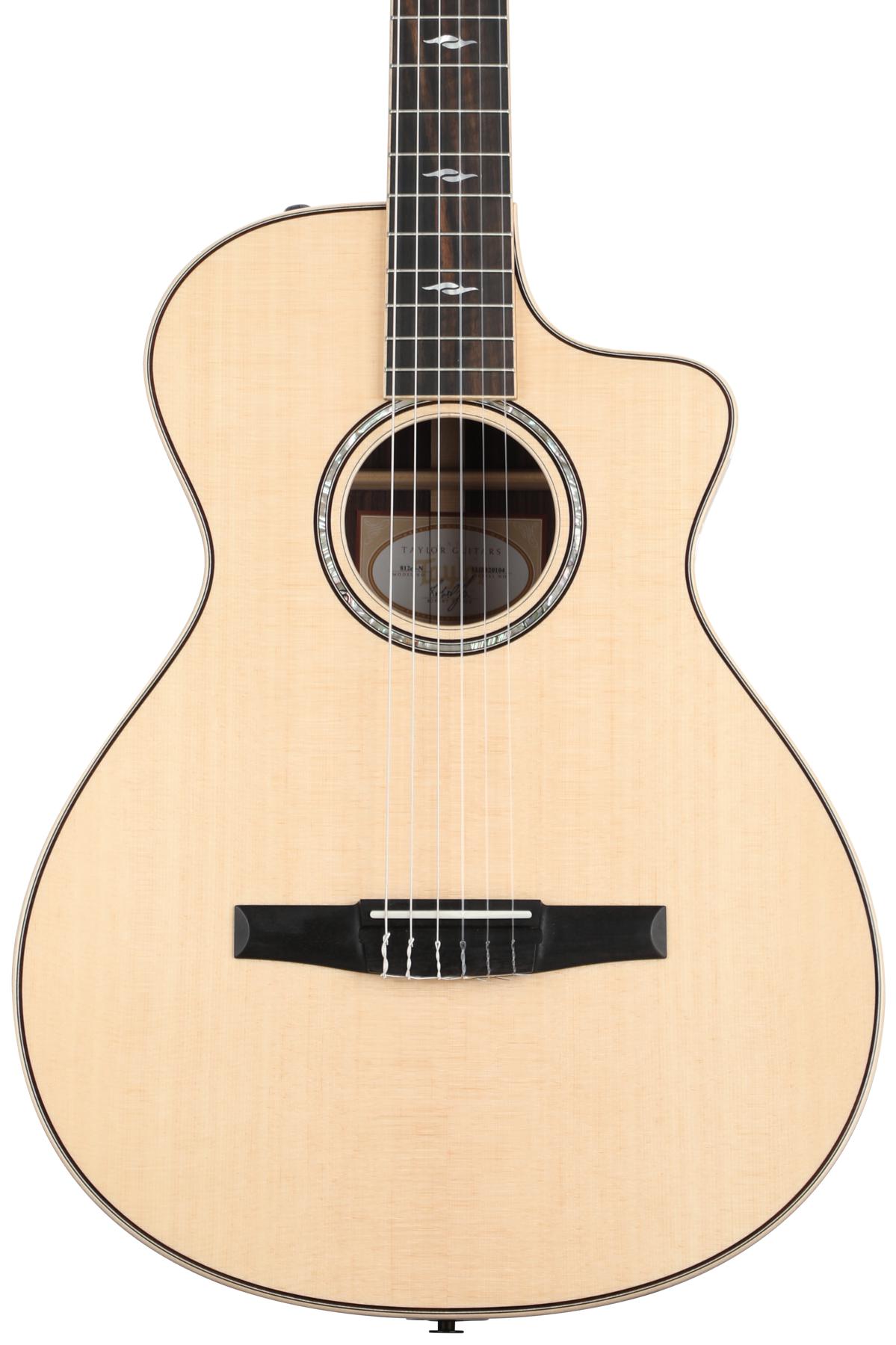 And – hey, this is so welcome, right? – the model is still in production and highly regarded by the crossover community. You can check it out at Sweetwater.
So that's the round-up of Taylor classical guitars from the affordable and compact 12-N to the top end 812ce-N with many variants in between.
What they're saying on the net about Taylor classical guitars
Talk from crossover players heard on the net (paraphrased) goes like this:
I play solo fingerstyle mostly. No pick. I also play with the fleshy parts of my fingertips, not nails. Nylon strings are so easy on the fingers.
Taylor build their nylon string guitars as counterparts to their steel string instruments and nothing like a classical guitar. That is not their intention. I can go back and forth between my two Taylors, one classical and the other regular, easily because they are so similar.
Taylor changed the bracing and pickup for the nylon string instrument but it is still built more like their steel string instruments than a classical guitar. The Taylor is really meant more for fingerstyle and jazz than for classical.
I do not want a classical guitar. I want a Taylor with a nylon sound and softness of play.
If you want to play classical guitar and are interested in that classical guitar sound, a Taylor won't provide that.
Taylors are well suited to the kind of music one would play on a crossover guitar – fingerstyle jazz and pop. For that kind of styling, these instruments are just fine.
So, is a Taylor classical guitar for you?
It should be obvious by now. If you're a crossover guitarist from the acoustic/electric world, you will already have a warm affinity for anything Taylor. You will trust them to understand your requirements and tastes. And you'd be right. Taylor classical guitars are popular with jazz artists and the like mainly for the fast, slim necks, the familiar cutaway design and some good, clean amplification.
With all the choice of tonewoods and configurations of size and features, what's not to like about a Taylor guitar really? Although, to be fair, there are other valid choices you can explore.
The Cordoba Gypsy Kings model, for instance, is a popular guitar with crossover artists although it comes from a conventional classical guitar maker. It is comparable to a high-end Taylor and sounds just as good plugged in. But, when unplugged, the Cordoba sounds better on its own steam than a Taylor classical unplugged.
If you are a traditional classical guitar player looking for a conventional instrument, all the 'modern' innovations of a Taylor classical will appear like needless intrusions, difficult to accept. Of course, you know and respect Taylor as a fabulous name in acoustic guitars but don't really care for their slim necks and cutaways. They don't feel like the 'real' thing.
You know who you are. So it should be easy to decide.
_____________
On related brands that are closer to the Taylor mold of classicals aimed at the crossover player, I have a few articles you may want to check out:
Happy plucking!