If you carry your classical guitar to lessons, a hard case may feel like too much weight to lug around. Even if you're placing your guitar in your car and driving to class, a soft case or a gig bag serves the purpose beautifully – affording enough protection with easy portability.
A gig bag is a convenient and practical solution. A foam-frame gig bag with solid back straps is what you're looking for at the very least.
Today, there are many gig bag options for a classical guitar that offer you more than basics – good materials, great styling, reasonable protection, ample storage and lightweight portability. Consider these top 8:
Gator Transit Series Resonator Gig Bag
Gator Pro-Go Gig Bag
Cahaya Guitar Bag
Cahaya Bohemian Guitar Bag
Gator GL Classic
Cordoba 7/8 – Full-Size Deluxe Gig Bag
Crossrock Metro Series Gig Bag
Levy's Leathers Deluxe Gig Bag
Incidentally, if you're more interested in hard cases, check out my Review of 7 Flight Cases for Your Guitar.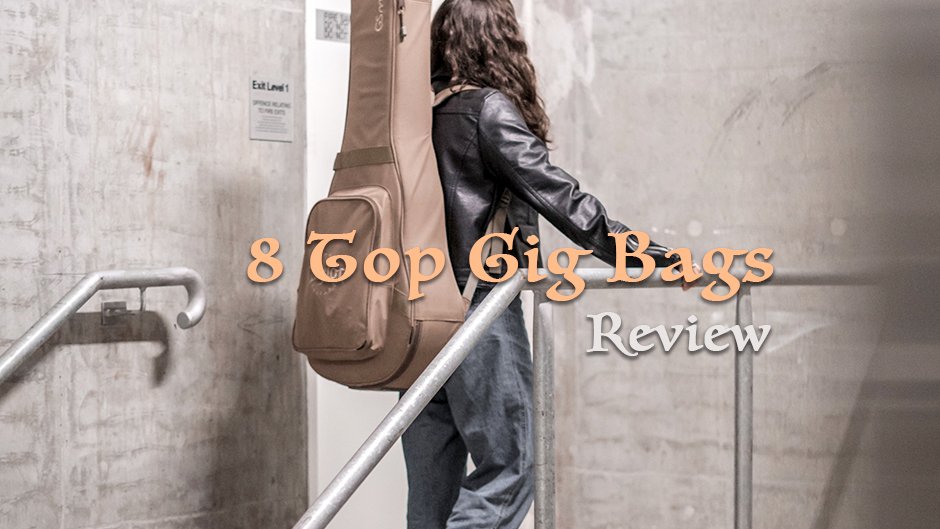 Photo by Kelli McClintock on Unsplash
Gator Transit Series Resonator Gig Bag: Light and rugged
The smart-looking, charcoal-black Gator Resonator from their Transit Series is a popular gig bag for lugging your precious classical guitar about town. It is made of weather-resistant fabric with multiple D-Rings for clipping accessories. A 20 mm thick foam padding provides adequate protection for a gig bag.
The back straps are adjustable (and easily tucked away from sight into a small zip pocket at the back when needed) and the carry handle is reinforced for a good grip. The thick rubber tread on the bottom of the bag is a nice touch to prevent wear. The front of the bag has an additional zip pocket for storage of your music and personal stuff.
You get added protection with a removable foam block that cradles the headstock and neck better. While there are versions for electric and acoustic guitars, you will of course look for the classical guitar version. The bag falls under the 00 guitar size which is bigger than a parlor guitar and smaller than a dreadnought. It should fit your instrument well. Here it is on Amazon.
Gator's classical guitar gig bag "provides rugged case-like protection without sacrificing the lightweight portability of a bag." Users say it looks quite cool and elegant, is well built and spacious. The weight of the case is about 4.5 lb.
Gator Pro-Go Gig Bag: Thicker padding, microfleece inside
This is a slightly more expensive option from Gator for classical guitars. Again there are variants of the bag for related instruments but you'd want the one for your instrument. The noteworthy feature of the Pro-Go gig bag is the extra thick padding and the microfleece interior.
The sidewalls of the gig bag have a thick protective foam layer to prevent impact damage or dings to the finish. The interior is lined with a white microfleece lining. An adjustable neck support is also provided to secure the neck of your precious guitar. The Pro Go Series also features a shock-absorbing body block with a strap nut indent that sits at the bottom of the guitar to prevent damage to the lower bout of the guitar. You also get removable backpack straps and a protective rain cover.
The nylon exterior looks durable and affords adequate protection for your classical guitar. The exterior includes a spacious front pocket with compartments for a tablet, laptop, cables, pedals, and other accessories. A smaller outer pocket is also included as well as a neck storage pocket for a pack of strings, guitar tuner, etc. Storage is ample and should be no issue. For all its features, the price is reasonable. Check it out on Amazon.
With an overall length of 42", the Gator Pro-Go should fit your full size classical guitar comfortably.
At least in the words of one user, this is the "best gig bag ever. Better than all my hard cases which now go unused. They thought of everything." There are a few hundreds of such rave reviews on retailer sites.
Cahaya Guitar Bag: Movable neck rest, big on storage
This popular and affordable gig bag from Cahaya claims for itself "the maximum balance between lightweight and protection." A 0.8" foam padding provides good protection all around, the interiors are soft and there is a neck cradle. The neck rest can be moved around and placed to best suit your guitar. The base is rubberized for extra protection.
Perhaps the striking feature of this bag is in the front: as many as 5 generous storage pockets for putting away a foldable music stand, tuners, strings, etc. with specialized spaces for a tablet, smartphone and sheet music. This is an ideal, inexpensive gig bag for the gigging musician given its ample padding and low price. Check out the Cahaya Gig Bag on Amazon.
As can be guessed, users love the numerous pockets for storing stuff and think it's reasonably priced for the protection it offers.
Cahaya Bohemian Guitar Bag: Striking design, 5 pockets to store
This is yet another easily affordable gig bag from Cahaya for a student or gigging-about-town guitarist. What's not to like about a striking Bohemian style bag that is easy on the wallet?
The guitar case is padded with a thick sponge (0.65") and is spacious enough for fitting a full-size classical guitar.
It has 5 storage pockets for stowing your foldable music stand, tuners, strings, etc. Your tablet, smartphone and sheet music can also be stored in specialized pockets.
The interior has padded sidewalls with a scratch-resistant cloth and an adjustable neck cradle to provide extra protection. The neckpiece can be moved and adjusted to fit your specific guitar's requirement. A heavy-duty rubberized base protects your guitar from everyday knocks and bumps.
And there is the striking design itself. If Bohemian is your thing, this is the perfect bag with all its striking colors. Check out the Cahaya Bohemian on Amazon.
As is to be expected, users love the eye-catching boho style, the spacious pockets and the moveable neck rest. It is definitely the coolest-looking soft case out there. And the price is remarkably inexpensive.
Gator GL Classic: Light and robust
The Gator GL Series uses a rigid EPS polyfoam case for lightness as well as protection. A heavy-duty nylon cover provides a moisture-resistant outer layer. The GL Classical Guitar case includes 2 zippered compartments for holding strings and capos and accessories. The nylon-web handle offers a solid grip and the shoulder straps are removable.
This is a hybrid style designed to fit both acoustic and classical guitars. At an overall length of 40.2" the bag should be ample for a full-size classical guitar to fit in snugly. While the inner compartment holds the regular guitar accessories, there is also a larger zipped pocket on the outside for sheet music and papers. Useful.
Also useful is the double zip that can be padlocked if you want. Some users found the shoulder straps not all that comfortable but serviceable enough. A few users also mentioned that the actual bag was a little smaller than the stated dimensions, so it may be wise to double-check before purchasing. Overall, user reviews indicate the bag is indeed felt to be fairly robust and lightweight. Check out the GL Classic bag at Amazon.
Cordoba 7/8 – Full-Size Deluxe Gig Bag: Budget option for students
The famous classical guitar maker has a 7/8 size bag for those with a smaller size student guitar, although the same bag can also fit a full-size guitar like the Cordoba C9. The overall length of the bag is 46" and a C9 with a length of just short of 39" should fit easily. This is one of the most inexpensive gig bags in the market. It can fit classical guitars in the 620-650 mm range of scale length.
The gig bag is made from a heavy-duty water-resistant nylon denier with a thick foam padding for extra protection. Added features include a shoulder strap system for backpack-style wear and a large pocket to carry a gigging musician's extra stuff.
The full-size guitars just about fit the case for a very snug fit. While users appreciate the one big pocket for stashing accessories, they do miss having a second pocket to carry more stuff without bunging in everything together.
Some users found the D-ring shoulder strap attachments digging into the shoulders. Which can literally be a pain if you're walking far. Short walks shouldn't be an issue. Check out the Cordoba 7/8-full size Gig Bag at Amazon.
Crossrock Metro Series Gig Bag: Great quality, good price
In recent times, the Chinese brand Crossrock has won for itself a high reputation for the quality and styling of its hard cases for classical guitar – see my review of Crossrock Flight Cases for further information. But the fast-growing brand also an interesting Metro Series in its soft case line for full-size classical guitars.
While the exterior of the Metro Series gig bag is water-resistant, durable and made of an "anti-scratch" material, the interior has a multi-layer EVA and foam padding with a soft, plush lining. The padded backpack straps are noteworthy for their metal buckles as well as being thick and comfortable. The bottom of the case is rubber with a couple of even harder rubber points for stability when standing it upright.
Like other Crossrock products, this too is a quality gig bag at a reasonable price. It holds form even without a guitar inside it, more like a case than a bag. You get large pockets for not only the usual accessories but also books, sheet music as well as a laptop. It is a wholesome and robust guitar gig bag overall that should last years. Check out the Crossrock Metro Series Gig Bag at Amazon.
Levy's Leathers Deluxe Gig Bag: Stands apart, well-styled
OK, when we say 'leather' we really don't mean leather. We mean "polyester fabric construction with the tan-colored exterior." Having said that, this Levy's gig bag is an excellent, comfortable and well-styled option for the price, really. Besides the manufacturers themselves, a couple of users also point out that this product comes closer to a decent case than a bag in terms of protection while keeping the easy portability of a bag.
Your guitar is guarded by 25 mm thick foam-padded walls with a soft lining. Brass metal zippers with leather pulls look quite stylish. Padded backpack straps can be adjusted to the desired fit, along with a side handle and a grab handle. The bag easily stores a tuner, strings and other accessories inside the large zipper pocket and smaller front compartment.
At an overall length of 41", a full-size classical instrument should fit in comfortably. It is a handsome and well-constructed gig bag with a 'leather' appeal to it. It is well worth the price. Check out the Levy's Deluxe Gig Bag on Amazon.
_____________