La Patrie is a popular brand of guitars from a village near Quebec, Canada. The brand was recently sold to Godin guitars but the original models still live on – although under a new name. The La Patrie Etude is now the Godin Etude, the La Patrie Presentation is now the Godin Presentation… and so on.
Both with retailers and reviewers, the names are interchangeably used online. These mid-price range guitars are quite ideal for an advanced beginner or an early intermediate player. None of the models are expensive and people who buy them tend to keep their model for years as a second guitar.
Even in serious online forums for guitar, the La Patrie (as it is mostly known) models are highly respected for their tone, build quality and playability while being affordable.
The main models – we'll keep to the un-amplified, regular classical guitars – are these:
La Patrie or Godin Etude
La Patrie or Godin Motif
La Patrie or Godin Concert
La Patrie or Godin Presentation
La Patrie or Godin Collection
These are good guitars with a finish thinner than usual. In the opinion of many, the thinner finish makes for a cleaner sound, unlike thicker coatings which can damp the sound somewhat. The manufacturing facility is close to big wood milling facilities and perhaps because of that, the cedar tops are of excellent quality. The cedar is "pressure tested" which makes for a good tone and sturdiness. The cedar tops have tighter and dense grains than say a Cordoba.
You sometimes hear of La Patrie classical guitars being "overbuilt". It means the braces are stout, the cherry (or mahogany) back and sides are solid and the presence of a truss rod even in basic models makes the guitar heavy. Such robust features, some say, keep the resonance muted. These are not loud-sounding guitars if volume is your thing. But they are uniformly sweet sounding at prices within easy reach and should last years.
Some find the neck shape bulky while others score the guitars extremely high on playability. Let's consider the models in turn.
La Patrie Etude or Godin Etude: Great choice for students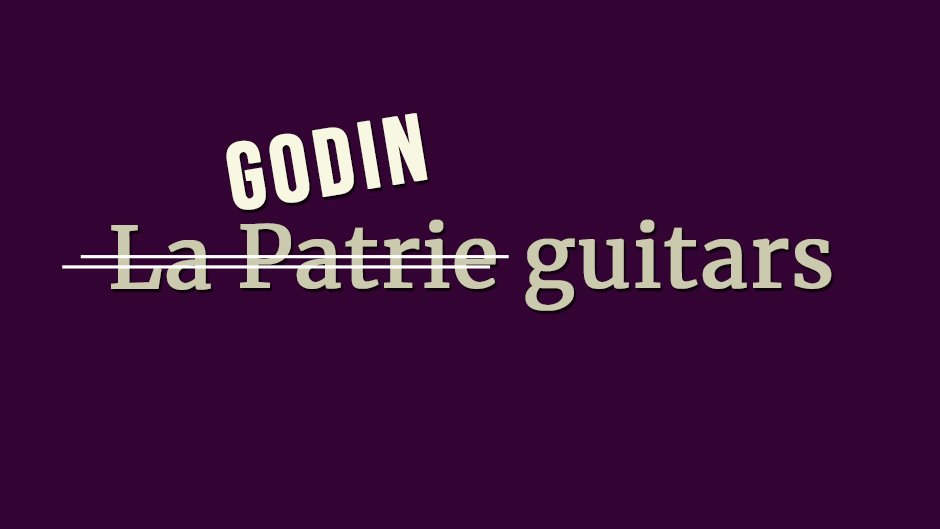 The Godin or La Patrie Etude is the most popular model in the lineup. It is truly everything that a student might look for in a good guitar. The Etude's specs match those of the Motif (coming up next) but with a full size body. The light polished finish, as mentioned, gives the guitar a harmonically rich sound that you will find in a more expensive guitar. The polish protects the guitar but also allows it to breathe and vibrate freely. Check out the Godin Etude on Amazon.
The Etude has a solid cedar top with laminated wild cherry back and sides. This entry model has the same bracing pattern as the expensive models. And at this price level, the sound is really good. It is not a powerful booming instrument by any means but it is an even-sounding guitar. The neck is thinner and closer to a steel-string guitar in feel.
With a crossover player in mind, the Etude also has a radiused fretboard. This is a typical feature found in the acoustic/electric guitar world and refers to the curved fingerboard. Hardly any classical guitar carries it. Classical guitars generally have a flat fingerboard across the width of the frets. La Patrie guitars have a 24″ radius presumably for easier planting of the fingers.
Like all La Patrie guitars, the Etude's solid cedar top is pressure tested and graded. This testing of every top piece of wood ensures consistency in the rigidity levels and tone output. Moreover, the wood is from fallen cedar trees with an average age of 800 years. The quality of the wood is top-notch.
The neck of the Etude is carved from Honduras mahogany and features a double-function truss rod system not usually found in traditional classical guitars. This system reduces the profile of the neck for greater comfort and stability. As seen earlier, there are those who disagree and find the neck design uncomfortable.
The guitar comes fitted with HTC nylon strings. I have heard an Etude with Aquila Alabastro normal tension strings that sounded really sweet.
| | |
| --- | --- |
| Godin Etude | |
| Top | Solid Cedar Top |
| Back and Sides | Canadian Wild Cherry |
| Neck | Mahogany |
| Fingerboard | Rosewood |
| Fingerboard Radius | 24″ (609.6 mm) |
| Scale Length | 25.66″ (651.764 mm) |
| Nut Width | 2″ (50.8 mm) |
| Frets | 19 |
| Bridge | Rosewood |
| Finish | Semi Gloss |
| String Set | HTC Nylon |
All in all, for a laminated back and sides model, the Etude sounds very good for its price. And because of its sturdy build, it will for a long time remain your noodling guitar at the very least.
La Patrie Motif or Godin Motif: You haven't seen anything like it
The interesting-looking Motif could very well be a prop in a classic painting. Its elongated appearance resembles a parlor guitar from a hundred years or more. The overall length is shorter but the strange thing is the Motif comes with a standard scale length of 650 mm. So it is a full-scale guitar from the playing standpoint. Check out the Godin Motif on Amazon.
It's difficult to know what to make of it! It is a solid cedar top with the same thin line custom polish found on all La Patrie guitars. The sound is great and the way you hold it is either comfortable or not depending on how you react to its overall shorter form.
Most classical guitar players do not particularly care for a truss rod in their guitars, although every Cordoba comes with it. In the case of the Motif, there are users who believe the built-in truss rod makes it heavier. I have read online about users selling their Motif for no other reason than its weight.
Like all other Godin models, the La Patrie Motif is a well made guitar with a good sound at a reasonable price. Plus its classical-romantic shape – you may call it attitude – can be a good conversation point. It is aimed at the player in their early stages although not quite the rank beginner.
If you are not perturbed by the presence of a truss rod and the few ounces it adds to the weight, this is a good variant of the basic Etude model. You should be aware though that you will need a guitar case specifically for this model because of its unique shape and size. Expect to pay about $100 for a basic case.
| | |
| --- | --- |
| Godin Motif | |
| Top | Solid Cedar Top |
| Back and Sides | Canadian Wild Cherry |
| Neck | Mahogany |
| Fingerboard | Rosewood |
| Fingerboard Radius | 24″ (609.6 mm) |
| Scale Length | 25.66″ (651.764 mm) |
| Nut Width | 2″ (50.8 mm) |
| Frets | 19 |
| Bridge | Rosewood |
| Finish | Semi Gloss |
| String Set | HTC Nylon |
As can be easily seen, barring the cool shape and the overall shorter length, there is nothing in the specs of the Motif that is really any different from the Etude.
La Patrie Presentation or Godin Presentation: All solid woods at a great price
For an early intermediate player (or an advanced beginner, however you want to say it), the next three options from Godin classical guitars are excellent: Presentation, Concert and Collection. None of them can be considered expensive but for the price points they are at, they represent serious value to the player. Especially if you're playing for your own enjoyment, any of these three is a fine guitar choice. Check out the Godin Presentation over at Amazon.
Next in line above the Etude is the Presentation, a worthy guitar. It is a popular guitar with budget-conscious intermediate players, known for its playability (lower action) as well as its solidness. It is an all solid-wood guitar at a reasonable price.
The La Patrie Presentation, or the Godin Presentation, has solid rosewood back and sides with a solid Canadian cedar top. Note that at this price band, the guitar is an all-solid woods one. The fingerboard is again of rosewood and the neck is mahogany. It also has a rosewood bridge with compensated saddle, gold Lyra-style tuners with pearloid buttons, and a semi-gloss satin finish. 
The particular choice of the main woods – cedar and rosewood – is precisely the combination found in much more expensive guitars and contributes to its solid feel.
There is a lot of tradition in classical guitar construction – a cedar or spruce top with rosewood back and sides. The back and sides play much less of a role in the sound of the instrument when compared to the top wood but the better guitars still have rosewood. Classical players too generally have a sense of tradition and prefer a cedar-rosewood combination (or spruce-rosewood) just for that reason.
Again, the Presentation is a heavily built guitar. In itself, that is neither a good thing or a bad thing. It's just a matter of personal preference. Cordobas are famed for their lightness and Yamahas for their relative heaviness. Which one is better? It's up to you.
With a 7-fan bracing for good resonance and a semi-gloss custom polish, the La Patrie Presentation is a reasonably priced instrument that should serve a serious student for years. A radiused fingerboard – admittedly not a favorite feature of purely classical players but a great boon for acoustic fingerstyle players – makes for easy playability and so does a lower action. There are folks who don't care for the nut and saddle made of a material called Tusq and hastily change them to the more traditional bone for a better tone.
The thin polish allows the wood to breathe freely and "age" without stifling. You can expect your La Patrie guitar to sound better with the passage of time. The Presentation's neck width and string spacing conform to normal standards but as an invitation to crossover players, the adjustable truss rod allows the neck profile to be set to whatever the player finds comfortable.
| | |
| --- | --- |
| Godin Presentation | |
| Top | Solid Cedar Top |
| Back and Sides | Solid Rosewood |
| Neck | Mahogany |
| Fingerboard | Rosewood |
| Fingerboard Radius | 24″ (609.6 mm) |
| Scale Length | 25.66″ (651.764 mm) |
| Nut Width | 2″ (50.8 mm) |
| Frets | 19 |
| Bridge | Rosewood |
| Finish | Semi Gloss |
| String Set | HTC Nylon |
La Patrie Concert or Godin Concert: Mahogany back and sides and solid build
Next up the La Patrie or Godin ladder is the Concert although at not too much of a price difference. It has all the usual La Patrie features – the pressure-tested solid Canadian cedar top, the radiused fingerboard, the truss road and the Tusq nut and compensated saddle. Check out the Godin Concert on Amazon.
The main difference with the Presentation model is that the Concert has solid mahogany sides and back instead of rosewood. Mahogany is a slightly less traditional choice of wood for this purpose but, in these days of much experimentation, it isn't a big deal one way or the other. Rosewood is known to provide a little more power and response but mahogany too makes for a great classical guitar.
The popular Cordoba C9, for instance, has solid mahagony back and sides while the higher end C10 uses rosewood instead. Both are great guitars loved by thousands.
It is said the great guitar maker from a hundred years ago Torres once made a guitar with paper maché sides and back just to show the back and sides don't really matter to the final sound! The only thing that seems to matter – at least with guitars at the price range we are talking about – is the top wood and how well it is braced. Of course, aesthetics matter in an instrument and the Concert has that with its quiet elegance. Any guitar should make you feel like picking it up and playing on a daily basis.
The Concert also features a custom polished finish that is buffed down to a high gloss finish. In the opinion of one satisfied user, the La Patrie Concert is the best in the price range and a great guitar to learn on. You may be looking for a medium-priced knock-around guitar but the Concert will end up being more than that. Especially when compared to the big names in the market in this class, the Concert more than holds its weight with its balanced sound and good sustain.
If you're a serious student or a player past the basics looking for a good guitar without having to spend big money, it's hard not to recommend the Concert. The neck is thinner than the usual classical guitar's but you may find it to be an advantage.
| | |
| --- | --- |
| Godin Concert | |
| Top | Solid Cedar Top |
| Back and Sides | Solid Mahogany |
| Neck | Mahogany |
| Fingerboard | Rosewood |
| Fingerboard Radius | 24″ (609.6 mm) |
| Scale Length | 25.66″ (651.764 mm) |
| Nut Width | 2″ (50.8 mm) |
| Frets | 19 |
| Bridge | Rosewood |
| Finish | High Gloss |
| String Set | HTC Nylon |
The Concert also has its electric cousin, the Concert CW QIT, with an on-board tuner and under-saddle transducer.
La Patrie Collection or Godin Collection: Top of the line, great value
If you didn't know it before, you might think a 'Collection' stands for a group of guitars. But no, the La Patrie Collection is the name of a single guitar model and that too, top of the line. Again, the price is far from extravagant. Check out the Godin Collection on Amazon.
The Godin Collection combines solid rosewood back and sides "with a luthier-grade solid cedar top and high gloss custom polished finish." This model is built by the most experienced luthiers in the Godin acoustic studio and is a matter of some pride to the Canadian company.
The Collection has a personality like many top models do. The wood choices are great and the guitar is known for its lovely voicing and long sustain. The thin neck is present which can help you press down on the frets more easily, taken together with the radiused fingerboard.
This is an excellent guitar for the money. When searching for a classical guitar, you may not find anything else with this level of quality at this price range. Nice, warm sound and great playability.
As a company, La Patrie always had a reputation for well made, affordable instruments. And Godin guitars, the current brand owner, always had a similar reputation too for their own guitars. The Collection – whether you call it the La Patrie Collection or Godin Collection – is truly one of a class: great sound, solid build and easy playability.
| | |
| --- | --- |
| Godin Collection | |
| Top | Solid Cedar Top |
| Back and Sides | Solid Rosewood |
| Neck | Mahogany |
| Fingerboard | Rosewood |
| Fingerboard Radius | 24″ (609.6 mm) |
| Scale Length | 25.66″ (651.764 mm) |
| Nut Width | 2″ (50.8 mm) |
| Frets | 19 |
| Bridge | Rosewood |
| Finish | High Gloss |
| String Set | HTC Nylon |
So there you have it, the entire La Patrie range of reputed classical guitars. There's something workmanlike and non-fussy about these guitars. So Canadian! And pegged at very affordable prices. For students and intermediate players, a La Patrie is a great guitar to learn on and a lasting investment into the future.
If non-conventional features like a radiused fingerboard and a slightly slimmer neck (not to mention that truss rod!) don't bother you too much, it could well be the ideal guitar for you with a sweet sound, durability and – need we say it again? – an attractive price.
For good comparative information on another popular range in classical guitars, I encourage you to read my review of Yamaha Guitars. If you are interested in classical-cum-electrified guitars you should check my article on 8 Classical Electro Guitars. And finally, if you're like so many who want to know the classical offerings from a reputed acoustic guitar maker, do read my Is A Taylor Classical Guitar For You?
______
Happy strumming!