Learning to play the classical guitar is not as easy as learning to strum a few chords. You have to master complex shapes, have an interest in period music and learn music notation (maybe TAB, but preferably standard notation).
There are multiple ways to get your classical guitar lessons:
Classical instruction books (traditional and new)
Online ready-made lessons (free)
Online ready-made lessons (paid)
Online tutor with customized lessons
A full-fledged online course on the classical guitar
Classical Guitar Instruction Books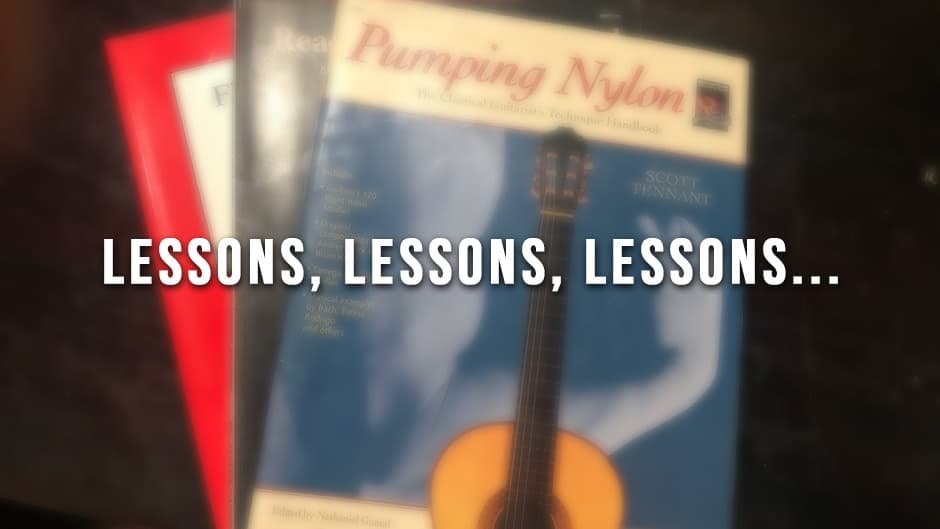 Through the years, self-taught guitarists have always used method books to learn. They are a valid and effective way to learn, perhaps supplemented with some video instruction. You can pace your learning to suit your time. You can take longer over certain sections and go faster over others. 
For folks who are basically self-starters, all they need is a method book. And there are more than a few methods available which have proved their worth over the years.
Classic Guitar Technique – Volume I by Aaron Shearer
This is a classic tutor that will be vouched for by a generation of self-taught guitarists. The third edition is a major revision, brought up to the times by one of Shearer's students. It preserves the original guidance with modern updates and online audio recordings as demos, play-along tracks and duets.
| | |
| --- | --- |
| look inside | Classic Guitar Technique, Volume 1 Volume 1. Composed by Thomas Kikta and Aaron Shearer. This edition: 3rd. Classical Guitar Method or Supplement; Method/Instruction; Technique Musicianship. Shearer Series. Book; Digital Download. 120 pages. Alfred Music #00-45293. Published by Alfred Music (AP.45293). |
A Modern Approach to Classical Guitar by Charles Duncan
This is a famous book from way back when. Book 1 is what I'm recommending for beginners needing a firm grasp of basics. This book explains such fundamentals as free stroke and rest stroke, time signatures, melody with bass accompaniment very well. It also teaches you standard notation and practicing on open strings.
Guitar Lessons (Books 1-3) by Julio Sagreras
Sagreras method book is a classic of our own time. It is universally used for its delightful and original little compositions for students to play. As part of the original 6 volume series, the first three 'books' have been compiled into a single edition (of over a hundred pages total). This is a great introduction to the classical guitar by one of the most inventive teacher-cum-composers there have been. It is also a great introduction to some fine Latin American music.
| | |
| --- | --- |
| look inside | Julio S. Sagreras: Guitar Lessons (Books 1-3) Composed by Julio Sagreras. Style, Latin, Wire bound, Spanish Language, Classical and Lute, Method. Chanterelle. Learn To Play. Instructional book (spiral bound). With instructional text and standard guitar notation. 128 pages. Mel Bay Publications, Inc #96580. Published by Mel Bay Publications, Inc (MB.96580). |
Solo Guitar Playing 1 Noad
First printed in 1968, Solo Guitar Playing has been used by countless students, including the current writer. It is now in its fourth edition with many revised and updated exercises as well as an expanded section of repertoire from Noad's own Guitar Anthology. It is a systematic book that tackles open string and first position playing, sight reading, graded exercises and beautiful repertoire pieces for the student from Renaissance, Baroque and Classical periods as well as some modern pieces.
| | |
| --- | --- |
| look inside | Solo Guitar Playing 1 By John Schneiderman. Edited by John Schneiderman. Music Sales America. Tuition. Book Only. Amsco Publications #MUSAM995126. Published by Amsco Publications (HL.14023153). |
The Complete Carcassi Guitar Method
This method was originally written by one of the past masters of the guitar, Matteo Carcassi in the 1800's. That it still not only exists but is a highly recommended course is an indication of its value and relevance. The original material has been revamped for use by today's students. It has excellent arpeggio and scale exercises and is a graded study of the guitar. The edition includes Carcassi's famous 25 Melodious and Progressive Studies that are played and enjoyed to this day.
If you're wondering how an 'ancient' method can still be relevant I recommend you read our detailed guide on Why the Carcassi Method Still Delivers Today.
The Christopher Parkening Guitar Method – Volume 1
This volume by one of the foremost virtuosos of the classical guitar has served as a rock solid guide to players and teachers alike for decades. It is now in a revised and updated version. Besides learning basic technique, students are introduced to about 50 classical pieces to play. There are useful sections on sight reading, music theory, effective practise strategies and rudiments of technique. 
| | |
| --- | --- |
| look inside | The Christopher Parkening Guitar Method – Volume 1 The Art and Technique of the Classical Guitar Book/Online Audio Pack. By Christopher Parkening. Arranged by Jack Marshall and David Brandon. Guitar Method. Classical, Instruction. Softcover Audio Online. 112 pages. Published by Hal Leonard (HL.696023). |
Adding a technique book
Any of the above methods (or perhaps, a couple of them) will do an adequate job of educating a self-starting guitar student. In today's times, we often isolate technique from musicianship and divide our practice time between exercises to develop particular skill sets and repertoire pieces.
With that in mind, you can add a well tailored technique book to one of the overall tutors above. And you'd be all set!
Pumping Nylon by Scott Tennant
When this was published in the mid-90s, Pumping Nylon became an instant classic and a must-have technique book. There is the famous Daily Warm-up Routine to get both the hands ready for performance while improving technical skills. The second edition has added sections on repertoire and technical exercises. There is a lot to be learnt from this book for even intermediate guitarists.
| | |
| --- | --- |
| look inside | Pumping Nylon The Classical Guitarist's Technique Handbook. Composed by Scott Tennant. This edition: 2nd. Classical Guitar Method or Supplement; Method/Instruction. Pumping Nylon Series. Book; Digital Download. 144 pages. Alfred Music #00-44949. Published by Alfred Music (AP.44949). |
Grade Repertoire for Classical Guitar by Simon Powis
This is a recent entrant into the category of purely technical guidance for the student guitarist. The main difference (and strong point) of the approach here is one of graded exercises. Everyone does not need to learn everything. You only try and master those exercises and skills that match the overall playing level you are at. It is a book for the long term. You will keep going to it as the years roll.
Online guitar lessons (free)
This Is Classical Guitar
Bradford Werner's deep and extensive site devoted to the classical guitar is perhaps the largest free resource out there. He is a knowledgeable and friendly teacher as well as a skilled player. His free lessons are well organized and graded step by step, unlike many teachers and bloggers (on YouTube especially) who give tips on how to play repertoire pieces primarily. Werner's courses page lists his graded approach to learning technique as well as pieces. His method includes video guides on how to play as well. Overall this is a wonderful, systematic package – for free.
Learn Classical Guitar
Australian player and teacher Trevor Maurice has a website to teach beginners how to play the classical guitar. There are numerous lessons from posture to basic techniques to beginner lessons. It is not a huge or complex site, but it is easily approachable and not overwhelming for a student to quickly understand the basics. He has his own, cleanly recorded videos of playing some pieces. You can't miss the passion of a devoted teacher here. He loves to teach you and for a novice that is a welcoming attitude.
Classical Guitar Shed
This is a site chock full of pieces to play under the stewardship of Allen Mathews. I'm part of his mailing list and he sends engaging, often witty, mails on every issue surrounding the classical guitar. He is a dedicated teacher too. The site offers well recorded, nicely explained, individual repertoire pieces for a price, but there is a lot of repertoire pieces you can find for free as well.
Mathews delves into matters of technique of how to play a particular piece of music. He also has a huge page listing free sheet music links for you to download and play. Some folks will love his way of zeroing in on specific pieces to play without much theory coming in the way.
Douglas Niedt
Douglas Niedt is an accomplished concert guitarist (he's off the concert circuit now) with a remarkable background. He studied with the great Segovia himself as also other worthies like Christopher Parkening, Pepe Romero, Narciso Yepes, Oscar Ghiglia and Jorge Morel. His Tips of the Month series is quite well known for its well observed details. (Not exactly free, there's a small yearly fee but well worth it.)
Some tips are free and cover valuable, extensive information on many technical and musical aspects. While it is not a structured course or anything close, this is a useful and unusual collection of playing tips once a student gets past the basics.
YouTube lessons
It is difficult to make any generalizations about watching YouTube videos for learning to play the classical guitar. Mostly you find the excellent videos of Bradford Werner and Allen Mathews (already covered) and perhaps a couple of more practitioners who have a following and are good at teaching (like Simon Powis). But then again, you will also inevitably find a good deal of mediocre talent. It is a difficult instrument to play already without someone adding confusion to it.
Online ready-made lessons (paid)
Classical Guitar Shed
Allen Mathews, as discussed earlier, has an excellent plan if you want to learn individual pieces. Since most guitar students, once they get the hang of basics, wish to move on to playing some music, the site offers single piece guidance for sale, so to say. Mathews does great videos with different camera angles, score sheets and a helpful narration to take you through a piece, measure by measure. He discusses nuances and technique in depth.
If this way of learning repertoire excites you, this could be the thing for you. As a more solid (and more expensive) option the site offers a 'woodshed' program where technique and repertoire are taught more formally and as a system. It is an annual subscription based program. (And you get all the single piece guidance videos included in the package.)
Douglas Niedt
As already indicated, Douglas Niedt offers over a hundred detailed tips. Each tip typically has many videos, detailed instructions and illustrations. It is more like a close and extensive analysis of some small aspect of playing. He brings to bear his vast playing as well as teaching experience on these tips.
If you subscribe to the tips at $24 per year ($2 per tip!) you get mailed a new tip a month in addition to access to over a hundred already there. Again, don't mistake the word 'tip' for a passing mention. It is an exhaustive exploration.
I will go so far as to say anyone who plays the guitar (just past the basics) should be on this site constantly, appreciating the kind of detail pro guitarists delve into for advancement. He too, like Mathews, offers single piece guidance videos for a price, although his list of pieces is nowhere as exhaustive.
Tonebase
This is a recent and impressive site with great educational content for a paying student. They have a free trial you can sign up for. Their teachers are players of repute, international concert artists in their own right. They use videos as the basic teaching format although they support it with pdf documentation as well.
The tonebase site has videos on many aspects of technique like tremolo or vibrato as well as how to play repertoire. Because the teachers are of a high caliber, you can expect to learn musicality and interpretive skills. My impression is this is a great site for intermediate guitarists but newbies may feel overwhelmed.
It is a subscription-based site, payable monthly or yearly (or even a one-time lump sum for lifetime access).
NBN Guitar
This is an educational site for learning classical guitar – nbnguitar.com. You have as your teacher and guide the New Zealander Joshua Rogers whose videos are for people who don't read music at all! It is an unusual approach.
Those who can't read standard notation or even TAB will find his offering relevant. He teaches you a piece note by note, measure by measure by talking about what the fingers are doing at each step. I was personally dumbfounded to see an approach like this to teach anything from Aguado to Albeniz, but to those for whom this is directed at, it could just be the thing.
The subscription is reasonable, payable every quarter.
Tutor with custom lessons online
Preply
Preply.com is a tutoring site mainly for languages but also for arts and music. It certainly has its quota of online classical guitar tutors who are listed with their experience, their country of origin and available times. The rates are typically under $40 an hour.
It's difficult to gauge the quality they might bring to your party, but the good thing is you can book a trial lesson. That seems a fair solution to figure out if someone's playing level, language fluency and general vibe fit your requirements or not.
I do not know of anyone personally doing a class here, but it did come up in my research and seemed an interesting option to consider, especially for beginners who will benefit from a personal touch.
TakeLessons
Takelessons.com is a more well known website that offers online classical guitar lessons one on one. A list of tutors is given and you can check out the individual profiles. The rates are again reasonable at around the $40 mark per hour, although a few have higher rates.
Most of them have gone through university education or have ample experience in teaching the guitar. All tutors have user reviews attached to their profile for you to gauge their popularity and effectiveness.
Doug Niedt
The accomplished Douglas Niedt has it on his site that he is available for one on one video sessions. In my opinion, that's a steal! Given his experience and stature, it would have been unthinkable for regular students to have him as their personal tutor in earlier times.
But this is the online, connected world of today! And someone like Doug Niedt can come home to your computer and teach you stuff he knows. He also gives you a recording of the session once it's over so you can go over the teaching that happened.
He specifically clarifies on his website that his coaching sessions are not just for intermediate or advanced players alone but for beginners.
US Classic Guitar
A couple of guitar instructors William Jenks and David Kelly offer video lessons on the Zoom platform at usclassicguitar.org. As against single sessions, they offer classes that are paid for by the month – weekly classes of either 1 hour or half hour each.
Optionally, you can choose the bi-monthly package or even a single session package (more expensive). They state that no previous experience of playing the guitar is necessary. All USCG instructors are university trained and have extensive teaching experience. They take on students as young as 7 years.
Full fledged courses
Instead of following technique or repertoire tips piecemeal, you could be the kind looking for a more formal, structured approach to study the classical guitar. You've committed the time for it and you want to take that education seriously.
I highly recommend my review of best online courses for a serious study of the classical guitar. I cover a couple of names already mentioned here but there are some important new ones as well. By 'serious' I mean something worthwhile accomplished over an extended period of time (like a year) while working to a definite plan or structure. 
For a formal study of the classical guitar complete with grading evaluation – like the kind for classical piano or violin – you can enrol yourself with some of the top institutions in the world like Royal Schools of Music London and Royal Conservatory of Music, Canada. Find all the information you need in my article A Brief Guide to Classical Guitar Grades.
For a lighter plan of action, though equally effective in getting to the goal of learning the classical guitar, you can check out video-based courses that I cover in my article Quick Video Courses for Classical Guitar.
That kind of dedicated study has its own rewards.
Happy learning!