While there are countless methods and books for beginners of the classical guitar, there are relatively fewer ones for intermediate guitarists. These are methods written specifically aimed at the intermediate to advanced level of player.
Pumping Nylon by Scott Tennant
20 Practice Routines for Classical Guitar by Simon Powis
Kitharologus, The Path to Virtuosity by Ricardo Iznaola
Bible of Classical Guitar Technique by Hubert Käppel
Royal Conservatory of Music publications
Solo Guitar Playing Book II by Frederick Noad
Fernando Sor The Complete Studies, Lessons and Exercises for Guitar By Brian Jeffery
Beatles for Classical Guitar by Larry Beekman
The Musician's Way by Gerald Klickstein
Reaching the Next Level by Martha Masters
Practicing Music by Design Christopher Berg
Playing with Ease by David Leisner
Primarily such books deal with one of three topics:
Technical guidance and mastery
Repertoire suggestions and playing tips
Other areas of musicianship including interpretation, practice and healthy habits
Technique training
Some of these books may be familiar to you and others perhaps not so much. But each of these books has a wealth of material to sharpen one's chops.
Pumping Nylon by Scott Tennant: All you need for a sound technical base
Of course, everyone has heard of Scott Tennant's popular hit if they don't already own a copy. When it was published in the mid-90s, Pumping Nylon became an instant classic and a must-have technique book.
There is the famous Daily Warm-up Routine to get both hands ready for performance while improving technical skills. The second edition has added sections on repertoire and technical exercises. There is a lot to be learned from this book for intermediate guitarists.
As the author himself clarifies, this is strictly not a method book or a comprehensive tutor. It has next to nothing on music theory or posture or sight-reading (although it has a useful section on fingernail shapes).
It is a pure technique book in the sense of exercise drills for right and left hands. They are meant to 'pump nylon' daily for building stamina, coordination and finger independence.
In literary terms, this is like having a good grammar book on the shelf for consultation and not a working manual on how to write great novels. Published first in the mid-nineties, this remains a widely followed book even today.
It is a no-nonsense, let's-get-some-work-done, practical workout for students with limited time. They would welcome some straightforward instruction.
20 Practice Routines for Classical Guitar by Simon Powis: Graded exercises to suit your level of playing
The subhead reads: Graded exercises and studies for classical guitar pre-written in a clear and structured progression.
These 20 Practice Routines are designed to give you a comprehensive technical workout at all levels of development, including intermediate and advanced.
These are not 20 exercises, mind you, these are 20 routines. Each routine has a number of exercises under it. So it is a substantial body of work with students at every level having enough meat to sink their teeth into. The material covers all the aspects of playing: scale passages, arpeggio exercises, finger alternation, position playing, rasgueados, dynamics, etc. The key point is that such exercises are graded to suit various levels of playing.
Open the book to the level you are at and get to work on that routine. Using the book is as simple as that.
What's really in this relatively recent book's favor is that the routines have been developed and tested over 8 years among the students of Powis's Classical Guitar Corner Academy which has an online curriculum with eight grades. All exercises are in fact geared toward the CGC exams. Just as Tennant's book Pumping Nylon grew out of a desire to give his students a workbook, 20 Practice Routines is a carefully sequenced series of technical challenges meant for different grades.
Unlike the technique books issued by such groups as the Royal Conservatory, these routines have been specifically developed for the adult amateur classical guitarist, and extensively beta-tested on students of the Classical Guitar Academy. I am a member of the CGC myself and can vouch for the effectiveness of this graded approach.
If you are anything like me, more inclined to practicing a piece rather than spending time on technical work in the limited time that I have available for the guitar every day, then you will find the necessary filtering has already been done for you.
This much of technical work is the bare minimum you need to keep your development on track. Only what really works is there. There is no fluff. The fact that the book is not spiral-bound and therefore cannot be spread out nice and flat on the music stand may be a deal-breaker for some, though. 
Kitharologus, The Path to Virtuosity: A Technical Workout Manual for All Guitarists by Ricardo Iznaola
The next couple of books take the subject of classical guitar technique to a whole new level. Depending on your point of view, the approach may be extremely thorough or extremely overwhelming.
Guitar virtuoso Ricardo Iznaola's work Kitharologus is a technical workout manual for the intermediate player. It has a lofty goal: to make a virtuoso out of you. This method too is meant for different levels of players, but the serious guitarist will find great practice routines well planned out. This book is a hard drill (101 drills, in fact) that takes on the details of every technique worth knowing and breaking them down. Each exercise focuses sharply on an aspect of technique you have to master. 
I have used this book extensively at a certain stage in my playing. With 15 minutes devoted to the 'program' he has for you for the day about 5 times a week, my playing became smoother and easier, if not more secure. These are tough little drills, at every stage, that will push you a little out of your comfort zone, but that's their real benefit. By challenging you, they make you better. In any case, once you work on it for a couple of days, every exercise becomes easier to do.
There is a wide range of exercises in the book. There are no etudes or pieces to play. There are finger stretching exercises that you will doubt if you can ever play (you will, though). Since the detailed gymnastics in this book can take you to the edge of playability and possibly lead to over-stretching yourself, some folks I know have done this with the help of their tutor to guide them and help them stay within sensible boundaries.
With this book, you can learn to play scale passages at blistering speed. Players like Pepe Romero have always held that a very proficient level of playing cannot be attained without putting in hours and hours at the altar of technique mastery. This book is very much for those who wholeheartedly beat to that sentiment.
Bible of Classical Guitar Technique by Hubert Käppel: The ultimate in elaborate technical details
Bernard Werner called Kappel's Bible as "Pumping Nylon on steroids." This book has probably the most elaborate and detailed coverage of technical studies ever. For some serious training of both hands, there are arpeggios, scale exercises, hammer-ons and pull-offs, tremolo, flamenco techniques, speed training, vibrato techniques and dynamic exercises. 
Being a concert guitarist and a teacher, Kappel has a thoroughness to teaching technical mastery through a daily regimen. Most of its 240 pages are devoted to this body of technical skills and the theory behind it. It is like the Kitharalogus in terms of focusing on specific technique areas with specific exercises but it is more detailed with more permutations. It aims to be a comprehensive book, the Bible. 
The first part covers the basics of practice and serves as a good introduction to the exercises. It has excellent observations on right- and left-hand synchronization, finger planting and other fundamentals of technical work. The third part deals extensively with related subjects such as memorization and organizing daily practice. Because the actual exercises can be overwhelming to take in as a whole, there are good suggestions for creating daily plans. This is a meticulous book.
For all its detail and completeness, this is actually a good technique book for those who cannot devote more than an hour or an hour and a half daily to the guitar. You can focus on what you need to focus and follow the author's guidelines on what makes for a good study plan. It can help the intermediate guitarist get a hold of his or her available time and put it to good use instead of getting confused about how to divide the minutes usefully.
Again, there are no pretty etudes to play here. But then, you weren't expecting any, were you?
Repertoire and musicianship
Royal Conservatory of Music publications: Well chosen, wide-ranging classical guitar songs
RCM exams are held in Canada and the US across many centers. They are a popular and well-recognized grade system in North America. A key difference of this school from other well known international bodies is that the RCM grades go up all the way to Level 10 rather than the usual 8 grades.
Each Level has a repertoire List from which a student chooses. These Lists are pretty long and contain many a classical guitar gem and, taken together with the fact that there are 10 Levels, there are quite a lot of pieces to choose from! And you don't have to be a student necessarily to get your hands on these repertoire publications. They are freely available online.
Level 10, for instance, has 4 Lists:
List A: Renaissance, Baroque, and Baroque-style Repertoire
List B: Classical and Classical-style Repertoire
List C: National Styles
List D: 20th- and 21st-century Repertoire
Level 7 offers a wealth of options to the student:
12 choices of Renaissance pieces in List A
20 choices in Baroque pieces
28 choices in Classical & Romantic pieces
50 choices in 20th and 21st century pieces
That is a lot of well-chosen repertoire. This is why RCM publications for grade repertoire are popular among even those who do not intend to take their exams. Check the prices of the popular RCM repertoire (and etudes) collections of various grades at Amazon:
Classical Guitar Series, 2018 Edition: Repertoire and Etudes
Solo Guitar Playing Book II by Frederick Noad: Music from every era
The original Solo Guitar Playing by Frederick Noad is a classic in guitar pedagogic literature. It already introduces quite a bit of repertoire pieces from different periods. Book II goes further in the width and quality of repertoire choices ending with the grand Recuerdos by Tarrega in the last chapter.
A sampling of pieces with study notes from the book:
Prelude by Santiago de Murcia
Allegro by Santiago de Murcia
Andantino alla Siciliana by Mauro Giuliani
Andantino by Fernando Sor
Prelude by J.S.Bach
Study No. 1 by Frederic Hand
Etude by Antonio Cano
Mazurka by Francisco Tarrega
Pavan by William Byrd
Alman by Robert Johnson
Courant by Robert de Visee
Fantasia by S.L.Weiss
Recuerdos de la Alhambra by Francisco Tarrega
Estudio Brilliante de Alard by Francisco Tarrega
And there's more in there.
Fernando Sor The Complete Studies, Lessons and Exercises for Guitar By Brian Jeffery: A must-have for the intermediate player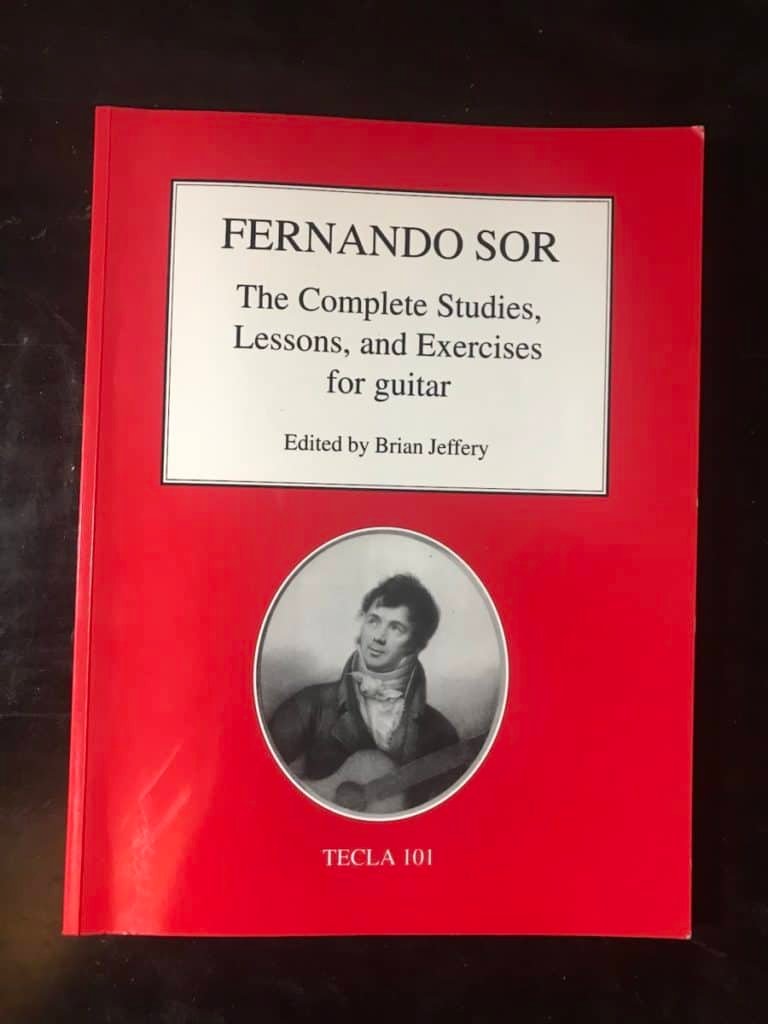 If you are an intermediate player or more, I will let you into a secret. What I'm about to share comes under the label of classical guitar porn. Just about the best thing you can do, in my opinion, is to decide that Sor should be given pride of place in your home.
Sor's work for our beloved instrument is genius. The 'Beethoven of the guitar' truly understood its musicality and went for compositions way beyond banal. I'd get myself the superb sheet music book of Brian Jeffery: Fernando Sor The Complete Studies, Lessons and Exercises for Guitar.
Beatles for Classical Guitar: Guitar Solo by Larry Beekman, transcriptions to cherish
Over 25 of the great hits from the Fab Four transcribed for the classical guitar. Take a break from your regular repertoire and – say, here comes the sun!
Great but hard to classify resources
These are a handful of books that tackle some issues other than repertoire pieces to play or improving technique. An intermediate guitarist is on the path to overall musicianship which includes interpretation, preparation, performance, ear training and even a healthy posture for the long run. These books are gems in the area they tackle.
The Musician's Way by Gerald Klickstein: New ideas on how to practice
This is not even a guitar book. It is a musician's book, an invaluable one at that. Do you include ear training and sight-reading as part of your practice routine? I was impressed in my first reading of the book when it laid out 5 practice zones: new material, developing material, performance material, technique and musicianship. Wow.
In the book-related website (musiciansway.com) you can get more than a glimpse of Klickstein's considered approach. He has much to say and share on practice, performance and wellness. 'Performance' does not imply a concert artist necessarily; every amateur guitar player at a certain level will have a gig to go to, including the company of a few close friends. You can download from his site practice sheets, practice logs, assessments and the like. It's not a theoretical book, it's a user's manual for musicians.
This book is in its 14th printing for a reason: its emphasis on musicality. The main thrust is about how to work with the material in each practice zone. It deals with mental practice, how to select repertoire, memorization and interpretation. It's a wealth of wisdom and knowledge handed to you from an experienced and capable music teacher.
You will get a better idea of how to practice. What matters, what you must focus on, what to accomplish with your practice sessions, what tips to follow and so on. Whether it's memorizing a piece or learning to avoid performance anxiety, the book takes a practical, common sense approach. It's not about spending time at practice any way anyhow, it's about having a bigger picture in mind. This will help the amateur musician as much as it will a professional.
The world of the serious musician needs books that can light up the way with insightful ideas. This book is one such.
Reaching the Next Level: A Method for the Experienced Classical Guitarist by Martha Masters: Practical advice from a performer
This book has practical guidance for intermediate guitarists to up their game. Martha Masters is an accomplished guitarist who studied under Manuel Barrueco and Scott Tennant. She has important experience-based information to share.
Many topics here are seldom covered in a book. Topics include technical control, study habits, crafting interpretations, tone production and performance anxiety, to mention a few. There are repertoire suggestions, as well as an annotated list for further study.
It is not a lengthy book. In about 100 pages, the book covers the essentials to get to the next level. The 15 pieces here are not easy but are interesting choices. There are many technical tips along the way but it is much more than an 'exercises' book. It offers recommendations and advice on how to take your musical ideas and place them on a firm footing. While someone with an eye on a professional career will benefit a lot, it will equally help the serious student who simply wants to attain a higher level of musicality.
Practicing Music by Design Christopher Berg: Research meets performer
This is a remarkable book in that it looks at how historic world-class performers at the virtuoso level carried out their musical practice and compares it with modern, cutting-edge research findings on the subject.
Again, it's not a book about the guitar although the author is a guitarist who did his master classes with the great Andres Segovia. It's a book about musicianship and the things that matter to performers and students alike.
The writing style is more of a scholar than a novelist, so expect the going to be dense in parts. You will find yourself stopping and thinking and re-reading more often than just rushing on ahead. It delves much into detail on the practicing methods used by acknowledged, past masters in music (often gleaned from their writings) – including composers like the great Liszt and Chopin, performers like Rubinstein and Rachmaninoff, extraordinary teachers and lesser-known musicians who wrote brilliantly on practice.
In a fascinating way, the material above is shown to be consonant with what modern research has found to be independently true. The results of this elaborate and interesting inquiry are a handful of principles that we musicians can make use of in our daily practice. Each of these core principles or central ideas gets its own chapter, which keeps the big picture in clear sight throughout.
Musicians are certain to get insights on practicing and more importantly understand why the things they do can be stumbling blocks to progress. This book is, at heart, not the subjective opinions of a top-level guitarist, but a research-based, factual approach on what works and why when it comes to music practice. It is a refreshing book on this count.
Playing with Ease: A Healthy Approach to Guitar Technique by David Leisner: All about correct posture
Classical guitarist David Leisner offers an introduction to the basic anatomy of movement. This may on the face of it seem like we're talking of basic posture meant for beginning guitarists. But it is for the practicing guitarist, intermediate through to the very advanced.
A 'healthy approach' means relieving unnecessary tension, engaging the use of larger muscles and most of all being aware of what it takes (physically) to play the guitar.
You will learn more about your anatomy here than anywhere outside of a science class. And every bit of that knowledge, especially for adult guitarists, is valuable. Wrong posture over the years can cause significant discomfort, if not pain or worse.
Leisner himself suffered from serious focal dystonia which almost ended his performing career. But with grit and reflection and observances, he overcame the ailment successfully. It ends up being one of the best books, if not the best, on the physiological aspects of playing the classical guitar.
A detailed, comprehensive approach to an ergonomic technique for the guitar such as this is a refreshing addition to our bookshelf. Regular guitar methods hardly pay attention to an important subject like this, especially for intermediate guitarists. How your body should coordinate with the guitar is such a basic part of playing that it deserves to be explored.
Ultimately, of course, since this involves your body you will no doubt consult a physiotherapist before taking definite action on some of the more dramatic ideas. But you will have a head start on the subject. It is written in an easy and confident style of someone who really understands the subject.
There is genuinely a lot to be learned here and ignorance may exact a high price.
________
For a while now, YouTube has been a great place to look for educational content on the classical guitar from some fine players and teachers. I have an article on this subject Classical Guitar Lessons on YouTube which you may find useful by way of extra resources to explore.
An important aspect of interest for the intermediate guitarist is the care of right hand fingernails. I have an article Nail Care Products that discusses what today's players are using and getting benefits from.
If you're looking for an intermediate-level guitar, you should read my reviews on the following models:
Happy reading!