If you own a classical guitar that is expensive, you will want the best protection for it. There are well known, high-end guitar cases that cater to this market. But are they worth the expense?
BAM
Visesnut
Hoffee
Calton
Karura
These are fairly expensive cases, more expensive than a good, mid-range classical guitar itself. Affordable brands with a reputation of their own like a Crossrock or a Gator or even a Hiscox don't come close to the hefty prices these big boys charge for their cases. But then most of the costly cases are truly flight cases while the cheaper lot is definitely not.
It's one thing to think of a guitar case as a cover for your guitar, offering some basic protection but it's quite another if you're touring cities with a valuable concert guitar. Let's consider the high-end guitar cases one by one.
BAM classical guitar case: Very French, very light
The BAM cases (for many instruments including the classical guitar) look stunning and come in various colors. Made in France, the BAM High-tech Classical Guitar Case is an ABS case with a polyurethane foam core. The case is fairly strong and lightweight. The guitar sits suspended on foam cushions to better absorb shocks. You even get additional cushions that you can insert as you wish for a better fit if required.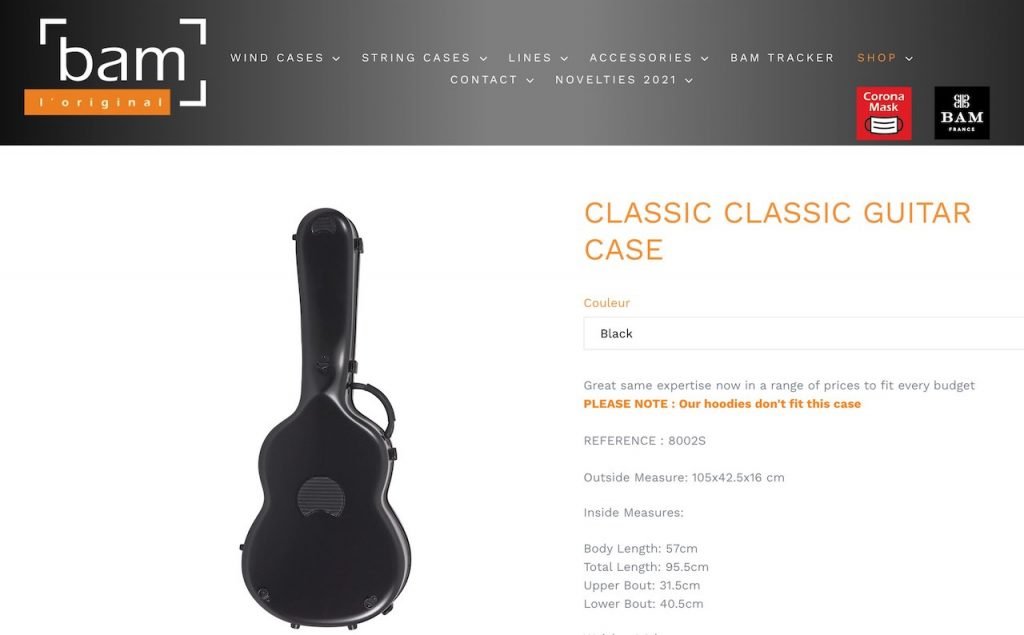 There are two neoprene anti-slip backpack straps with security screw hooks, that are removable. There is also a removable accessories pouch inside. The sealing of the lid is fairly airtight.
While looks, light weight (just over 6 pounds when empty) and reasonable strength are its advantages, the BAM isn't as robust as some of the others in our list – like the Visesnut or Calton, for example.
The stated dimensions of the BAM are:
Inside:
Total Length = 40.5″ (102.9 cm)
Upper Bout = 11.5″ (29.2 cm)
Lower Bout = 15.0″ (38.1 cm)
Body Length = 20.5″ (52 cm)
Outside:
(L x W x H):
42 1/4 x 17 x 6 1/4 inches
107.3 x 43.2 x 19.9 cm
Information courtesy: Savageclassical.com
Whether or not a BAM is for your classical guitar depends on what primary use you want the case to serve. If you are taking short trips to the conservatory for your lessons daily, this is a great case for the price – lightweight, easy to carry, great protection and smart looks. If you are a gigging guitarist with more than an occasional flight trip, you frankly have better and more dedicated options.
While BAM does make an additional "Flight Cover" for the case (adding another 9 pounds to the weight), it's difficult to recommend it as a proper flight case – especially when there are excellent, well proven options available at this price band. You really don't want to see an airport cargo person throwing your handsome BAM case around.
You can check out BAM's popular model for classical guitar over at Amazon if you're interested. Bam Hightech Classical Guitar Case White at Amazon.
If aesthetics don't mean that much to you, a cheaper case like the Hiscox can be a viable alternative to the BAM. Hiscox is rated highly, especially in its native UK, for its excellent build and overall strength. Arguably, the Hiscox can be taken on flights with some confidence. Although its understated looks are so understated that they may appear bland to your eyes!
For an in-depth look at BAM cases check out my piece BAM Cases: Very French.
Hoffee guitar cases: All-American and custom-built
Hoffee is a great choice if the price tag of $1,200 doesn't faze you. The consensus seems to be that while the BAM is very light, the Hoffee is very tough. Besides, these are truly flight-worthy cases. They are custom-built mostly for all manner of acoustic guitars and as long as you can send in the dimensions of your instrument, they will make one for you in a month's time. Their website has instructions on how to measure and submit the dimensions.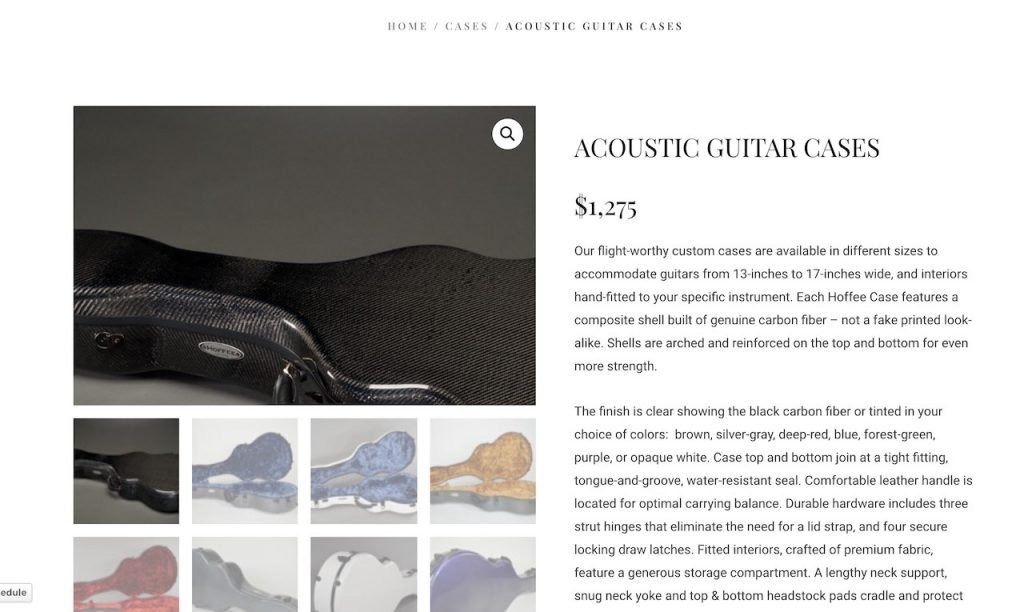 Hoffee cases are built to accommodate guitars from 13" to 17" wide, which should cover a wide range of classical guitar brands and sizes. Each case has a composite shell based on carbon fiber, a material often chosen for its strength and lightness. The shell is arched and reinforced on the top and bottom for additional strength.
The finish is as per your preference: a clear one that shows off the black carbon fiber or a choice of a handful of colors. The opaque white is a good choice for extreme weather conditions, especially heat. As befits an expensive product, all the details are well appointed and work well.
The case top and bottom join in a tight fit with a water-resistant seal. There are four secure locking draw latches and a spacious storage compartment within. Since the case is custom-built, it should fit in your guitar snugly, like a glove.
At about 11 to 13 pounds, these hand-made cases are not exactly lightweight. But they do offer the best protection in class. And are truly flight-worthy. It is a popular choice among acoustic guitar performers.
You also get an optional Thinsulate brand insulation to handle the effects of extreme temperature conditions. This is installed in the case under the foam and fabric, hidden from view, at a cost of $125. You can also protect the case itself from surface wear with an optional cloth cover for an added cost of $250.
Calton guitar cases: Expensive, tough, air-worthy
Calton Cases are handmade in Austin, Texas with over 50 long years of experience in engineering a guitar case. 
If you visit the company website, the opening page shows a very watchable and entertaining mini-movie on a Calton case going through various trials and coming out trumps. Most buyers of these expensive guitar cases are likely to say things like "They are indestructible" and "Built like a tank".
As an old and established brand (especially with acoustic players/performers), Calton cases offer near-legendary protection for your instrument. The catch is this: You won't do your back any good if you're hauling a Calton around the whole time.
Calton cases are made of fiberglass and are much heavier. The company believes fiberglass can take more punishment than carbon fiber. A reinforced fiberglass shell offers security and protection from punctures, impacts and vagaries of weather and temperature. Drops from up to 9 feet shouldn't affect your guitar at all, according to the company.
While fiberglass is similar to carbon fiber in strength and weight, it is slightly more flexible. Pound for pound, fiberglass is just as strong as steel. Carbon fiber at its best yields a material stronger and stiffer than steel while being lighter in weight.
Calton believes the stiffness of carbon fiber is its basic weakness – it can crack under major impact – when compared to the flex of fiberglass. Of course, if weight is of utmost importance to you, carbon fiber really has no alternative.
Calton claims their cases are pretty much crush-proof as they are designed to withstand up to 1100 pounds of pressure. For classical guitarists, there are no ready models available so you will have to write in with your instrument's dimensions. They do have extensive experience in building for a variety of models out there and yours shouldn't be an issue.
Also, they are well represented with dealerships across the US, Europe, the Far East and Australia. So finding yourself a Calton won't be a problem.
Visesnut classical guitar cases: New on the block, hugely popular
The Visesnut guitar case is named for the maker who is also a luthier in Thailand. The case is light yet super strong and waterproof. As the new kid on the block, Visesnut has earned for itself a positive name among classical guitarists for its suitability as a flight case. It is also well built, stylish and light.
A Visesnut case weighs 7 pounds empty. If you add the backpack straps and the case cover it's 9 pounds. Sure, it is an expensive guitar case but many users think the suspension system inside the case alone is worth the attention it gets. It shapes the inside to match virtually any guitar that can fit into it and pulling a velcro strap or two makes the fit snug.
Once adjusted, the position is 'remembered' and the same guitar will fit without further futzing. 
It is light enough to carry on your back with the straps. The case body is made from a unique double wall structure designed to absorb impact and insulate from extreme temperature changes.
There are no protruding latch parts to impale the guitar if the lid were to accidentally close for any reason. The latches are unique in that they rotate and lock into place instead of a straight up-down flip. A gasket seal ensures humidity control.
Overall, this is a case with loads of little, thoughtful features for ease of use, stability and security. Among the drawbacks (besides the big price) is that some users find the accessories box with its soft cover not ideal for storing things like capos, which tend to slide out.
The famous demo video where a band of four or five people stand on a Visesnut is there on rebrune.com/visesnutcases as well as other feature videos. If you haven't seen it, it's well worth a watch. (Hiscox also has a similar demo on their website and is equally watchable.)
Visesnut also makes a somewhat more reasonably priced version which is just as strong but comes without the fancy color options.
If you were going professional, you'd do well to consider Visesnut. At a price slightly cheaper than Calton or Hoffee, it's an irresistible option especially because it is also lightweight. If you are flying a lot as a player, the Visesnut gives excellent protection as many a user will attest. Also, there is such a thing as a style quotient and the Visesnut with its striking design and color options passes the test gloriously.
In the end, it's a great compromise between solid protection and a small footprint. Calton and Hoffee offer better protection perhaps but they are bigger and heavier.
Karura classical guitar case: Designed for today's touring musician
Karura cases are built with the stated aim of assisting touring musicians. This company too is based out of one of Asia's big international music hubs, Thailand – although under the ownership of a French couple.
The company consults with luthiers and professional musicians to help develop its products including the original Musician's Flight Case. The handcrafted cases have excellent strength, style and lightness that have won over many a user.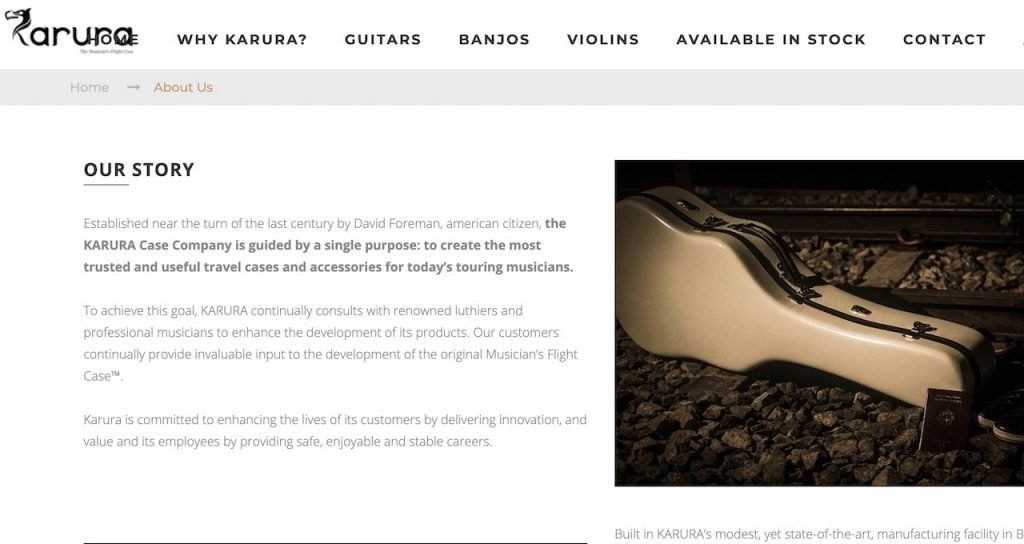 The cases use composite shells reinforced with Carbon fiber and proprietary core material, to optimize strength and weight. They are built for the long term so the hardware is stainless steel. A good rubber sealing system is in place to keep out the dust, heat and moisture.
At a sale price of $1200, the Karura classical guitar case is certainly expensive. But for a touring musician with a valuable instrument to protect, there is peace of mind in investing in a flight case that affords a good deal of protection. Many users believe the Karura is not all that lightweight and is actually a bit heavy. But no one complains about the protection and security it offers. A BAM case, for all its lightness and style, or a Hiscox for its affordable protection, cannot really compare with the solid security of a Karura.
The classical guitar design fits most classical and flamenco guitars. Popular interior designs are suitable for use with well-known luthier-made guitars like Damann, Marty, Petros, Romanillos, Smallman, etc.
On a finishing note, I must draw attention to the fact that this article now and then mentions Hiscox cases – even though they are hardly in the super-expensive category. If you want to look at a more affordable option but with great protection and safety features, the Hiscox is worth considering. I have a full-scale review of Hiscox Cases for Classical Guitars which you can consult for a deeper dive into the range of cases they offer. If you're looking for a handy gig bag for moving about town rather than a robust air travel case, check out my article on 8 popular gig bags for classical guitar that get the job done.
For similar cases in the more affordable range, I have a review of 7 Classical Guitar Cases that you can check out. You may also find my article discussing various luthier-made guitars interesting.
__________
Happy travels!